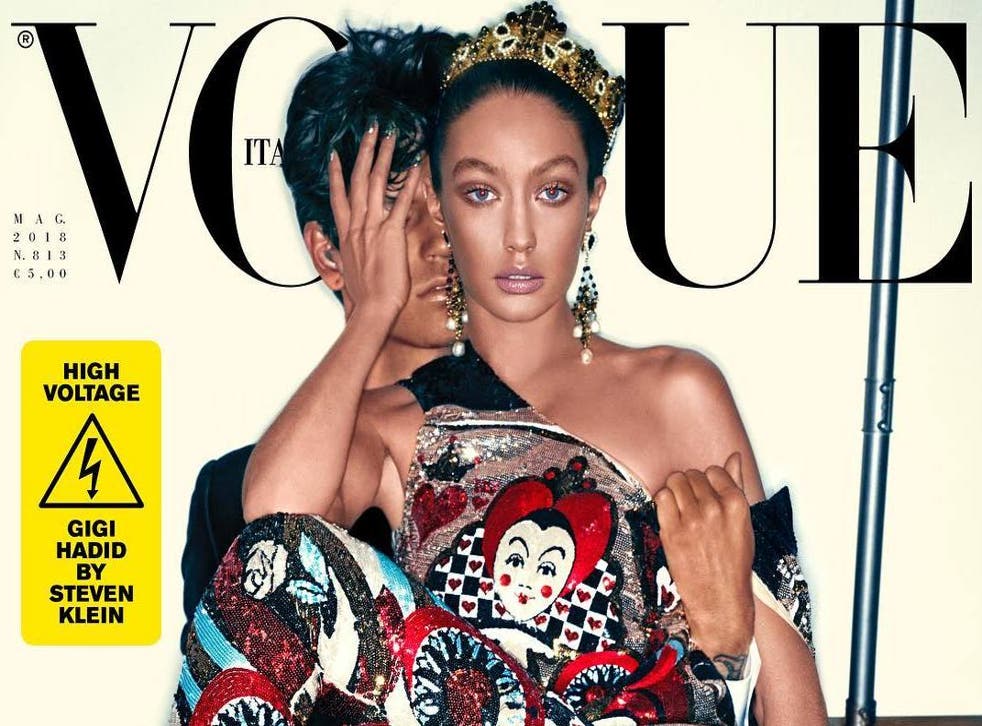 Gigi Hadid apologises for 'blackface' Vogue Italia cover: 'It was not executed correctly'
'Things would have been different if my control of the situation was different'
Gigi Hadid has apologised after her appearance on the cover of Vogue Italia was lambasted for the apparent use of "blackface".
The model faced a huge backlash when the photo, which was taken by fashion photographer Steven Klein, was revealed yesterday, with people saying that she looked "completely unrecognisable" with her darkened skin.
The 23-year-old has since explained on social media that she was heavily bronzed with makeup on the day of the shoot, but has said sorry nonetheless to those who have found the image offensive.
"The bronzing and photoshop is a style that S Klein has done for many years and I believe was what was expected from the shoot (to show me in a different way creatively)," she wrote in a post on Twitter and on her Instagram story.
"BUT, although I understand what Vogue Italia's intentions were, it was not executed correctly, and the concerns that have been brought up are valid."
She stated that she had no control over the creative direction of the cover of the magazine, both during the shoot and during post-production.
However, she understood why a great deal of people found the retouching and colouring of the cover distasteful.
"Please know that things would have been different if my control of my situation was different," she said.
"Regardless, I want to apologise because my intention is never to diminish those concerns or take opportunities away from anyone else, and I hope this can be an example to other magazines and teams in the future."
Gigi Hadid appears to be mocking Asian facial traits while holding a Buddha-shaped cookie to her face
She continued, explaining that it's the responsibility of all to face issues surrounding representation in fashion head on and "work towards a more diverse industry".
Many of Hadid's fans praised the model for responding to the criticism of the cover.
"This is why I love you and admire you so much, you are a true example for being humble and making an apology," one person wrote on Twitter.
"The fact that she's acting maturely with this issue is great," another individual remarked. "I hope this is genuine and she as well as everyone is taking this as a learning experience."
This isn't the first time a collaboration between Hadid and Vogue Italia has been chastised for its racial undertones.
In 2015, the model was accused of cultural appropriation when she was spotted posing on the cover and inner pages of the magazine wearing a variety of different coloured afro-style wigs.
Join our new commenting forum
Join thought-provoking conversations, follow other Independent readers and see their replies