The Independent's journalism is supported by our readers. When you purchase through links on our site, we may earn commission.
Great British Bake Off: A definitive ranking of all Noel Fielding's shirts
He's Bake Off's unlikely style icon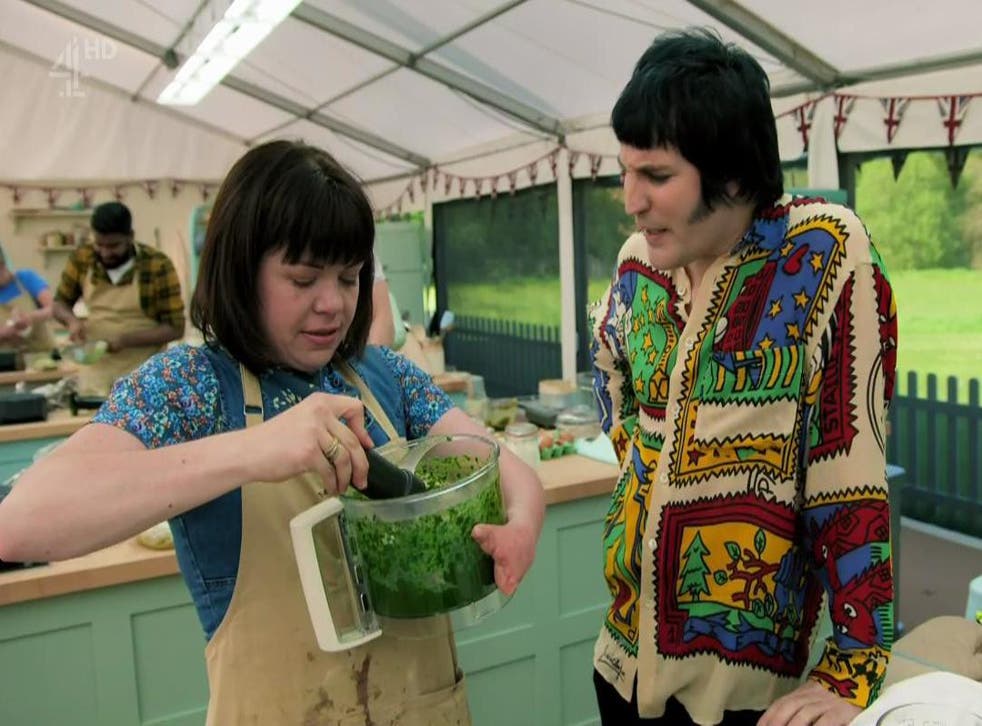 Soggy bottoms, Hollywood handshakes and innuendos aplenty are all very well, but what would The Great British Bake Off be without the natty outfits of the presenters and judges?
From Mary Berry's iconic floral bomber jacket to former winner Candice Brown's bold lipsticks, fashion has long played a key role in everyone's favourite baking TV show.
He may only be in his second series presenting Bake Off, but Noel Fielding's shirts (and a few jumpers) have caused quite the stir amongst viewers, many of whom eagerly tune in to see what jazzy print he will be sporting each week.
Noel Fielding: Bake Off's unlikely style icon

Show all 10
For every person tweeting about how much they're craving biscuits, cake or bread from 8pm to 9pm every Tuesday evening, there seems to be someone else expressing their love for Fielding's attire.
"I'm finally watching the first Channel 4 series of GBBO and I am drooling over every single shirt Noel Fielding has worn so far," one person wrote on Twitter.
"I desperately need Noel Fielding's entire shirt collection," added another.
With this in mind, we decided it was only right to collate all Fielding's best shirts (and jumpers) together in one place, ranked from the great to the so brilliant you can scarcely believe your eyes.
14. The plain denim one
The least Fielding-like of all Fielding's Bake Off shirts, initially we weren't sure what had happened here. Fielding appeared to have been thoroughly out-shirted by co-host Sandi Toksvig, and the only jazzy touch to his plain denim shirt were the colourful buttons.
Or so we thought. It turns out the Lazy Oaf shirt actually features eyes and a rainbow smiley face motif on the back. That's more like it.
13. The red and black one
Are they tiger stripes? Are they flames? We don't know but we love them.
12. The psychedelic one
There is a lot going on with this Paul Smith shirt, but if Fielding's fashion sense has taught us anything, it's that more is more.
11. The bumblebee one
Bumble bee meets Bengal tiger. We're not sure we totally get it, but we respect it. The jumper is by Diesel but currently out of stock.
10. The palm tree and guitars one
This tropical island vibes are strong with this one. It's almost as if Fielding isn't holding a chicken by a giant tent in a field in the English countryside, but on a deserted island, strumming an acoustic guitar.
9. The crow one
This was Fielding's shirt of choice for his debut appearance on Bake Off, and it set the tone for what was to come.
Silk cream crow shirt, Silken Favours, £275
8. The one that looks like a child's play mat
While some people thought Fielding's shirt for week two of his second season on Bake Off seemed to be covered in giant stamps, others thought it resembled a children's play-mat. Either way, we're fans.
7. The yellow musical one
It was another chilly week in the tent as Fielding donned this fantastically bright yellow jumper, featuring a musical design. The jumper is by Bella Freud (whose prices start from £300), but is sadly no longer in stock online.
6. The royal blue one with pink smiley faces
This adorable smiley emoji shirt, worn on episode three of the 2017 series, was from Lazy Oaf but is unfortunately no longer available.
5. The rose print jumper
Fielding channelled his inner English rose with the jumper he sported for episode three of his first series of Bake Off.
The sweatshirt is by 10x10Anitaliantheory.
4. The tomato one
For pizza week, Fielding dressed the part in this tomato-covered shirt from Kenzo Vintage.
Tomato-print shirt, Kenzo Vintage and Farfetch
3. The colourful ocean print one
What initially appears to be a classic floral print shirt is in fact, on closer inspection, a wonderfully colourful under-the-sea scene. We love it. The ocean print cotton shirt is £165 by Paul Smith.
2. The white, pink and baby blue brick wall and polka dot one
Colour-blocked, pastel shades, brick wall vibes - what's not to love? Sadly this shirt is now sold out online.
Brick Scribble Shirt, Lazy Oaf, Dollskill.com, £21.51
1. The ice cream and cake one
An absolutely iconic look, could there be a better shirt for Bake Off than one covered in sweet treats? We think not. This shirt send viewers into meltdown, and we can understand why.
Another Lazy Oaf gem, it's tragically no longer in stock on ASOS or the brand's website.
Register for free to continue reading
Registration is a free and easy way to support our truly independent journalism
By registering, you will also enjoy limited access to Premium articles, exclusive newsletters, commenting, and virtual events with our leading journalists
Already have an account? sign in
Register for free to continue reading
Registration is a free and easy way to support our truly independent journalism
By registering, you will also enjoy limited access to Premium articles, exclusive newsletters, commenting, and virtual events with our leading journalists
Already have an account? sign in
Join our new commenting forum
Join thought-provoking conversations, follow other Independent readers and see their replies