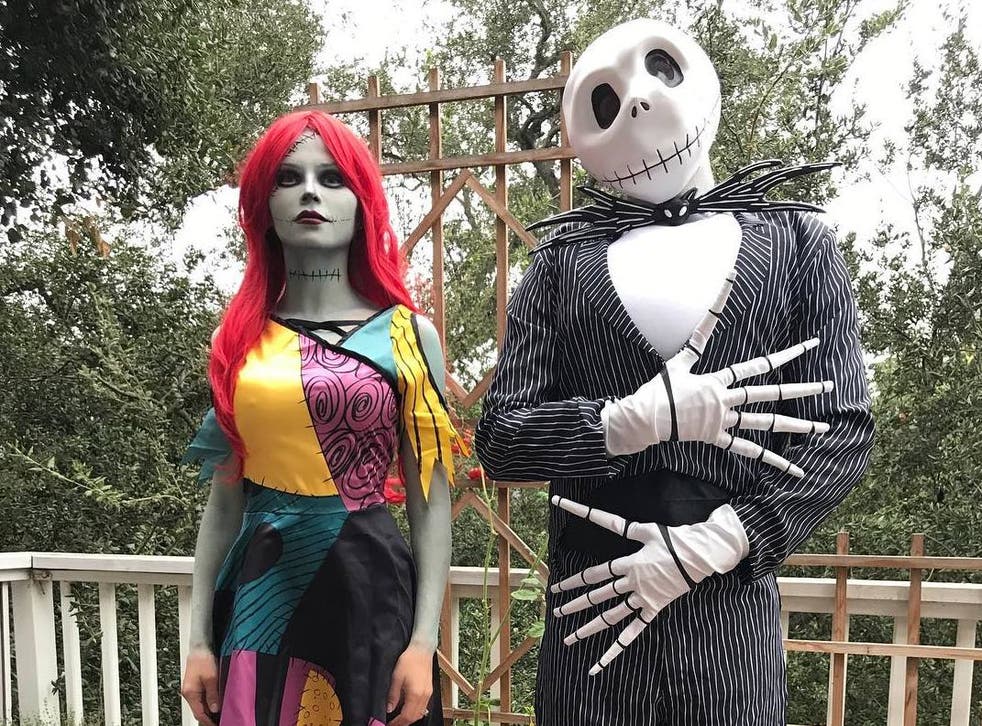 Halloween 2019: 18 of the best couple costumes to wear with your significant other
What better way to demonstrate your love than with a cheesy couple's costume?
With Halloween just around the corner, now is the time to put your creative hat on and start thinking about who or what you're going to transform into for the spookiest night of the year.
While you could go it alone and devise a look that's best suited for an individual, if you're in a relationship, then why not opt for an inventive couple costume instead?
It's often said that two heads are better than one, after all (especially on Halloween).
Here are 18 of the best couple costumes to wear with your significant other during the annual ghostly celebration:
1. Carl and Ellie from Up
Carl and Ellie are officially one of the sweetest and most endearing couples in the history of cinema, so dressing up as them for Halloween could be a great way for you and your partner to demonstrate your love for one another.
Admittedly, this costume isn't very scary, but it's a winning costume idea for any avid Pixar fans.
2. Eleven and Dustin from Stranger Things
Take a leaf out of the book of Modern Family star Sarah Hyland by dressing up as the telekinetic Eleven and the adorably sweet Dustin Henderson from hit show Stranger Things.
It was recently confirmed the sci-fi show would return for a fourth season, with speculation rife as to when it will drop.
3. Hawaiian punch
Who doesn't love a good pun?
Show some love for the English language (in addition to affection for your partner in crime) with this witty and undeniably cheesy costume.
4. The Doctor and the Tardis
Fans of Doctor Who have been showing the programme a lot of love since the Doctor regenerated to be portrayed by Jodie Whittaker in October 2018.
Among the Doctor's many companions throughout the show's 56-year history, one of the most popular pairings of the show is the Doctor and the time traveller's faithful Tardis.
5. Tetris pieces
"You complete me," Tom Cruise tells Renée Zellweger in the 1996 film Jerry Maguire.
If you feel the same way about your other half, then show it by dressing up as pieces from the addictive 1980s arcade game.
6. Vincent Vega and Mia Wallace from Pulp Fiction
Ever since Quentin Tarantino's Pulp Fiction was released, couples have taken Halloween as the perfect opportunity to dress up as John Travolta and Uma Thurman and to recreate their famous dance scene from the 1994 film.
While this costume may be overdone, it's a classic and very easy to replicate.
7. Baseball bat
Another punny costume, this time in the form of a popular American sport.
If you think your significant other is a catch, then this is the couple costume for you.
8. Katy Perry and Left Shark
While the media relishes writing about Katy Perry's relationship with Orlando Bloom, one of her most iconic partnerships came in 2015 when the singer performed at the Super Bowl halftime show.
One of the most memorable moments of the performance came when a backup dancer, fondly known as "Left Shark", was spotted dancing in an uncoordinated manner on the stage, spawning a myriad of memes.
9. Morticia and Gomez Addams
If you want to truly go peak Halloween, then donning the glad rags of Morticia and Gomez Addams of the Addams family is your best bet.
This couple has stood the test of time, first appearing in a television series in the 1960s.
10. Kelly and Yorkie from 'San Junipero'
'San Junipero' is one of the most highly rated episodes of science fiction series Black Mirror, winning two Primetime Emmy Awards in 2017.
Take inspiration from the 1980s by dressing up as the episode's main characters Kelly and Yorkie, portrayed by Gugu Mbatha-Raw and Mackenzie Davis.
11. Jack and Sally from The Nightmare Before Christmas
In 2017, Jenna Dewan and Channing Tatum succumbed to their daughter's wishes by dressing up as Sally and Jack for Halloween, from Tim Burton's stop-motion animated musical The Nightmare Before Christmas.
Considering Jack Skellington is the Pumpkin King of "Halloween Town", this costume is undoubtedly the epitome of the festive occasion.
12. Barbie and Ken
In 2016, Beyoncé and Jay Z decided to dress up as Barbie and Ken for Halloween.
If this costume is good enough for one of the most influential couples in entertainment, then it's good enough for you.
13. Harry Potter and the Golden Snitch
In Quidditch, the Golden Snitch is the most prized ball of them all, worth 150 points if caught by the team's Seeker.
If you have no idea what any of those words mean, then this probably isn't the costume for you and your significant other. However, if you're a diehard Potterhead (Harry Potter fan), then this look is definitely a Keeper.
14. Sully and Boo from Monsters, Inc.
Take a trip down memory lane by dressing up as Sully and Boo from Pixar's Monsters, Inc.
All you need is some pink and blue clothing, some hair bunchies, some purple spots and some horns. Simple.
15. Harley Quinn and The Joker
Harley Quinn and The Joker have been a popular comic pairing ever since Harley Quinn was introduced into the DC Comics universe in the 1992 animated Batman series.
Embrace the eccentricity of their relationship with this villainous Halloween costume.
16. Chuck Noland and Wilson the volleyball from Cast Away
In 2000, Tom Hanks was nominated for an Oscar for his role as Chuck Noland in the survival film Cast Away.
Wilson the volleyball, Chuck's only companion while stranded on a desert island for four years, was received so well by film audiences that it has its own IMDb page.
17. Netflix and chill
Yes, this couple's costume has been done a million times over and is unequivocally cliché.
However, if you're lost for ideas, it's a safe bet and very easy to create from scratch.
18. Marty McFly and Doc Brown from Back to the Future
Pay tribute to one of the most beloved films of the 1980s by dressing up as Marty McFly and Doc Brown from Back to the Future.
While the time-travelling adventure may have been released more than three decades ago, one of its stars, Christopher Lloyd, hasn't ruled out another film in the franchise.
"I'd love to be in a fourth film if they could come up with the right idea that extends the story and does it as well as the first three," he told Phoenix New Times in 2018.
Register for free to continue reading
Registration is a free and easy way to support our truly independent journalism
By registering, you will also enjoy limited access to Premium articles, exclusive newsletters, commenting, and virtual events with our leading journalists
Already have an account? sign in
Register for free to continue reading
Registration is a free and easy way to support our truly independent journalism
By registering, you will also enjoy limited access to Premium articles, exclusive newsletters, commenting, and virtual events with our leading journalists
Already have an account? sign in
Join our new commenting forum
Join thought-provoking conversations, follow other Independent readers and see their replies