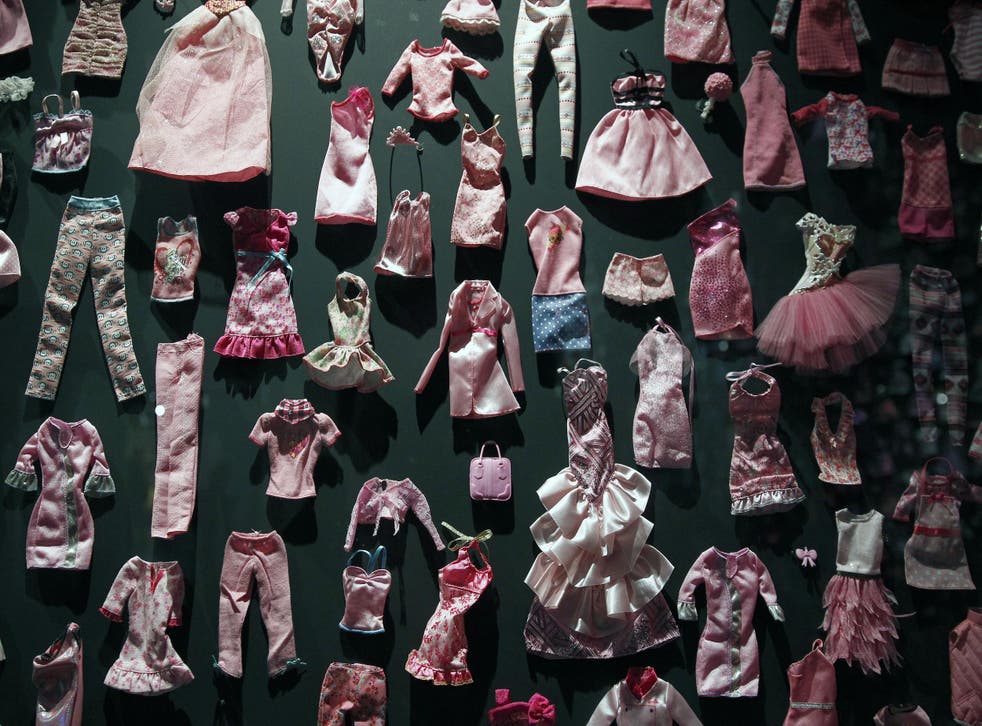 Hello, Dolly! Why is high fashion so fixated with life in plastic?
Barbie has unveiled a trio of new shapes for 2016, and has an exhibition at a French museum normally devoted to fashion's greatest hits. But perhaps Barbie is just that, argues Alexander Fury, as he examines the enduring legacy of the world's shortest supermodel.
The most famous fashion model in the world is skinny, sure. But she's not all that tall.
We're talking 11 1/2 inches at most - they dub it "playscale".
I'm talking about Barbie - a fashion phenomenon since her inception in 1959. Currently, she's the subject of an exhibition at the Musée des Arts Décoratifs in Paris, an institution that has honored designers including Yohji Yamamoto, Christian Lacroix, Louis Vuitton and Dries van Noten, but is currently overrun with pint-sized garments created by over sixty designers, including Alexander McQueen, Dolce and Gabbana, Gucci, Armani and Dior. There are also plenty more designed anonymously, by hands hidden in the headquarters of Mattel, in the small city of El Segundo California. Mattel have made trillions of those tiny garments, and in turn made billions from Barbie. In fact, sales of the toy turn over a billion dollars or so a year (figures have seesawed over the past few years); Mattel have claimed that three dolls are sold every second.
The profits may not last, but Barbie's cultural significance has been cemented. She's been idolised, vilified, remade and remodeled with each decade. Her most recent 2016 incarnation comes via three new body shapes - Tall, Curvy and Petite - for a line dubbed "Fashionistas." And, ultimately, Barbie's least volatile and most fruitful relationship is possibly with the fashion world.
Dolls have a long history with fashion - back in the seventeenth and eighteenth century, dolls called "Pandoras" were sent from court to court to illustrate the latest modes in miniature (although some Pandoras were life-size). During the reign of Marie Antoinette, many were fashioned with her features. After the second world war, the French couture industry turned to dolls to publicize its wares once again - leading couturiers created the "Theatre de la Mode", a series of dolls dressed in the latest fashions and set in scenery designed by Jean Cocteau and Christian Berard. The corps of dolls toured the world as PR for the French fashion trade. But it wasn't until 1959 that the fashion doll became a plaything for children, rather than a tool for adults. The originator was Barbie - granted, she was based on Bild Lilli, a German doll with similarly pneumatic proportions, peroxide hair and fashionable wardrobe. But Bild Lilli was devised as an adult plaything, although she became popular with children. Barbie was just for kids, but nevertheless the phrase "fashion doll" was endlessly used in reference to her.
It seems old-fashioned now, but Barbie is still a decidedly fashionable doll. A few years ago, the chief critic of American Vogue.com Sarah Mower staged a "doll's tea party" and explored the impact of the doll on fashion at Port Eliot, in a fashion adjunct to their famed literary festival. Barbies by far outnumbered any other doll in the room. And Barbie's impact is, of course, fundamental. Barbie is the first body many fashion designers get their mitts on - Christopher Kane still kits out a Barbie a season in miniature versions of his collections' key looks, while Erdem Moralioglu's first dress was a pale blue number made on his sister's Skipper doll, surreptitiously stolen by him aged six.
Of course, nascent designers seize on anything to dress - Alber Elbaz, formerly of Lanvin, made his first clothes on chess pieces. Jean Paul Gaultier's first corset was built on his teddy bear. However, Barbie's idealised brand of femininity is a natural mannequin for fashion designers' budding hopes and dreams. Speaking of starting out, the American designer Jason Wu actually began his career designing dolls - he created a range for Integrity Toys titled "Fashion Royalty;" their success, with adult specialist collectors, provided the seed money for his fashion line.
Wu's origin in the doll business is interesting to note, when admiring his trademark brand of frothy, embellished femininity. Wu marked himself out from his New York contemporaries via his propensity for a ball gown, and how adeptly he could turn them out. The Smithsonian hold two examples: Wu created both of Michelle Obama's gowns for her husband's inauguration as president, in 2009 and 2013. More obviously, Jeremy Scott devoted his second Moschino womenswear show to Barbie, blasting the saccharine 1997 Aqua hit and sending models out in Mattel's trademarked Barbie Pink. The evening wear section, Scott said, featured life-sized recreations of previous Barbie evening gowns. Reviews were mixed.
Many - including I - had an issue with dressing women as children's playthings. It's simultaneously infantalising and a sexualisation of childhood, as well as the added anti-feminist message inherent in a man transforming grown models into objects, to be toyed with and then discarded. Besides, the notion of blowing up Barbie clothes was done more interestingly by Martin Margiela, who used the distorted scale to disturb rather than mere act as set dressing. Nevertheless, it's a sign of Barbie's polarising position in popular culture that even gentle referencing - pink, plastic, bouncy blonde hair - could elicit such violent reaction.
It's possibly also the reason that designers have - and will continue - to both dress Barbie, and reference her. Because Barbie is known across the world, her appeal wide, her countenance instantly recognisable. When the French shoe designer Christian Louboutin created a Barbie doll, limited to 1,000 pieces and sold exclusively on net-a-porter.com, it sold out in a day, generated a global waiting list of 15,000 and became the fasting-selling product on the fashion website. In short, fashion needs Barbie more than Barbie needs fashion. She's a mass medium to get your message out on, presumably to the fashion consumers of the future. Not so different to those eighteenth century Pandoras, after all.
Register for free to continue reading
Registration is a free and easy way to support our truly independent journalism
By registering, you will also enjoy limited access to Premium articles, exclusive newsletters, commenting, and virtual events with our leading journalists
Already have an account? sign in
Register for free to continue reading
Registration is a free and easy way to support our truly independent journalism
By registering, you will also enjoy limited access to Premium articles, exclusive newsletters, commenting, and virtual events with our leading journalists
Already have an account? sign in
Join our new commenting forum
Join thought-provoking conversations, follow other Independent readers and see their replies