H&M launches collegiate collection inspired by Sex Education
Collection launches on 12 August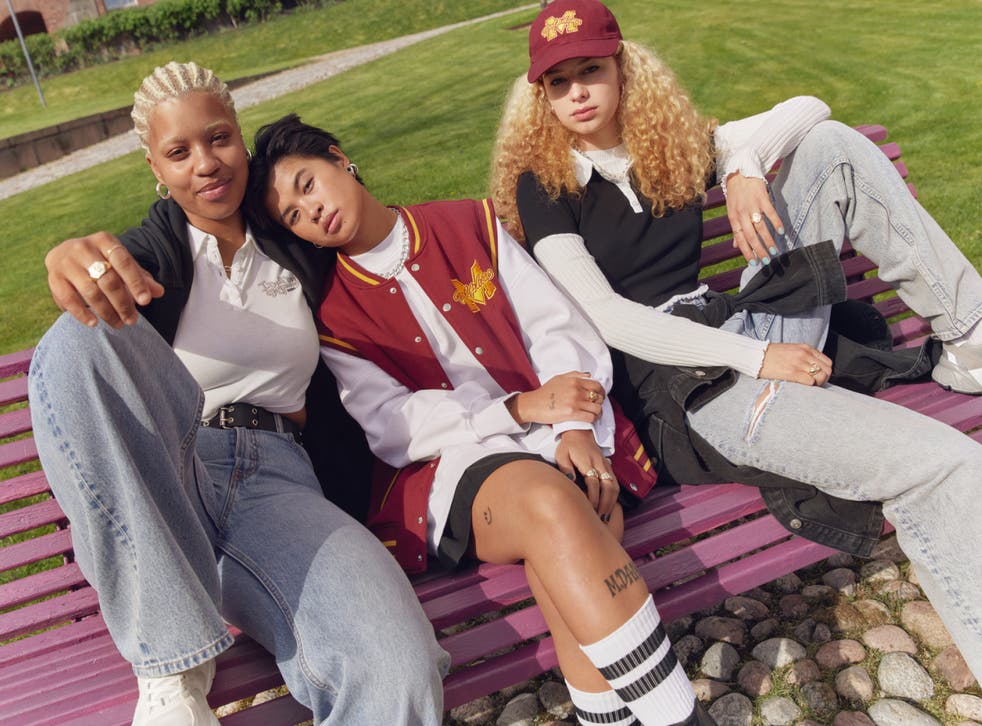 H&M has launched a Sex Education-inspired collection to celebrate the release of the third series of the popular Netflix series.
The new season of the programme, which is set to drop on Netflix on 17 September, introduces new character Miss Haddon – aka Hope – played by Girls star Jemima Kirke, who takes over from Mr Groff as the new principal of Moordale, the fictional school that the central characters attend.
To coincide with the highly anticipated new season, H&M has created a line of clothes inspired by the show's distinct aesthetic.
It includes a range of sweatshirts, pleated skirts and other uniform-inspired garments that are akin to those worn by the characters on the show.
Many of the jackets and jumpers are emblazoned with the Moordale logo.
There is also an oversized jumper with the face of the character Maeve Wiley (played by Emma Mackey) on the back.
There is also a crimson sweatshirt and tracksuit bottom two-piece similar to those worn by sporty characters in the programme.
"For this exclusive collaboration, H&M has created a campaign focusing on relatable and strong moments connecting to female empowerment, self-love and transparency by recreating scenarios from previous seasons of the popular series," reads a statement from H&M.
"With its varsity garments in crimson red and the logo of the series' fictional town's name, Moordale, this collection has just the right amount of retro-feel to it. It's mainly influenced by the series' vibrant lead characters, who you can easily spot on the prints on some of the garments."
According to the new season's synopsis, the forthcoming series of Sex Education is set in a new year.
"Otis is having casual sex, Eric and Adam are official and Jean has a baby on the way," it reads. "Aimee discovers feminism, Jackson gets a crush and a lost voicemail still looms."
Newcomers to the cast also include Jason Isaacs, who will portray Peter Groff, Mr Groff's successful and braggy older brother.
The H&M x Sex Education collection will be available online and in stores from 12 August.
Register for free to continue reading
Registration is a free and easy way to support our truly independent journalism
By registering, you will also enjoy limited access to Premium articles, exclusive newsletters, commenting, and virtual events with our leading journalists
Already have an account? sign in
Register for free to continue reading
Registration is a free and easy way to support our truly independent journalism
By registering, you will also enjoy limited access to Premium articles, exclusive newsletters, commenting, and virtual events with our leading journalists
Already have an account? sign in
Join our new commenting forum
Join thought-provoking conversations, follow other Independent readers and see their replies