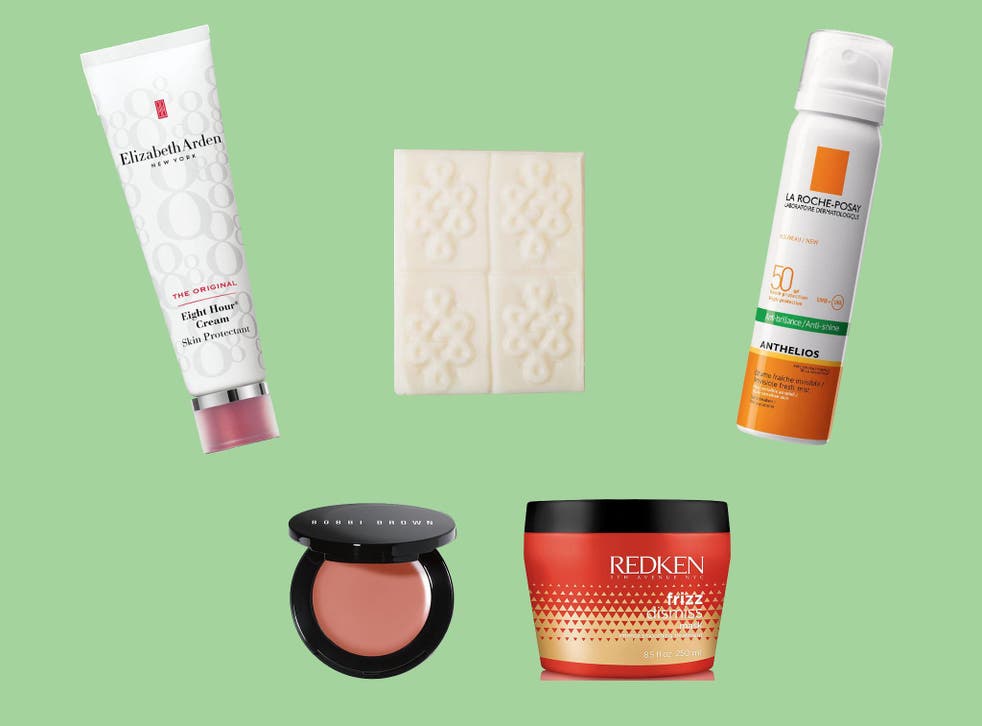 Five holiday beauty products you should pack in your suitcase this summer
Jetting off to somewhere hot? These must-haves will keep you looking and feeling fresh on the go
Aside from making sure you pack enough pairs of underwear, one thing you don't want to overlook when preparing for your summer holiday is which beauty essentials you'll be taking with you.
But with most airports imposing a strict 100ml limit to liquids carried in hand luggage, and limited space in your suitcase (because, well, a girl needs options), going on holiday is the perfect opportunity to streamline your beauty regime and rely on just a few key essentials.
From all-important SPF to multitasking products that will keep your poolside beauty look on point, knowing what to pack can feel like an impossible task.
To help you decipher what to take and what to trash, we've rounded up go-to holiday products that will help you stay feeling fresh and looking your best while on the go.
So, whether you're going on a weekend staycation, a minibreak in the sun or jetting off to more tropical climates, these are the travel-friendly beauty buys you need to invest in.
Sun protection
There might be a multitude of products that promise to give you a faux glow but the best way to achieve that real fresh-faced holiday look is with well looked-after skin.
According to Dr Catherine Borysiewicz, consultant dermatologist at the Cadogan Clinic, the best way to do this is by ensuring your skin is protected and moisturised.
Borysiewicz states that suncream is the most important skincare product for sunny holidays, explaining that she spends a large amount of time managing sun damage and skin cancers.
"I'm proud to be a sunscreen geek and love finding new and clever multi-tasking products," Borysiewicz tells The Independent.
"The key is finding an affordable product that feels good on your skin, suits your skin type and that you'll be happy to apply regularly."
The skincare expert recommends investing in an SPF product that doesn't leave a residue or cause breakouts, and to never go lower than factor 50.
Borysiewicz's top picks include La Roche Posay's Anthelios SPF 50 Invisible Face Mist and Bioderma Photoderm Spot SPF 50.
Hair mask
Sunbathing and swimming are some of the best parts about a summer holiday but, while they do wonderful things for your mind and body, the same cannot be said for your hair.
In fact, the combination of sun and sea can cause so much havoc on your tresses that Larry King, a celebrity hairstylist and founder of Larry King Haircare, suggests booking a follow-up appointment with your hairdresser as soon as soon as you touch back down at home.
However, there are a few things you can do to protect and repair your hair while you're on holiday.
"A great way of looking after your hair is to apply a really good conditioning hair mask before you head to the beach," King tells The Independent.
The stylist recommends layering the mask thickly on to wet hair and slicking it back for a chic wet look; rinsing out before heading for dinner.
"Brushing it back rather than into a parting will also help avoid burning your scalp where your hair parts," King says.
The stylist adds that his go-to mask is Redken's Frizz Dismiss which is specially formulated with nourishing Brazilian pracaxi oil, also known as the "miracle oil", to boost moisture levels and hydrate hair, leaving it smooth and silky soft.
Another top tip for caring for your tresses while on vacation is to invest in a wide-tooth comb as this kind of tool is much gentler on your lengths when you brush wet hair.
Multipurpose balm
Cracked lips and insect bites go hand in hand with the promise of warm weather, so a multi-use product that has the ability to solve a myriad of beauty woes should be at the top of your packing checklist.
Elizabeth Arden's Eight Hour Cream Skin Protectant is a skincare classic that restores, calms and helps relieve chapped, cracked and dry skin using a combination of petrolatum, a skin-soothing beta-hydroxy and vitamin E.
Aside from working efficiently to sooth roughness and dry skin it can be used to relieve sunburn, nourish cuticles and tame frizzy hair, and doubles up as lip gloss and highlighter.
Another great option is Lanolips' Everywhere Multi-Cream, which boasts multiple uses, from day cream to night cream and baby cream.
It can even by mixed with a few drops of your favourite foundation to create a lightweight tinted moisturiser on days you don't feel like wearing much make-up.
Deodorant
It is likely that deodorant is already part of your daily routine but chances are you'll be sweating more than usual as the temperatures soar, meaning keeping your armpits dry and fragrant becomes all the more important when you're on holiday.
For travellers concerned about their liquid allowance, as well as the health concerns associated with standard deodorants, a solid, chemical free alternative provides the perfect solution.
Aluminium, which is an active component in many antiperspirants, is just one of the reasons people are beginning to make the switch after it was linked to health complaints including breast cancer and neurological disorders like Alzheimer's disease.
However, studies about such health risks are not yet definitive, with Cancer Research UK stating that, "there is no good evidence that aluminium in deodorants could increase the risk of cancer in animals or humans".
Nonetheless, the belief among many is that it's better to be safe than sorry, so if you're concerned, or would simply like to try an all-natural formula, a tropical holiday is the best time to put them to the test.
Our top pick is the Aromaco solid deodorant from Lush Cosmetics which uses a combination of sodium bicarbonate and witch hazel to prevent sweating, as well as antibacterial chamomile vinegar and patchouli for a subtle scent.
Because it is a solid bar you can pack it in your hand luggage without having to worry about liquid restrictions and there's no packaging to go to landfill when it's finished.
Cheek and lip tint
Multipurpose products are a blessing for low-key beauty routines as well as your baggage allowance, and the good news is we live in the golden age of versatile make-up buys.
While there are hundreds of products out there designed to simplify your beauty routine and save space in your make-up bag, one of the best investments is a lip and cheek tint.
Kate Spiers, a travel, beauty and lifestyle blogger from Glasgow, highlights Bobbi Brown's Pot Rouge as her top pick.
"When I think of holiday packing, I think of multi-use products and the Pot Rouge is definitely just that," Spiers tells The Independent.
"These low-maintenance wonders add the dewiest pop of colour, and you can tap them on to lips and cheeks."
The co-presenter of BBC's Scotland's Home of the Year adds that her favourite shade is Fresh Melon because it is the type of coral-hue that "that flatters a tan endlessly".
Another cult favourite worth considering is the Charlotte Tilbury Beach Stick Bronzer which can be used on the eyes, lips and cheeks to transform your beauty look within a matter of minutes.
Join our new commenting forum
Join thought-provoking conversations, follow other Independent readers and see their replies