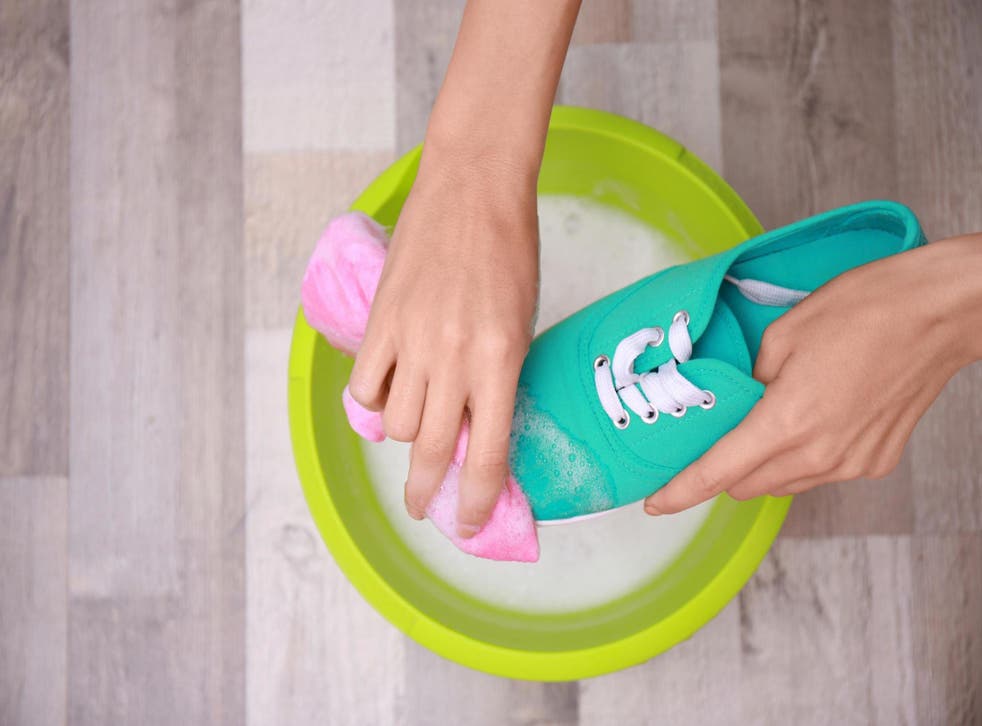 Woman shares trick for cleaning suede heels
The viral trick involves an inexpensive facial cleanser 
Chelsea Ritschel
Thursday 16 May 2019 22:27 Comments
Most people have a love-hate relationship when it comes to suede shoes - after all, they can look incredible, but scuffs and marks can be near impossible to remove.
Rubbing with water can just make the stain worse, and suede cleaners rarely leave the shoes "like-new" as promised.
However, one woman recently discovered a solution for cleaning suede shoes - and you probably already own the secret ingredient.
Kiera O'Hagan, from Scotland, found that micellar water is capable of bringing your suede shoes back to life, which she proved with pictures of her own nude suede heels.
O'Hagan tweeted the before-and-after photos of her heels with the caption: "Micellar water has just taken all the stains out of my suede heels. Everyone needs to try this," and her advice has since gone viral.
The ten best cleansers

Show all 10
In the photos, which have been liked over 36,000 times, O'Hagan's muddied heels are transformed with micellar water, leaving them completely stain-free in the after photos.
Micellar water is 'soft water' made up of micelles, or tiny balls of cleansing oil molecules.
The cleanser is typically used as a makeup remover, facial cleanser, and moisturiser.
However, dermatologist Hadley King of Skinney Medspa told HuffPost: "Micelles are attracted to dirt and oil, so they are able to draw out impurities without drying out the skin" - which also makes them a great suede-cleaning solution.
And, according to O'Hagan, who put micellar water on a cotton pad and rubbed away, the cleanser also works on "white suede trainers too."
Others are now sharing their own photos of their suede shoes, made perfect again thanks to micellar water and O'Hagan's advice.
One woman responded: "This has saved my life."
According to her tweets, O'Hagan used Garnier micellar water, available in most drug stores.
"I swear micellar water is made with unicorn tears because it's the most magical thing I've ever tried," wrote one person.
Click here for Clarks discount codes
This article was originally published in May 2018
Register for free to continue reading
Registration is a free and easy way to support our truly independent journalism
By registering, you will also enjoy limited access to Premium articles, exclusive newsletters, commenting, and virtual events with our leading journalists
Already have an account? sign in
Join our new commenting forum
Join thought-provoking conversations, follow other Independent readers and see their replies