The Independent's journalism is supported by our readers. When you purchase through links on our site, we may earn commission.
How to cut your own hair with clippers - a guide for men
Everything you need to know about cutting your own hair at home during lockdown
Wednesday 17 February 2021 10:11
Comments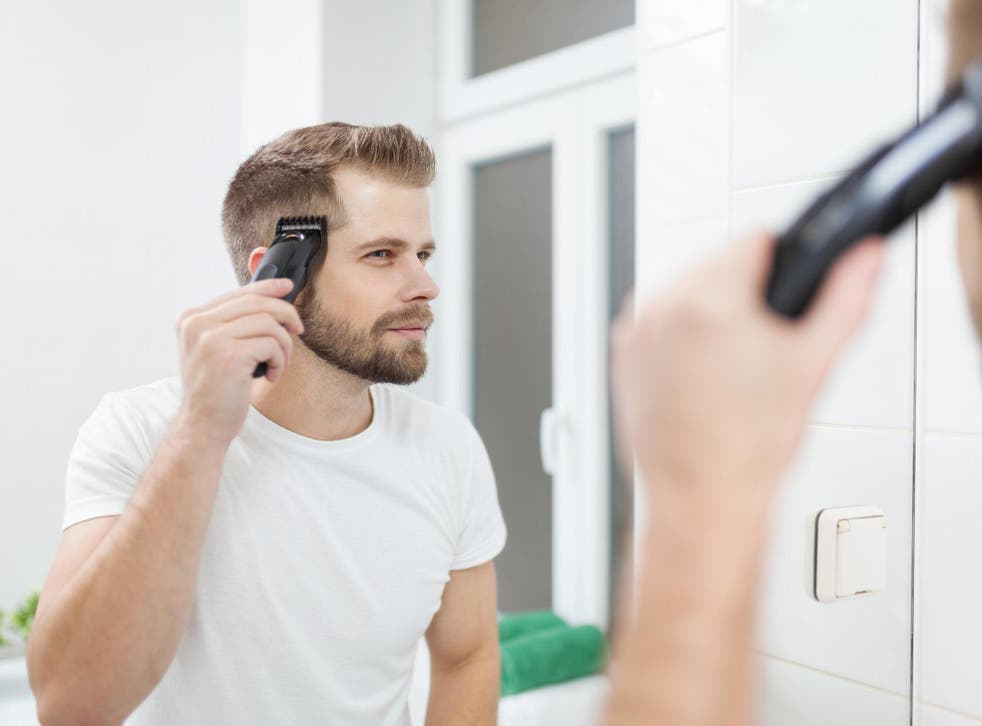 Cutting your own hair at home would not be most people's first choice but as the UK lockdown looks set to continue for the foreseeable it might seem like your only option.
The coronavirus pandemic has seen barber shops across the country temporarily close and, while we can all agree this is a necessary measure, it has left people's manes looking rather messy.
From work video calls that call for your tresses to be business as usual to weekend Zoom parties with your friends and FaceTime chats with your family, grooming (unfortunately) cannot be totally ignored.
And for some people it might be a way of feeling like you can regain some control over a situation that can feel overwhelming.
Elsewhere, others have used it as an opportunity to raise awareness and funds for those working on the frontline.
Star Wars actor Riz Ahmed and This Is England star Stephen Graham are among the celebrities getting involved with so-called "lockdown locks", while a fundraiser set up by Alex Davis, from Bristol called "Shave Donate Nominate" has so far raised more than £19,000 out of a £20,000 target, with all proceeds going to the NHS.
Using the hashtags #ShaveHeadsSaveLives and #ShaveAtHome, the campaign has seen hundreds of people donate.
Whatever your reason for wanting to buzz it all off, cutting your own hair is far from simple, and many barbers have trained for years to master the skill.
"This is not something I would advise unless someone is really desperate and would encourage people to muscle it out and use products to style their hair differently whilst we are in lock down," says Joe Mills, founder of Soho-based men's salon Joe and Co.
"It takes a long time to learn our craft," he adds, explaining anyone who really wants to give cutting their own hair a go follow professional guidance.
Here, The Independent speaks to two expert barbers to get their tips on how to cut, maintain and style short hair when a professional trim is not an option.
What tools do you need?
If you feel that you really cannot wait until you the salons re-open post-lockdown, then there are a number of tools you are going to need.
"We would recommend using a comb, a decent set of clippers with the correct guards to measure the length of what you want, Wahl or Andis are some of our favourites," says Ben Haynes, senior barber at Johnny's Chop Shop in London.
Mills adds: "Two mirrors are a must along with a towel to stop the hair going everywhere.
"[And] scissors...but they need to be hairdressing scissors as they are very sharp and light weight so are easier to handle."
How can you achieve the perfect buzzcut at home?
If you already have this hairstyle, and know the length you want Mills says to make sure the clippers are fully charged, attach the guards to them securely (you don't want it falling off mid way) and run the clippers all over clean, dry hair in all directions to get any stray hairs and repeat until you feel you have achieved the desired look.
Then rinse your hair and do it again.
Alternatively, if you have longer hair and are doing this for the first time he suggests starting with the longest guard and taking your time.
"Start at the sides and check the length before going over the top," Mills explains.
"You can do this a few times and do not rush it. Let the clippers do the work and go easy."
Haynes agrees, adding that it is better to start longer, as you can always keep going shorter.
"Most people like back and sides a bit shorter, so we'd go down to a grade two on the sides and then even out the line with the 2.5," Haynes explains.
"We wouldn't recommend going down to a one unless you want a super tight fade down to the skin."
What do the numbers on clippers mean?
Essentially, Haynes says that the higher the number or grade is, the longer the hair will be, adding that if you are unsure you should start with a five and take it down a grade each time.
Mills adds that professional clipper guards are usually 1/8 of an inch apart, so a grade four is equivalent to 1/2 inch.
Best celebrity hair transformations

Show all 32
What's the best way to trim your hair if you want to keep some length on top?
If you want to achieve a more tradition short-back-and-sides look, Haynes suggests trimming the sides using grades two to three before putting the clipper guard square to your head up to the earbud temple then following the head shape round.
"Comb hair up to the sides and you don't have to touch the top at all," he explains.
However, trimming longer hair is not something Mills recommends doing at home and instead encourages people to try out different styles as their hair grows.
"It takes a lot of training to understand how to go through this process. It's not just a case of picking hair up and cutting it and also doing it on yourself with a pair of sharp scissors isn't ideal," Mills says.
"Instead of cutting it try styling it differently with a heavier product or get you hair dryer out and try blow drying it."
Is it possible to achieve a fade?
While Mills insists that it is impossible to give yourself a fade at home without any training, Haynes says it is not entirely unthinkable – as long as you watch plenty of YouTube tutorials beforehand and are prepared to spend time perfecting it.
"Start with a guard two all the way round the back and sides," Haynes says.
"Then go half way up with this with a guard one and tub and flick the connecting line with a 1.5/1.75 to even out to create a faded look."
What's the best way to trim around the ears, sideburns and neck?
For neck hair, Mills suggests using a small set of clippers and gently cleaning up to where you hair is and not going higher.
When it comes to side burns he recommends using a clipper guard that matches you hair length the best and gently blending them in without going too high!
"Cutting around your ears requires more effort as you need to careful you don't cut off too much in the wrong place," Mills says. "Personally I would use a grade four and gently work through the sides using the mirrors to get the best view of what you are doing, but again, go easy."
How should you be looking after your beard?
If you have a new beard or just want to keep yours beard neat, the first step is to work out how long you want it.
"Use the guards to establish how long it is and then how short you want to go," says Mills.
"Start at the sides and then work the clippers into the chin and neck almost leaving a goatee once you have the that section all cleaned up the I would use the next guard up and trim the goatee area. If you are happy with the length then great if not go down a grade.
"Make sure you go with and against the hair growth to get it even."
Mills adds that the moustache area should be tackled using the corner of the clipper and starting from the middle before going to the corners.
For long beards, Haynes suggests tidying the edges with trimmers but not cutting it and always using a beard oil and beard shampoo to keep it looking fresh.
Register for free to continue reading
Registration is a free and easy way to support our truly independent journalism
By registering, you will also enjoy limited access to Premium articles, exclusive newsletters, commenting, and virtual events with our leading journalists
Already have an account? sign in
Register for free to continue reading
Registration is a free and easy way to support our truly independent journalism
By registering, you will also enjoy limited access to Premium articles, exclusive newsletters, commenting, and virtual events with our leading journalists
Already have an account? sign in
Join our new commenting forum
Join thought-provoking conversations, follow other Independent readers and see their replies