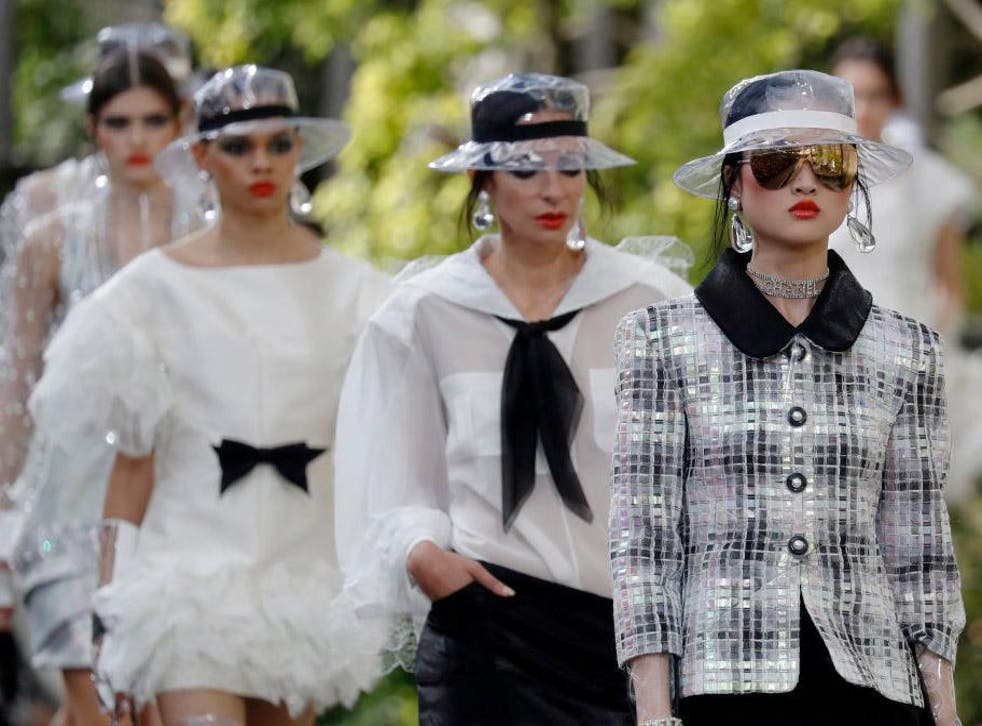 How to wear this season's plastic fashion trend
This spring and summer, garments are leaving little to the imagination
To quote 90s Danish pop group Aqua, "life in plastic is fantastic". Well, that's what the fashion crowd are saying anyway.
One of the most unexpected trends to make its way from the runway to our wardrobes; plastic is having a serious high-fashion moment for spring/summer 2018. A synthetic fabric one typically associates with less glamorous objects like carrier bags, Tupperware and rain ponchos, plastic has now been elevated to the dizzying heights of some of our sartorial favourites.
At Chanel, a runway complete with waterfalls and streams inspired the Verdon Gorge saw models wearing everything from knee-high plastic boots and transparent hooded waterproof coats to seethrough gloves and matching wide-brimmed hats.
But Lagerfeld wasn't the only designer repurposing the synthetic fabric. At Acne studios creative director Jonny Johansson showcased slick shirting against a backdrop of a giant shower curtain, while Burberry presented sheer plastic trenches and Balmain offered a printed black-and-transparent coat with matching booties.
Of course, like many trends, wearing head-to-toe seethrough plastic looks great on the runway but just how easy is it to pull off in real life? The trick here is to work the trend around your everyday essentials one piece at a time.
While a transparent raincoat or trench will serve the brave among you well, accessories are the most consumer-friendly way to wear this divisive trend. Whether you nod to it with a handbag, earrings or even a shoe, it turns out plastic is far more wearable than one might think.
Register for free to continue reading
Registration is a free and easy way to support our truly independent journalism
By registering, you will also enjoy limited access to Premium articles, exclusive newsletters, commenting, and virtual events with our leading journalists
Already have an account? sign in
Register for free to continue reading
Registration is a free and easy way to support our truly independent journalism
By registering, you will also enjoy limited access to Premium articles, exclusive newsletters, commenting, and virtual events with our leading journalists
Already have an account? sign in
Join our new commenting forum
Join thought-provoking conversations, follow other Independent readers and see their replies