Men's engagement rings are getting more popular – here's what experts say about the trend
There's a growing selection of engagement rings for men to choose from, says Yolanthe Fawehinmi.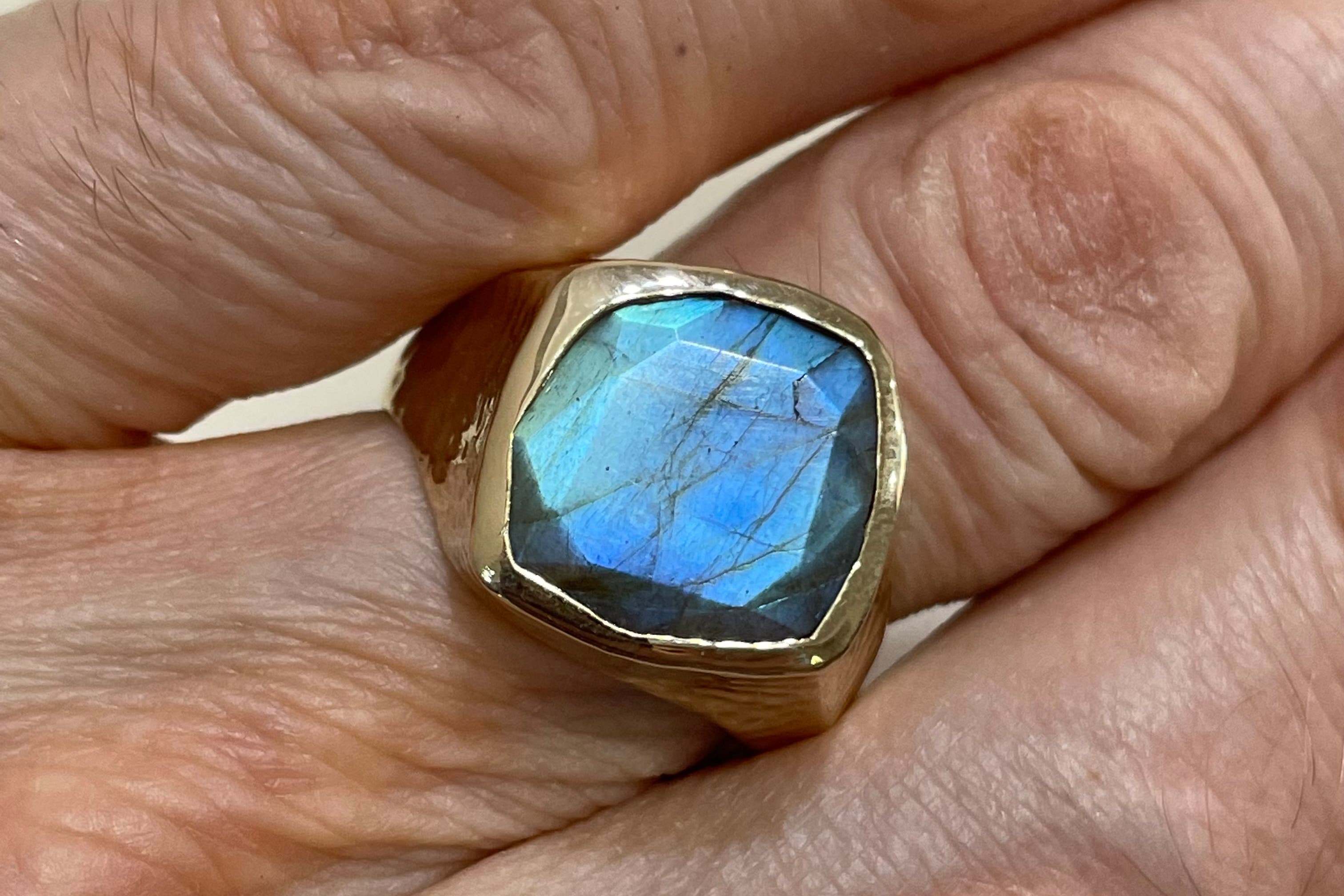 More and more men are embracing statement jewellery and wearing engagement rings, according to industry insiders.
The trend isn't exactly brand new. For example, back in 2009, American singer, actress and TV host Jennifer Hudson decided to propose back to her then partner, American actor David Otunga – getting down on one knee with a ring in hand, five months after he'd first popped the question to her on her 27th birthday.
Later, singer Michael Bublé sported an engagement ring after he and Luisana Loreley Lopilato de la Torre got engaged, telling fans it was usual that "the boy also wears the engagement ring" in Argentina, where his now wife is from. Former American footballer Osi Umenyiora was another male celeb spotted wearing an engagement ring, among others.
Attitudes are shifting
For Arabel Lebrusan, founder and designer at ethical jewellery designer brand Lebrusan Studio, the margins for 'bridal' jewellery customs are shifting, largely in line with our evolving understanding of gender roles and identity.
"But what makes the current demand difficult to define by concrete statistics is the difference in the language used to refer to engagement rings for men versus engagement rings for women, with men's engagement rings often discussed in more ambiguous terms," Lebrusan told PA Media."Western tradition has assigned engagement rings primarily to women for centuries, but a greater emphasis on gender equality within couples and increasing visibility, inclusivity and liberty of LGBTQ+ people has loosened the rules that once governed who could and couldn't wear an engagement ring," she added."Up until last year, we'd never knowingly been commissioned to create a men's engagement ring, so even one assignment in this field is technically an increase."
What should you look for in a men's engagement ring?
According to the industry experts, male engagement rings are usually selected on an individual basis and every enquiry is different.
Dan Dower, design director at Dower & Hall, said they rarely get asked for an actual engagement ring for men – it tends to be a more elaborate or stone set 'wedding' ring, which does the job, and often in white gold or platinum.
"We've done quite a few with diamonds, but also with other stones like sapphires and even one recently set with a faceted labradorite. It was definitely a statement engagement ring, which was then reconfirmed as the wedding ring," explained Dower.
"We've had commissions from both gay and straight men – but all definitely super confident in their tastes and appearance, which has been a joy to work with."
Do men have separate engagement and wedding rings?
Traditionally, women have tended to have an engagement ring at the point of proposal, and then a different wedding ring once married. Is it the same for men who choose to wear an engagement ring? "More often, the 'engagement' ring then becomes the 'wedding' ring," said Dower. "Or we might do a 'commitment' ring, which is worn on a different finger or right hand, followed by a 'wedding' ring for the ring finger."
Ultimately, it's an individual choice and traditions don't need to dictate how you choose to do things!
How much do men's engagement rings cost?
Cost often depends on a number of factors, including how complex the design is and the materials used. Simple bands without any gemstones will cost less than more detailed rings, of course. Pricing can typically start anywhere from £200 to £2,000.
What are the things to be mindful of?
Lebrusan strongly encourages men to think about the materials they go for, since they will be wearing the engagement ring every day, and maybe for years on end.
She suggests: "Choosing only from a pool of resilient metal and gemstone options – think platinum, 18ct gold, diamond or sapphire. For those with bigger hands, we also recommend considering chunkier styles, since incredibly slender bands can be compromised by large internal diameters.
"Jewellery care requirements vary depending on style and materials, so it's worth asking your jeweller for some detailed tips for caring for your engagement ring before you part ways," Lebrusan added. "As a general rule of thumb, however, any engagement ring should be easily removed before any form of sport, housework or manual labour."