Jessica Alba 'irritated' by two specific tattoos she got years ago
'I got it lasered many times and it's not coming out'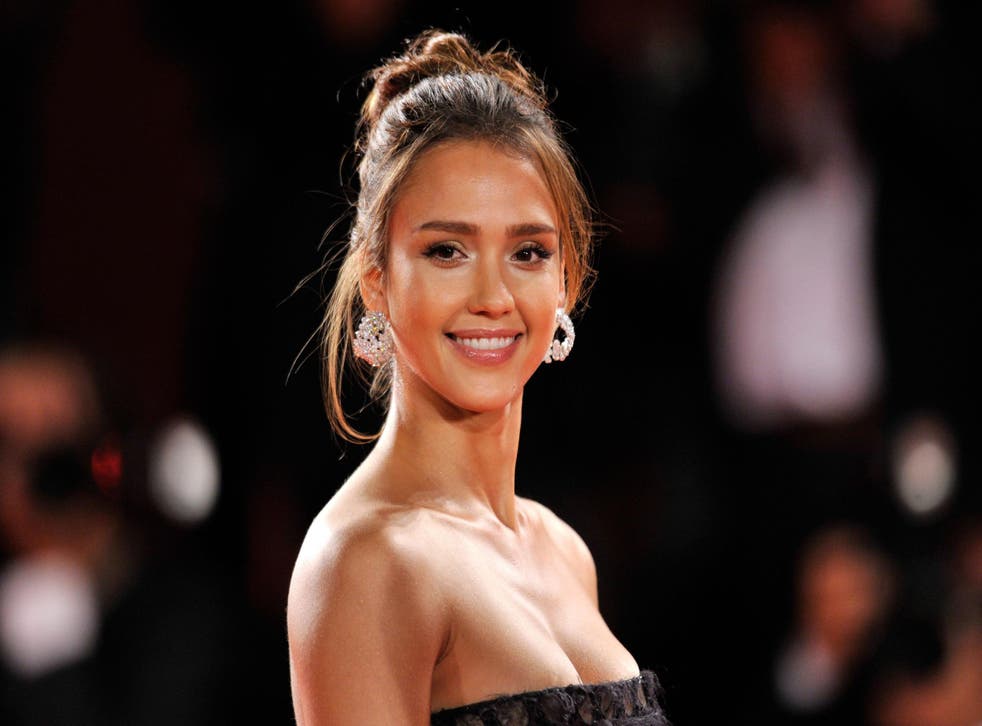 Jessica Alba has opened up about her beauty regrets, admitting she is "irritated" by two tattoos she got when she was younger.
The 38-year-old actor, who has starred in films including Fantastic Four, Good Luck Chuck and Honey, is also an entrepreneur, having launched her all-natural and cruelty-free beauty brand, Honest Beauty, in 2012.
However, while she may be the founder of a beauty brand, that's not to say Alba doesn't regret some of the choices she's made over the years when it comes to modifying her body.
"I do have a few tattoos, and I regret one of them...maybe two," Alba told Refinery 2019.
Describing one tattoo – a bow inked in the middle of her lower back – as a "tramp stamp", she continued, saying that she is "irritated" by another, a set of flowers, tattooed on her neck.
Game of Thrones fans queue for hours to get tattoos

Show all 8
"I got it when I was, like, 17 and I'm so irritated that I got it," she told the publication. "I got it lasered many times and it's not coming out."
Unwanted tattoos can be removed gradually over a series of sessions using a laser, according to the NHS.
The laser's energy breaks down the tattoo ink into tiny fragments, which are eventually absorbed into the bloodstream and safely passed out of the body.
In the UK, private clinics charge about £150 a session to remove a small tattoo and up to £800 for a larger one, the organisation explains.
Despite having regrets over some of her inkings, the mother-of-three has gone on to have three more tattoos – the zodiac signs of her three children: Honor, Haven and Hayes.
"I really wanted to think about what would be meaningful over time, because when you get something when you're 17 and now you're 38, you're like, hmm, don't know if that's too meaningful," the actor continued.
"But for that one, the kids are forever."
Earlier this year, singer Ariana Grande received backlash after sharing an image of a tattoo – the phrase "7 Rings"– inked in Japanese characters on the palm of her hand.
The original tattoo was made up of two kanji characters: "七", which means "seven", and "輪", which means "hoop", "circle" or "rings". Putting the two characters together, "七輪", translates to mean "shichirin", which is a lightweight small charcoal grill.
Support free-thinking journalism and attend Independent events
The singer attempted to fix the tattoo by getting an additional kanji, "指", meaning "finger", added to her hand.
Unfortunately, even with the amendment, the tattoo can still be read strangely, as Japanese can be read from left to right or in vertical columns. Therefore, the tattoo may still have different translations, depending on the direction in which it's read.
In an emotional series of since-deleted tweets, Grande spoke about her issues with the tattoo, calling it an "innocent mistake" and saying there's a difference between "appropriation and appreciation".
Register for free to continue reading
Registration is a free and easy way to support our truly independent journalism
By registering, you will also enjoy limited access to Premium articles, exclusive newsletters, commenting, and virtual events with our leading journalists
Already have an account? sign in
Register for free to continue reading
Registration is a free and easy way to support our truly independent journalism
By registering, you will also enjoy limited access to Premium articles, exclusive newsletters, commenting, and virtual events with our leading journalists
Already have an account? sign in
Join our new commenting forum
Join thought-provoking conversations, follow other Independent readers and see their replies