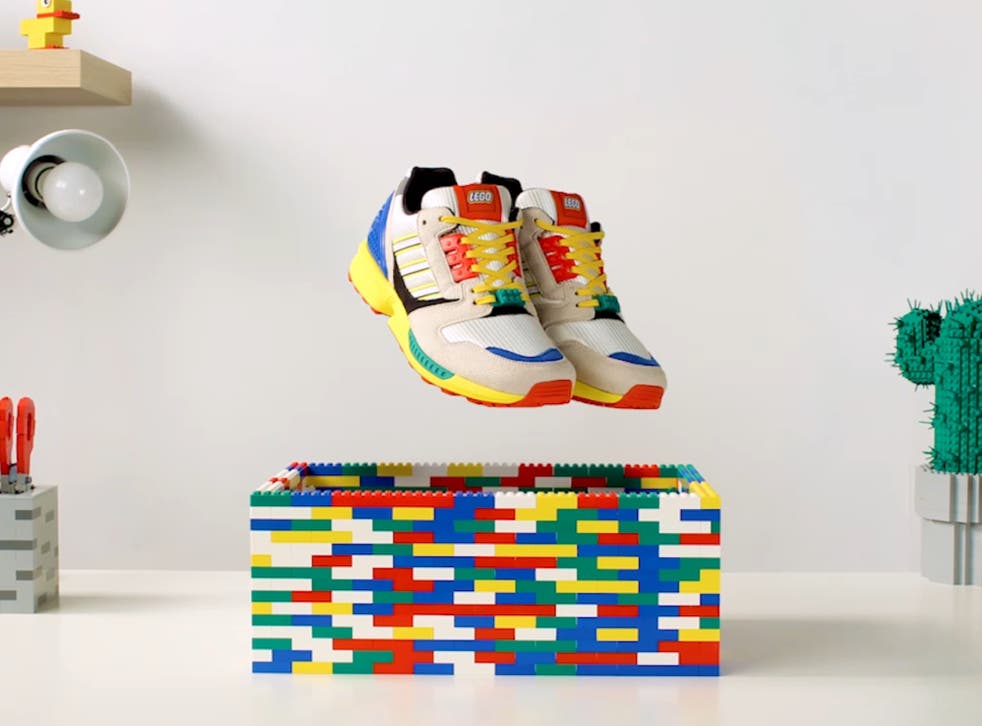 Adidas collaborates with Lego for launch of primary coloured trainers
The playful trainers will be available to purchase exclusively through the Adidas app
Sabrina Barr
Thursday 24 September 2020 13:21 Comments
Leer en Español
Adidas has launched a new pair of trainers in partnership with Lego, taking inspiration from the world-famous children's toy for its brand new footwear.
Adidas first launched its ZX footwear series in 1984, manufacturing shoes specifically with runners in mind.
More than three decades later, the classic ZX 8000 silhouette has been reimagined for the sportswear company's collaboration with Lego, which was founded in Denmark in the mid-20th century. 
The shoes are designed to celebrate the classic Lego brick, incorporating bold primary colours and green on panels across the shoes.
"Demonstrating that you're never too old to play, this unique release sees the Danish toy company bring its instantly recognisable aesthetics to an adidas archival icon," Lego stated upon the announcement of the trainers.
In order to pull off a trainer that authentically pays tribute to the Lego brick, the shoe has been designed with multi-coloured mesh and Lego studs on the heels.
The tongue of the trainers features both the Adidas and Lego logos, while the footwear comes with six options for different coloured laces and "interchangeable Lego brick lace jewels".
The trainers are being released on Friday 25 September exclusively through the Adidas app, which can be downloaded on the Apple App Store and on Google Play.
In the UK, the bold footwear is retailing at £99.95, and is excluded from all promotional discounts and offers.
Lego recently confirmed that it was switching all of its single-use plastic packaging to recyclable paper, after receiving letters from children asking for the company to make the environmentally change.
From 2021, recyclable paper bags will be trialled in boxes of Lego products, the firm stated.
"We have received many letters from children about the environment asking us to remove single-use plastic packaging," said Niels B Christiansen, Lego Group's chief executive.
"As a company who looks to children as our role models, we are inspired by the millions of kids who have called for more urgent action on climate change."
Register for free to continue reading
Registration is a free and easy way to support our truly independent journalism
By registering, you will also enjoy limited access to Premium articles, exclusive newsletters, commenting, and virtual events with our leading journalists
Already have an account? sign in
Join our new commenting forum
Join thought-provoking conversations, follow other Independent readers and see their replies