LIFESTYLE FEATURES
After a year of no effort, three lockdowns and catching Covid, I wore makeup for 7 days to feel something
At first giving up on beauty and bras felt liberating, but as the pandemic rumbles on, Tahmina Begum asks what we have to gain from keeping up appearances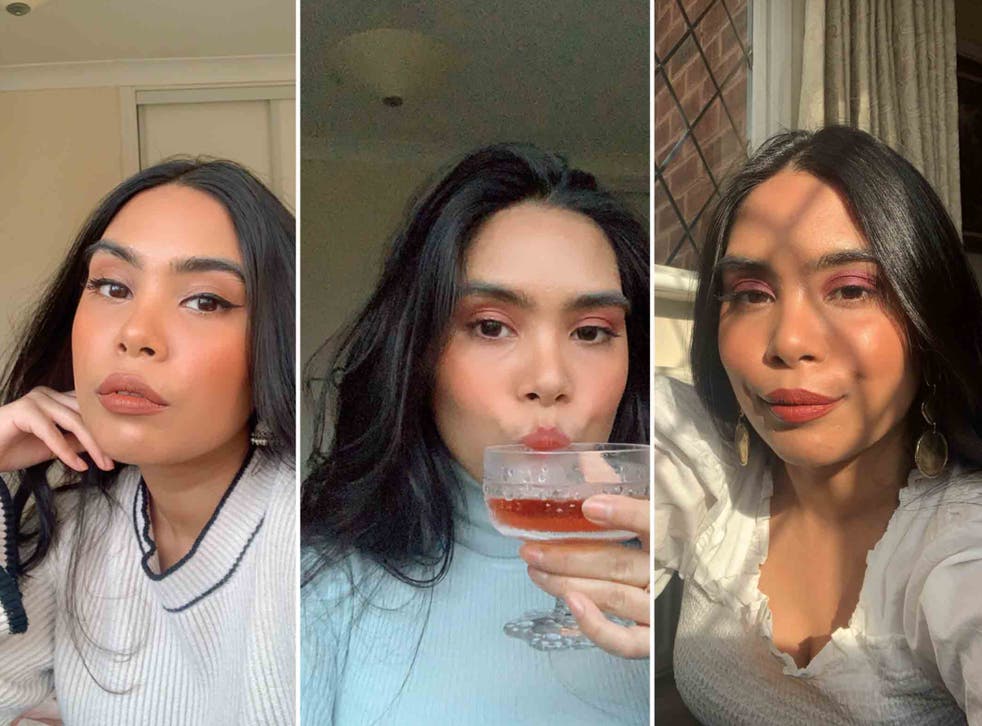 Living within the same four walls for a year has meant my life before and after coronavirus has vastly changed. It's not just in the macro – not being able to travel to work or socialise with friends – but even in the smallest of things like getting dressed.
A month into the first lockdown, it was liberating. People were praising the death of the bra, and the elevation of elasticated trousers to totally-acceptable workwear. Then, due to the closure of hair and beauty salons, many of us became our own hairstylists and nail technicians. We discovered the skills we definitely do, and do not, possess. 
During lockdown, like many others, I started wearing makeup less and less. I used to wear it most days but now I go weeks without wearing any concealer. Luckily my relationship with makeup has long been a pleasant one. I'm fortunate enough that makeup for me is a booster and not a founding pillar to my confidence (no judgement where that is the case).
But, a year later, it no longer feels liberating to have shunned it, and instead putting effort into our appearance can feel like an empty space we want to have reason to fill. This made me wonder who was I wearing makeup for in the first place? And how its absence makes me feel?
After a difficult year, and recently recovering from having coronavirus, I decided to attempt to wear makeup for seven days in a row during the third lockdown to see what I could learn.
Monday
I spent most of January makeup-free after contracting Covid, but a recent birthday meant I got the taste of berry lipstick and purple eyelids again. Having said that, if I'm being honest, I am not excited at the prospect of putting makeup on every day for the next week. Eurgh, the effort.
And I'm off to a bad start – my working day has already begun later than I desired, it is lunchtime and I'm wondering if I can get away without putting on makeup today? My excuse is that I worked out this morning and then started writing so have had no desire to sit in front of my vanity. But perhaps it's bad vibes to kick off the experiment like this.
So I kept it simple (in my book) with some concealer, blush, mascara and a deep wine coloured lip. I ended up matching the flowers in my bedroom. I feel suddenly more awake, happier and catch myself having a pep in my step. It probably has something to do with the fact that putting a proper face of makeup on also meant getting dressed. It didn't make me more productive but there's a clear distinction between staying in my loungewear and feeling aimless, versus real clothes and a beauty routine that makes me feel alive.
Tuesday
Again, I started applying makeup later in the day (1.07pm). I've realised this is because I always want my beauty experience to be an extension of what I do in my day instead of interrupting any activities like exercise or praying.
As a Muslim, who tries to pray five times a day, I've been strategically applying makeup in the middle of the day as opposed to the morning, because I want to hold onto my wu'du, the quick wash you do before each prayer (there are a set of rules that "break" your wu'du meaning you'll have to do it again). As we're still in winter, prayers are closer together so I'm trying to avoid splashing water over this beat multiple times in the day.
Today I'm channelling an Eighties dream look made up of cerulean and teal eyeliner, peachy cheeks and a coral lip. This more creative palette made me feel brand-new again, especially as I have just pulled out a top that I haven't worn in a while – an entirely new lease of life.
As well as feeling emotionally invigorated, mid-afternoon I had to jump on an unexpected work video call, which maybe I wouldn't have been able to do so fast if I wasn't already ready for the day? I'm appreciating feeling cute but also prepared physically as well as mentally for the day. Question: does wearing makeup still give the appearance of professionalism?
Wednesday
It's surprising how quickly habits can form. I now realise I had been emboldened by the idea in lockdown that I didn't want makeup to become an inconvenience (very strange as I've always adored beauty and now I have more time than ever). But now, the experiment is becoming a pick me up and one of the few things I can do that isn't just about "surviving" the day.
The working days this week have gone really quick with multiple deadlines due, meaning that yet again, I only applied makeup at 3pm. Usually, in lockdown,  if it got to this time and I had not worn makeup I wouldn't bother, but taking some time for myself before the typical 4pm crash meant giving myself breathing space. It felt similar to a midday shower, necessary to organise thoughts and realign some headspace.
It also got me out of the tunnel vision of how a typical 10-6 working day should be experienced and reminded me that I do have control over my own time. Lesson learned: I will apply makeup at whatever time of the day and won't see it as a "waste" to wear it only for a couple of hours.
Thursday
As I was getting ready and applying a sunset look, I realised this was the fourth day in a row where I had done a different workout and worn a completely different outfit, and wondered how this disruption of one part of my routine might be linked to the others.
In other good news, I was also heading up to bed earlier each night because my routine now needed to include taking off a full face of makeup. Exercising, getting dressed, and putting on makeup have become such rarities in lockdown that this has instantly made me feel good.
It's obvious that when you do something repeatedly that makes you feel great, you will naturally make time for it. Plus looking cute every day of the week has reminded me that a little effort goes a long way (and its nice to actually use the things that take up space in my room).
Friday
During lockdown, I've very rarely worn makeup on Friday, especially during the day, as jummah is a religious day for Muslims. Even if no one is congregating in the mosque, I tend to focus on my self-care and skincare on Fridays, beginning with a big soak in the morning and layering lots of different facial oils throughout the day.
When it came to today's look, I did notice that my face looked a bit tired so I prepped with a Vitamin C face mask, and though I personally dislike applying any makeup when my skin looks baby fresh out of a hot bath, I thought I'd pull out a favourite look. You can rarely go wrong with emerald and matcha green eyeshadow as well as a bronzed face. Green is a favoured colour in the Islamic world, supposedly the Prophet Mohammed's [PBUH's] favourite colour.
Then, as I was taking my selfies, I accidentally pressed a filter that gives the image of a perfect eyeliner. I wonder how many of us during lockdown have used a filter as it's quicker than actually wearing makeup?
Saturday
Usually for the weekend, I like to form some kind of separation. My breakfasts differ, I don't look at emails and I try a walk with a close friend, wearing not an inch of makeup. But this Saturday, like many weekends, I wasn't going anywhere apart from an online wine and art class with a friend for Galentine's Day. Would I bother with makeup?
Yet after oversleeping, (a Saturday luxury I plan on continuing) and realising I needed to pop to the shop, I quickly smeared on a look in under five minutes. I've never really known what my "go-to" look is as makeup tends to be mood dependent for me, but apparently it's a blush coloured terracotta across everything – eyes, cheeks and lips. A quick brush of the brows and some concealer and whoosh, I'm off to the Co-op.
Perhaps it was the art class, maybe it was the makeup but both my friend and I spoke about how nice it was to actually do something on our Saturday instead of wandering from room to room, watching Netflix and doom scrolling.
Sunday
It's Valentine's day. Meaning the day of love for me looks like a (cancelled) therapy session, writing my newsletter [The Aram] and singing happy birthday to a close friend. It also means red lips and stained cheeks while remaining in my robe, as it's still a Sunday.
By the end of the week my face was excited to take a break, be drowned in hyaluronic acid and honey sheet masks. Wearing makeup every day showed me how quickly habits that we thought we'd lost can be reformed, and the difference just 15 minutes spent on yourself can make.
When I've felt like so much of this year I've had my head underwater, it allowed me to break the surface, even if only temporarily. And although makeup can feel like a minor footnote in our day, why should caring for yourself ever be considered a small win?
Join our new commenting forum
Join thought-provoking conversations, follow other Independent readers and see their replies