The Independent's journalism is supported by our readers. When you purchase through links on our site, we may earn commission.
From Tom Ford to Giles Deacon: Behind the scenes of London's fashion studios
A new book is offering a glimpse into the world of high-end fashion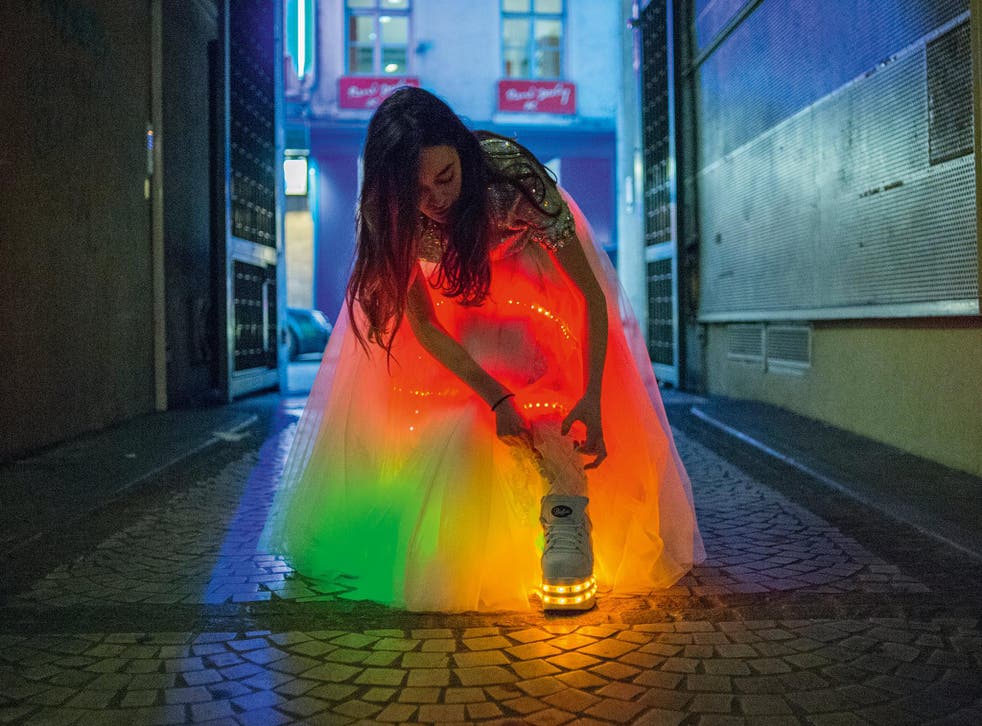 From the tailors working in Savile Row since the 19th century and the psychedelics designs of the swinging Sixties, to the students cutting their teeth in some of the world's top fashion schools including Central Saint Martins, London has long been linked to forward-thinking style.
But while the influence of UK designers - from Alexander McQueen to Vivienne Westwood - can be felt worldwide, the industry can often feel elitist and impenetrable. A new book London Uprising hopes to demystify this pocket of the creative industry that contributes £28billion to the UK economy with interviews with the biggest names who work in the capital.
Tom Ford - Interviewed by creative consultant Paula Reed
Tom Ford's perfectionism has been noted. But make nomistake: in a sample of the detail-driven (in which entrepreneurs inevitably find themselves), Mr Ford occupies a unique subset of obsessives. Every connection that it is possible to make with his customer is calculated to impress. His studio, the global nerve centre of Tom Ford Inc, is calculated to stun.
Ford chose to establish a design office in London as far back as 1996, when he and CEO Domenico De Sole moved the Gucci headquarters to Mayfair. 'I have lived and worked everywhere,' he says. 'Milan, Paris, New York, LA. But nowhere has everything London has.' He selected Victoria for his design office when he set up as Tom Ford in 2005: the area known to estate agents as the GG quarter (as in God and Government, not the interlocking kind). It was a fashion wasteland but offered spaces that were comparable in scale to the warehouses of the industrial east, and was within easy reach of Knightsbridge and Belgravia. In true Tom Ford style, he went where no one had been before and a crowd soon followed (the area is now the location of several international fashion business headquarters).
London Uprising - In pictures

Show all 8
Ford is one of the industry heavyweights whose approbation underpins London status as a global fashion capital. For this is the man who turned failing Gucci in to a multi-billion-dollar empire; who defined style for the Nineties; whose photographs appeared alongside those of Mario Testino and Steven Meisel on the covers of Vogue; and whose career 'time out' project was an Oscar-winning movie.
Ford's design office truly is more lair than atelier, more Hollywood than haute couture. Even though he is now married to Vogue Hommes editor Richard Buckley, the proud father of Jack, and his impeccably styled life has taken a turn for the chaotic (he admits giving in to primary-coloured plastic toddler toys), a visit to this Ford factory is unlike a visit to any other London designer. Without his ready smile, you'd be forgiven a freak out.
His office is a moodily lit cocoon of gleaming Macassar ebony and soft leather. There are deep sofas in which the unwary can unwittingly shrink to below the eyeline from Ford's immaculately tidy desk. Pots of perfectly sharpened pencils stand ready to execute spontaneous ideas. And a gallery of black-and-white images is likely to intrigue, charm and disarm: there's a photo of Richard Buckley, Ford's partner of more than twenty five years; a portrait of editor Carine Roitfeld, a close collaborator during his time at Gucci; another of Domenico De Sole; and a large, full-frontal male nude. Under a spotlight in a corner is a 'mutated mannequin' sculpture by the artists Jake and Dinos Chapman.
Ford might look like a matinee idol but he likes to get his hands dirty. People are always surprised when I climb on a cutting table to cut a pattern [he laughs]. Maybe its because of the way I look; people think I don't actually know how to make anything. But I can thread a sewing machine and I can sew: maybe not as well as a professional but I can do it. A big part of my brain is merchandising and business but I do actually know how to drape a blouse and work with a pattern-maker to achieve what I want on a form.
Now, half of these workrooms have been repurposed as an editing suite. Ford managed to squeeze the filming of his second movie, Nocturnal Animals, in between showing Spring/Summer 2016 and selling Autumn/Winter 2016, and has installed the editor in his Victoria HQ so that he can switch from movie to sample room to boardroom in a single day if necessary.
Anya Hindmarch - Interview by The Telegraph fashion edit Lisa Armstrong
There's an old Eighties denim jacket hanging on the door of Anya Hindmarch's studio. Rumour has it that its origins are rooted in a previous, less polished, sartorial era in Hindmarch's style evolution. Faded, baggy and smothered in transfers, it's an early indication of its owner's talent for customization. Do you see where this is heading?
Anya Hindmarch's stickers, launched in 2014, are just the latest twist in a curriculum vitae notable for its unconventional arabesques. Cut from springy, Italian leather, the stickers come in initial form as fried eggs, cartoon eyes and smiley faces. She's sold a mountain of them. £12 million worth and counting, I heard. 'Something like that. But that's revenue. Not profit.' Still, not bad. Hindmarch acquiesces. 'Not bad. You could say they're the lipstick of our brand.' The correction – and the analogy – are pure Hindmarch. She's such a smart businesswoman and gifted marketer that it's easy to overlook her oft-copied designs.
The 'Ebury', a classic, double-section tote created in both soft and collapsible or structured, boxcalf leather, the Seventies-inspired 'Maxi' shoulder bag, the neat, top-handled 'Bathurst' – these are enduring stalwarts that often crop up in other brands' collections. Latterly, there are desirable coats too. Brand Hindmarch has always punched above its weight. Before she could afford to advertise, Be A Bag, her 2001 range of totes and clutches, which had their owners' favourite photographs screen-printed on them, spawned millions of imitations and brought her international fame. 'I'm Not a Plastic Bag', her £5 canvas tote that caused impossibly long queues and unseemly tussles as the public vied to get their hands on one, propelled her into the news in 2007. The 'I'm Not a Plastic Bag' venture was pleasing for many reasons, not least because Hindmarch's father had invented the plastic flower pot. Like her father, she's an instinctive entrepreneur who thinks independently.
'Design was my first love,' she says, 'but business was never a scary word. Being young helped – you're very fearless when you don't have a mortgage.' Scary (combined with 'not') is a favourite word. She has it picked out in a neon sign by Ben Eine in her office, along with one of Stephen Walter's detailed maps of London. Downstairs, where her husband James Seymour works as the company's finance director, there's another sign, constructed from giant leather stickers by Hindmarch's loyal squad, that reads 'Well Done AH!'. It went up after she won the British Fashion Council's Accessory Designer of the Year award (again), in 2014. In her late forties, she is irritatingly accomplished: a government-appointed UK Trade Ambassador, MBE, mother of five, winner of the Accessory Designer of the Year award at the British Fashion Awards in 2001 and Brand of the Year in 2007, a talented singer and the first handbag designer to mount full-blown runway shows in the face of considerable scepticism (now evaporated), as well as a trustee of the Royal Academy of Arts and London's Design Museum. Thank God she can't cook.
Giles Deacon - Interview by Lorraine Candy of The Sunday Times Style
Giles Deacon's studio address is listed as Brick Lane, but its unobtrusive walk-up entrance is on Ely's Yard, a car park that today acts as the lively venue for pop-up markets, restaurants and exhibitions, at the rear of The Old Truman Brewery. This London neighbourhood is a noisy, busy attraction for young people and a world-famous magnet for style-seeking tourists. The socially talented Giles, equally well known for his dramatic dresses and down-to-earth Northern sense of humour, has been working here, up on the first floor, since 2010.
Today, his large whitewashed warehouse space is a glorious sight to drink in. There are hats in the shape of winged bats, first seen on his Spring 2014 catwalk, that hang from the ceiling, and Pac-Man metal helmets, designed by Stephen Jones for Spring
2009, that line up above carefully organized rows of files. The walls are hung with his gorgeous hand-drawn illustrations, while part of his extensive archive hangs under plastic covers, testament to over twelve years of his contribution to London fashion.
Deacon's own office sits in the corner of the openplan studio. His staff is hard at work on constructing the latest development in his career – the stately collection of couture gowns that he presented in Paris in July 2016. Looking across the room, he tots up the head count: 'Now we have eight full-time staff, two of whom are main designers, a designer who does my print work, a head cutter, head of studio, an overall logistics manager, me and Dixie and Fran, plus Mark who is involved in the day-to-day business.'
Born in Darlington, County Durham, to an agricultural salesman and a stay-at-home mum, Deacon was raised in the Lake District: a boy who loved the countryside and spent hours drawing insects and animals. While he originally harboured ambitions to become a marine biologist, he later enrolled for his Art Foundation at Harrogate College of Arts, before moving to London to attend CSM. A highly acclaimed illustrator, whose work has appeared in numerous publications, he's a dedicated researcher, winkling out historical inspirations. What he calls 'miles of piles' of inspirational material are scattered around the studio. Over the years, his shows have been characterized by fun and drama, and by the loyalty of a great British generation of models – Erin O'Connor and Karen Elson included – who have walked in collections inspired by everything from zoo animals to early computer games to Queen Elizabeth I.
His new phase is a response to the way that the fashion world has turned again. By closing his ready-to- wear line to concentrate on made-to-measure orders, his new strategy is a way to capitalize both on the personal relationships that he's made and his innate understanding of entrance-making dressing for special occasions. Always a reader of the zeitgeist, rather than a follower of trends, his decision to concentrate on couture one-offs makes sense and tallies with his personal talents – as a designer who works in Brick Lane but who can communicate with clients globally.
Bucking the trend for London designers to open luxury shops in central London, he believes that his money is better invested in technology rather than in bricks-and-mortar retail.
So who is Deacon designing for?
I like characters in life, generally; I don't like to see a collection modelled on a homogeneous look. That terrifies me. I like women to have life, personalities. Women who would perhaps cause some trouble on a night out and have a lot to say for themselves. My woman is based on about eight people I know: a combination of all my favourite parts of them. If something works for all those different aspects, then I am happy with it
Ashish Gupta - Interview by fashion influencer Susanna Lau, AKA Susie Bubble
Whatever you do, don't call Ashish Gupta, 'The King of Bling' – a moniker previously coined for the fortythree- year-old designer. Even when you enter his modest studio in the creative hub of Regent Studios in London Fields and instantly clap your eyes on the bags and bags of sequins, spilling out on work tables. Even if his rails are some of the sparkliest that you'll find in London. 'I just hate that word [bling] and it's not how I see my work.' It's up close that you see a different side to all that shine. After completing his MA at Central Saint Martins in 2000, a chance mishap at the Eurostar terminal, where Gupta's graduate portfolio was stolen, set him on a gradual path towards setting up his own label. I had a different experience of setting up my own label. I didn't even have a British passport. I had a pretty intense work permit, where I had to prove constantly that my business was contributing positively to the economy. It was a lot of pressure. That taught me to be a good business person, which fuels the artistry.
That strong resolve means that today, Gupta runs a tight team of two-plus freelancers (all dressed appropriately in eclectic colourful ensembles). It's deceptively small. Gupta's ideas and silhouettes gestate in London, with his pattern cutter next door, but every Ashish piece is touched by skilled hands thousands of miles away, as all of the intricate embroidery is done in India. Gupta's mother Neelam is responsible for overseeing the meticulous work of these craftsmen before the pieces come back to London to be finished. Never exceeding 1,500 pieces per season in production, Gupta manages to maintain the handcrafted quality of these weighty garments. 'In India, you're very disconnected from everything because you spend six weeks just working with these really skilled embroiderers. London is the polar opposite, where you're soaking up all this vibrant energy. They're two such different worlds.' It's this dichotomy that sums up the Ashish aesthetic. To tag Gupta with the word 'bling' or attribute his affinity with sequins to his Indian heritage would be to do him a disservice. Over the years, he's carved out a signature that has ultimately disassociated the sequin from Bob Mackie dresses or Alexis Carrington's wardrobe. The rails in his studio sparkle with seminal sequinned pieces, such as a pair of ripped, beaded denim jeans, a high-vis vest in fluoro-orange and reflective silver banding, and a checked shirt rendered not in flannel but in rows of sequins. One rainbow sequinned piece, which reads 'Love Will Win', is particularly significant for Gupta because it was created at a time when homosexuality had once again been made illegal in India. India might be the source of the craft but London, or rather Britishness, provides fertile inspiration too. A T-shirt from his Autumn/Winter 2013 collection reads 'I'm having a shit day, thanks' in disco silver lettering. 'That came from a trip to Canada where everyone tells you to "have a nice day". It's this gothic sense of humour that I think is very British.'
Under Gupta, sequins have been imbued with a rebellious spirit, which has garnered a stockist list of over fifty stores, with the likes of Browns in London having supported him right from the beginning of his career. His fan base is loyal to his shiny antics as he continues to explore new techniques and novel ways of stylizing sequinned embellishment. Having been in business for more than fifteen years,
Gupta has learned to accept the specificity of his aesthetic and he now presides over his niche with a new-found confidence. 'I'm definitely a lot happier now than I've been before. It doesn't upset me that much whether people like what I do, because it's more important for me to like it.'
London Uprising: Fifty Fashion Designers, One City edited by Tania Fares and Sarah Mower. Published by Phaidon £69.95
Register for free to continue reading
Registration is a free and easy way to support our truly independent journalism
By registering, you will also enjoy limited access to Premium articles, exclusive newsletters, commenting, and virtual events with our leading journalists
Already have an account? sign in
Register for free to continue reading
Registration is a free and easy way to support our truly independent journalism
By registering, you will also enjoy limited access to Premium articles, exclusive newsletters, commenting, and virtual events with our leading journalists
Already have an account? sign in
Join our new commenting forum
Join thought-provoking conversations, follow other Independent readers and see their replies