London fashion week
A day in the life of a London Fashion Week photographer
Shutterstock photographer James Veysey tells Sabrina Barr about the 'managed chaos' of London Fashion Week, the fear of running out of camera batteries and an encounter he once had with Kate Moss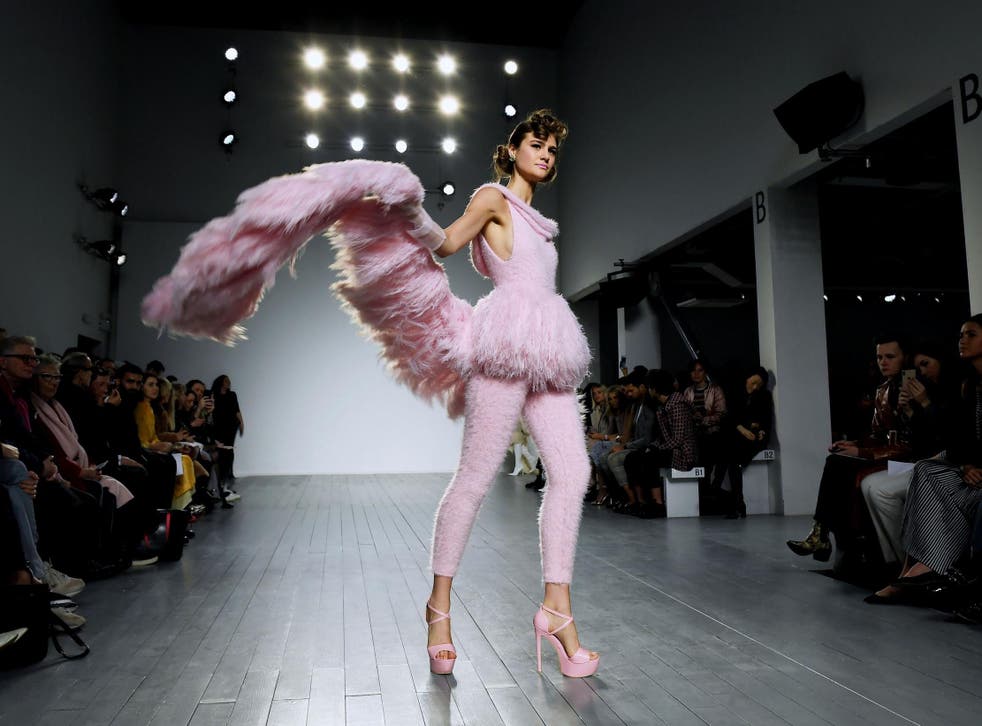 Balancing unsteadily on a ladder for half an hour in an attempt to take a stellar shot of a model tearing up the runway is just one of the impressive lengths Shutterstock photographer James Veysey has gone to while working at London Fashion Week.
Fashion Week photographers have just seconds, if that, to listen to their instincts and capture an image that will be heralded in media outlets across the world. "You need to be ready and alert at all times," Veysey tells The Independent.
The "managed chaos" of London Fashion Week is one that Veysey knows all too well, having worked at the event every February and September ever since he became a professional photographer in 2003. For the Devon-born photographer – who also covers news, sports, entertainment and royal engagements – working 12 to 14-hour days is part and parcel of the job.
London Fashion Week is inevitably unpredictable, and a photographer may accidentally be granted an all-access backstage pass for a show and with it, the opportunity to photograph the one and only Kate Moss (yes, Veysey was very lucky). A photographer must remain vigilant, their finger constantly hovering over the shutter-release button of their camera.
So, what does being a London Fashion Week photographer actually entail? How does it feel to know you just so happened to be in the right place at the right time to capture the perfect shot? And do Fashion Week photographers have to prepare to fight tooth and nail to claim the prime position at the end of the runway?
Here is how a day in the life of a London Fashion Week photographer typically unfolds…
What time do you wake up during London Fashion Week and what do you eat for breakfast?
I generally wake up around 7am during London Fashion Week. Most of the time I stick to something basic like cereal.
Do you make any final preparations in the morning?
The first thing I do in the morning is check the day's schedule of shows. I then make sure all my gear for the day is packed and all my equipment is charged, including camera batteries, flash batteries, a laptop and WiFi devices. Running out of batteries at a show would be a nightmare.
What time do you head over to the event and how do you get there?
I normally aim to be at the venue at least an hour before the show. I always travel by tube, which can be interesting if I'm lugging a stepladder around.
What equipment do you use?
I've always shot with Nikon, and so I'm currently using their D5 bodies and a full range of lenses from 14mm to 500mm. The main lens I use for the catwalk would be the 70-200mm, and I wouldn't need to use anything longer than a 300mm.
How far in advance of London Fashion Week do you know whether you're going to be photographing the event?
As Fashion Week is such a major event in the calendar, I can pretty much assume I'll always be photographing it, but I don't often get much notice on exactly which shows I'll be shooting.
How does your schedule work throughout the day?
I am always designated to specific shows. My schedule is mapped out by my assignment editor, who makes sure my colleague and I are able to cover as many of the most important shows as possible. In one day, I could cover anywhere from three to six shows, depending on the schedule. I then have to edit and wire my photographs as soon as the show is over, before covering the next. It's all quite frantic.
Are you provided with refreshments at the event and do you have time to take a break for lunch?
There is a lot of caffeine on offer at London Fashion Week. I can normally grab something in between shows. Greggs does a great trade near the main BFC (British Fashion Council) venue on the Strand.
What does your work at London Fashion Week predominantly consist of?
I try to cover the fashion first, as most outlets require the straight-up-and-down, front-foot-planted-on-the-catwalk shot, but if there's an opportunity to get something different, then I try that as well. I think most photographers have the same aim, but some are more specialised and focus on details such as handbags and shoes.
What do you do when you arrive at a show?
When I get to a catwalk I normally chat to some of the other photographers or TV guys who may have seen the run-through to get information on the white balance and exposure settings. Then, the main thing to concentrate on is securing that position and looking after it, while also keeping an eye on arrivals on the front row.
I also photograph the front row and am sometimes briefed before about who is invited or expected, as the organisers and PRs are keen to get as much coverage as possible for their shows. This has become a much bigger part of the job over the years.
Do you ever have to compete with other photographers to get into prime position during a runway show?
Shows at the BFC showcase space are always marked up in advance, so there is no need to worry about your position. However, when a show is at a different location, photographers need to be at the venue an hour or so before to queue and mark our positions with gaffer tape and a marker pen, making sure it is as central as possible to cover the front row and accessible enough to get back into position to shoot the show.
Some shows have limited space for photographers. In these cases, it can be challenging trying to find a gap in between people to get your shots. People often use large hard camera cases to sit or stand on, or foldable steps. For those who like shooting from the back with a longer lens, they will use a ladder with three or more steps. Much of this prep work often takes place in a hurry and in the dark, and it's a marvel to watch unfold.
Surprisingly, it's quite a diplomatic process and rarely leads to actual arguments.
JW Anderson London fashion week 2019

Show all 24
Have you ever been at risk of running out of battery during the day?
Yes – battery life is always on my mind. As the days can go on long and it is easy to over-shoot the shows, carrying extra camera body batteries is a must, as are chargers for everything else.
How long does a day at London Fashion Week typically last for a photographer?
Shows can start as early as 9am and as the day progresses, delays can start creeping into the schedule. A late show set to begin at 8pm or 9pm can be delayed for up to an hour or more, so it's not unusual to stagger out of the last show at 10pm or later and then wire it.
Things tend to run more on time these days, possibly because of online live broadcasting and social media, but I still remember when we used to have to wait hours for shows to start. If there is a major after party that warrants covering the arrivals, I will also be there to photograph it.
Can you describe the feeling of taking a photograph at London Fashion Week and knowing it's a fantastic, unique shot?
Yes, there are moments when you know you've chosen to be in the right place with the right lens at the right moment, and it is a pretty good feeling. Often those times are when you've taken a risk, gone to the side or a different angle, and caught a moment that sums up that particular show.
Of course, it helps that often the staging, venue, lighting and models create an environment where it can sometimes be easy to capture a beautiful image. However, this works both ways – it's hard to come up with a spectacular image if the show is poorly lit and the outfits are dull.
Can you recall how it felt the first time one of your photographs was published?
Yes, it was in The Independent in 2002. It was a great feeling and is what keeps me shooting every day. It feels very good to see my photos online and in print – it's what makes us photographers tick.
Join our new commenting forum
Join thought-provoking conversations, follow other Independent readers and see their replies