London Fashion Week
London Fashion Week SS20: Designers including Simone Rocha and Preen deliver pagan princesses and punk attitude
Preen presented Japanese-inspried Manga looks mixed with Scorcese references, while Simone Rocha put on a showstopping display of headdresses, bags and overcoats, writes Sarah Young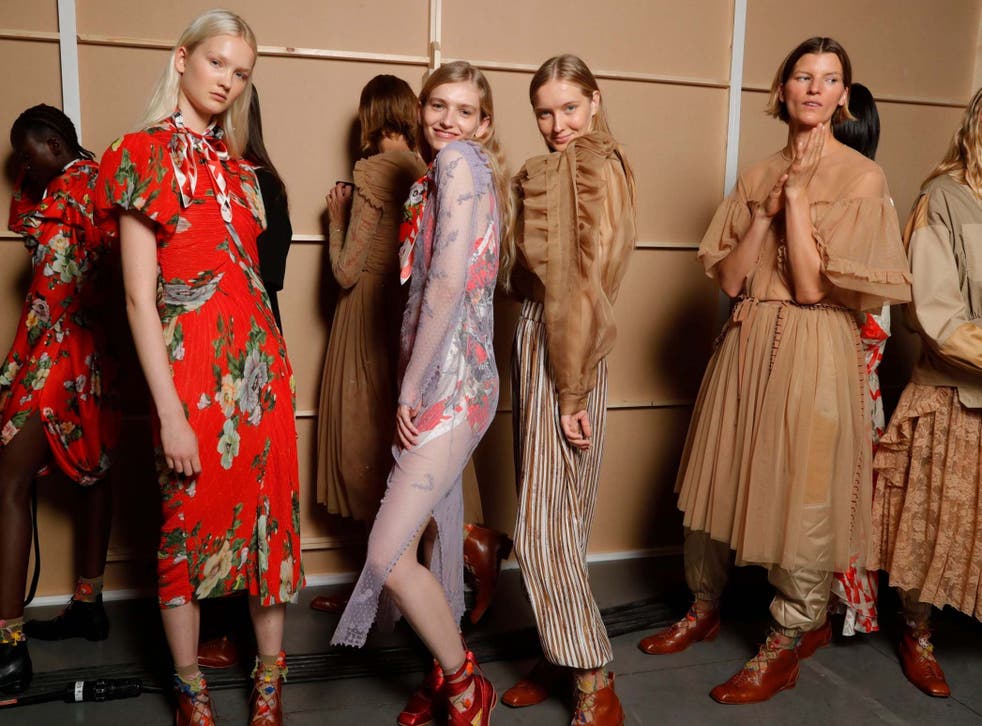 The third day of London Fashion Week shows has come to an end and the five-day event is nearing its sartorial climax.
But, while show-goers might be exhibiting signs of slowing down – writer's cramp, exhaustion and, of course, hangovers are rife – designers continued to flood the runways with garb that fired up the fashion crowd's imagination.
While Margaret Howell comforted show attendees with more of what they know and love, Preen took inspiration from Japanese culture and Victoria Beckham put forward a divisive collection steeped in references to decades gone by.
Elsewhere, Simone Rocha concluded the day's proceedings with a showstopping collection at Alexandra Palace which cast a spell on show-goers with a myriad of conflicting aesthetics.
Here we take a look at all the best bits from day three of London Fashion Week.
Preen by Thornton Bregazzi
Preen by Thornton Bregazzi Spring/Summer 2020

Show all 15
Kickstarting the morning of day three, designer duo Thea Bregazzi and Justin Thornton – who are partners in real life as well as business – built on the brand's dark romanticism.
In the two decades since they first launched Preen, the couple have built on an aesthetic of arts and crafts-inspired florals and modern prints.
This season though, the label honed in on its punkish sensibilities, taking inspiration from a country renowned for its alternative style: Japan.
Citing books like Manga series The Promised Neverland and Japonisme – a guide to living a happier, more fulfilled life – as well as cult films including Martin Scorsese's Kill Bill and Sofia Coppola's Lost in Translation, Preen presented a series of looks that quickly escalated from voluminous dresses which wouldn't look out of place in Harajuku to padded trench coats and grungy T-shirts decorated with subversive motifs.
The brand's signature ruffled skirts and sequin-covered gowns were also present, only this time they were tempered by the addition of loose-fitted hoodies, buckled leather boots and illustrations of badass Manga girls.
What really stole the show here though were the series of spliced frocks that looked as though they had been cut cleanly with a samurai sword. There was one in white that came with a cut-out midriff, asymmetric ruffled hem and balloon sleeves, and another in black that suspended superfluous satin from the bust.
The clothes on the catwalk today were very much indicative of designers who, while at ease with sticking to what they do best, aren't afraid to push the sartorial envelope. Alas, being a Preen girl never seemed more appealing.
Roland Mouret
Roland Mouret Spring/Summer 2020

Show all 15
Roland Mouret quickly forged a signature for himself when he launched his brand in 1998, translating his reverence for the female form into garments that oozed sex appeal and sensuality.
Case in point: in 2005, Mouret unveiled the Galaxy dress that would ultimately make his name. Using the curving female figure as the starting point, the souped-up and cinched in gown became near ubiquitous among A-listers with everyone from Cameron Diaz to Scarlett Johansson and Dita Von Teese all wearing it well within a six-month period.
However, this season there was far less sex appeal and a renewed focus on simplicity.
"A designer should define silhouettes not just clothes: this season's silhouette is the evolution and continuation of my work over the years," Mouret said.
In contrast to the scooped in draping and shaping the designer has become best known for, this season Mouret adopted a more laissez faire attitude that emanated from wide-leg trousers, boxy blazers, breezy shirt dresses and slack knitwear.
By incorporating more tailoring into his collection, the designer said he was inviting consumers to "play with the silhouette as a way to convey personal style".
Sure, he knows a woman's body well but it seems as though he has also sensed a shift in how they're minds and approach to dressing have changed.
Perhaps the global call for action through movements such as #metoo and #timesup has prompted him to redefine his portrayal of female sexuality?
Margaret Howell
Margaret Howell Spring/Summer 2020

Show all 16
For spring/summer 2020, Margaret Howell returned to the minimalist show space of the Rambert Dance Company, albeit 30 minutes late – much to the dismay of attendees who sweltered on the FROW sporting the designer's own wool-blend knits in 26C heat.
Nonetheless, Howell delivered a winning collection that offered more of her signature riffs on Britishness and everything we have come to know and love about the brand.
The designer presented yet another co-ed show, with both women's and men's garb that attested to her raison d'etre over the past four decades.
Among the standouts were those that you could imagine real people wearing, from her latest incarnation of the raincoat to khaki city shorts, fisherman hats and sharply tailored trousers.
While little of the show came as a surprise, what was new really stood out.
If Howell's chocolate box ensembles are anything to go by, brown is about to enjoy a resurgence when worn with tonal combinations of cream, chestnut and dusky pink.
Meanwhile, the designer's customary affection for navy, grey and crisp white was met with varying shades of green and bursts of buttery yellow.
In terms of decoration, ruffled scoop collars budged neckerchiefs off the top spot, appearing on everything from louche plaid midi dresses to button-up shirts.
Late start aside, there was so much to shop here and the offering served to remind fashion insiders of her venerable USP.
Simone Rocha
Simone Rocha Spring/Summer 2020

Show all 8
Opened in 1875, Alexandra Palace Theatre – or Ally Pally as it's lovingly known – was once revered as a home for spectacle.
In December 2018, the auditorium opened its doors for the first time following 80 years of slumber.
And today, the hidden gem was given a new lease of life as Simone Rocha selected the majestic setting to present her collection for spring/summer 2020.
Attendees have come to expect a certain level of opulence from Simone Rocha and while this collection delivered the usual large bell skirts, tapestry dresses and mutton-leg macs, there was an ambiguous undertone to the offering.
Taking inspiration from the Irish Wren Boys, who would traditionally hunt the Wren on St Stephen's day, Rocha presented the garments rapidly transfigured from the usual delicate Victoriana ruffles and lace-trimmed ballgowns we're used to something far more foreboding.
There were headdresses, bags and overcoats made entirely from hay and raffia which in conjunction with references to the natural world – think muted tones and ditsy floral prints – prompted associations with pagan traditions, which revere the natural world through ritual and worship.
You can always rely on Rocha to remain true to her creative vocabulary, irrespective of trends and this collection proved it.
Dresses came layered, like feathers, hand-macramé aprons sat stiffly over embroidered Broderie Anglaise gowns and the interiors of the houses the Wren Boys knocked on, translated into peeling wallpaper prints.
As always, accessories were also a big talking point and will no-doubt be big commercial wins for the designer.
This season, her beaded headbands featured Tudor rose-shaped pearls and silver spikes, while large pearl-drop earrings, satin ballet slippers and flatform bejewelled sandals added a delicate touch.
But, perhaps the most standout items, were the bags. A single oversized pearl clasped in one models hand saw a flurry of show-goers camera phones rise, while studded leather purses and straw shoulder bags pulled together the entire concept.
Support free-thinking journalism and attend Independent events
Join our new commenting forum
Join thought-provoking conversations, follow other Independent readers and see their replies