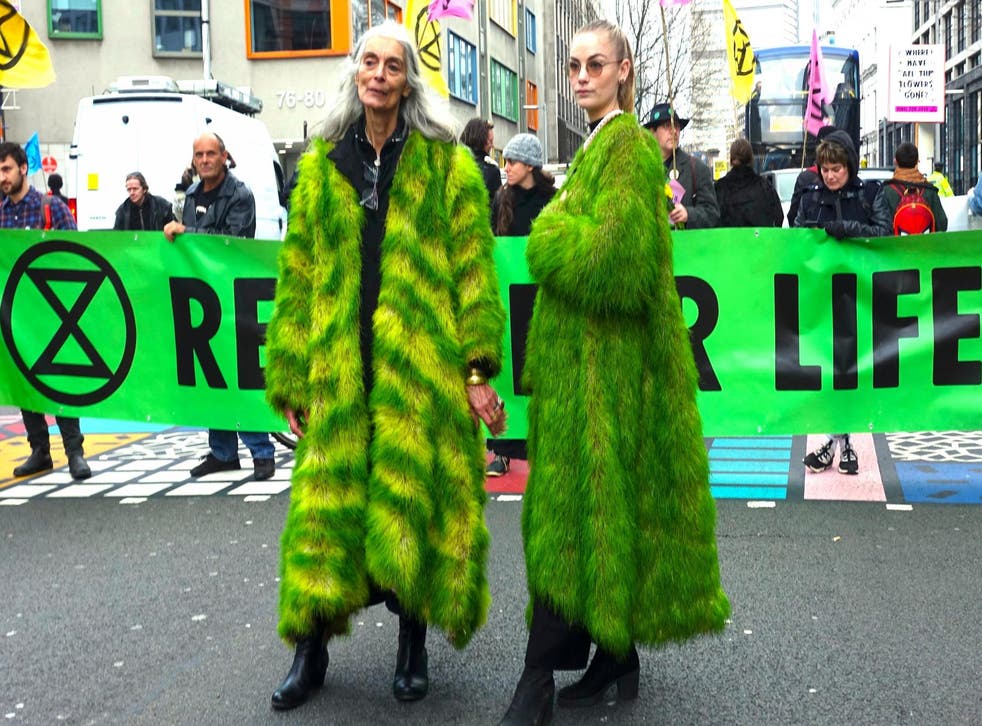 Climate activists from Extinction Rebellion to disrupt London Fashion Week
'People have no idea how environmentally destructive fashion is'
Climate change protestors are planning to "shut down" London Fashion Week (LFW) in a bid to raise awareness of the environmental damage caused by the fashion industry.
During the five-day event, which will take place in September and see some of the biggest names in British fashion showcase their latest collections, activism group Extinction Rebellion will assemble in large crowds to thwart stylish editors, models and buyers from attending runway shows.
The environmental activists, who brought major streets to a standstill in five UK cities earlier this month, have demanded that the British Fashion Council (BFC), which hosts the spectacle, cancel the event that is due to start on 13 September.
Ramón Salgado-Touzón, of Extinction Rebellion's Fashion Action group, has specified that while the group plans to perform peaceful protests, activists are willing and prepared to be arrested.
"We are planning non-violent direct action civil disobedience," Salgado-Touzón told The Times.
Extinction Rebellion swarm LFW

Show all 45
"People taking part will be arrested.
"Let's hope that they're not going to be charged but if they are, everyone is prepared."
The organisation has also announced its intentions to prevent show attendees from getting to events in time, rather than invading the catwalks.
Bel Jacobs, a member of Extinction Rebellion's Boycott Fashion group, said: "People need to get places quickly. And that is a way to disrupt Fashion Week."
Somerset House, home to the BFC, and New Bond Street have been confirmed as targets.
"We need to change our culture around consumption," Jacobs added.
"People have no idea how environmentally destructive fashion is."
According to The Waste and Resources Action Programme (WRAP) – a charity that works with governments, businesses and communities to improve resource efficiency – approximately £140m worth of clothing goes into landfill each year.
Furthermore, it has been estimated that by 2050 the fashion industry will use up 25 per cent of the world's carbon budget, making it one of the most polluting industries second only to oil.
In February 2019, Extinction Rebellion performed similar protests at LFW by blocking roads outside a fashion show at the Tate Britain in a bid to disrupt the biannual event.
Speaking to The Independent at the time, organiser Sara Arnold explained that the fashion industry has the potential to be a revolutionary force for good when it comes to tackling climate change.
"We target LFW because it is a key driver of global trends but we are not singling out this event or industry," she clarified.
"This is the start of Extinction Revolution's disruption of cultural events that do not change direction urgently towards communicating climate change and mobilising alongside us towards greater non-violent direct action and civil disobedience."
The Metropolitan Police has confirmed it "will have an appropriate policing plan in place" during LFW.
Join our new commenting forum
Join thought-provoking conversations, follow other Independent readers and see their replies