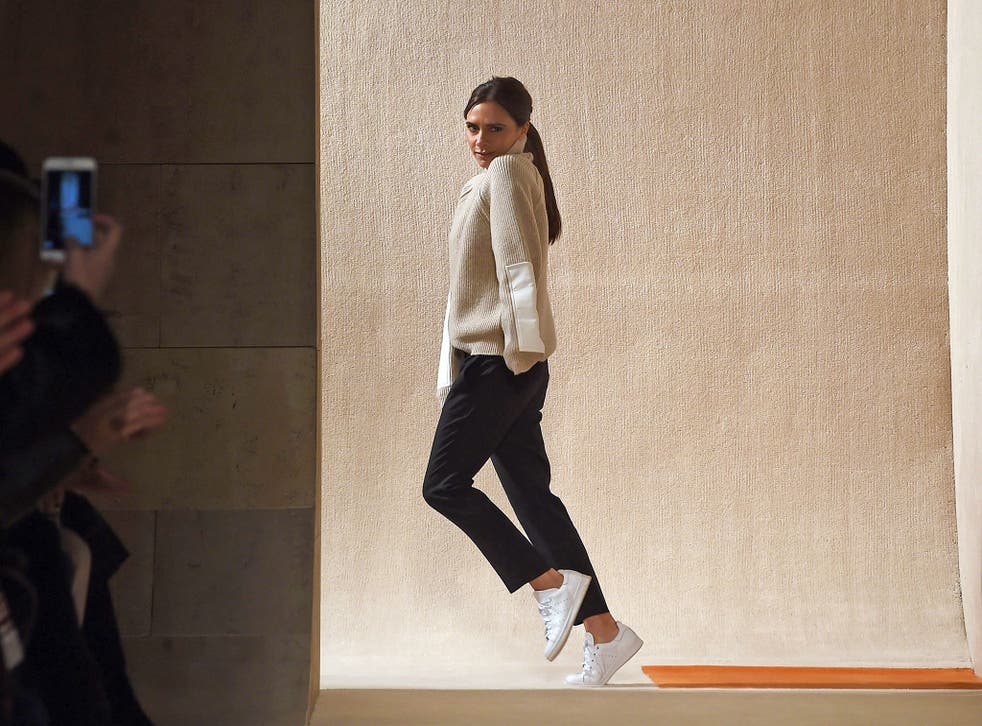 London Fashion Week: Fun-loving Victoria Beckham uses denim to extend her global reach
Beckham has embraced a more casual and carefree approach to getting dressed of late
The final day of the autumn/winter 2016 season of London Fashion Week was marked by two very different brands tackling similar ideas in their own way.
First was Victoria Beckham, who talked journalists through her new Victoria Victoria Beckham collection in her Mayfair store.
Beckham has embraced a more casual and carefree approach to getting dressed of late, but yesterday came perhaps the ultimate signal of this new mood, namely frayed denim. The raw edges in question were to be found on a cropped pair of kick flare jeans in her collection for autumn/winter, the dark indigo denim needle punched onto navy wool to create a structural rigour that showed she has not distanced herself entirely from her more formal past.
"It's important to have fun with this collection, but not too much fun," said Beckham as she talked through her designs for the new season, as her husband sat in the corner following a coffee run.
Beckham is due to open her second store next month in Hong Kong, and designing for the multiple territories, and their distinct climates, in which she sells has long been a priority. "This is a winter collection, but it drops in June," said the designer.
"We're a global brand so I have to look at clients across the world. There's always an element of buy now, wear now in all of the collections we do. Nothing's too heavy, lots of layering pieces."
Isabella Springmuhl Becomes First Designer with Down Syndrome at London Fashion Week
Although less expensive than her mainline collection, Beckham was keen to play up the handiwork that went into many pieces, including a black dress embroidered with brightly coloured raffia to create a dense floral pattern that will retail for £1,200 and a shocking pink coat fronted with scrunched tulle flowers. The colour palette was punchier and more experimental than Beckham has been known for with regal purple and burnt orange providing a clash that was almost subversive given the name on the label, while ruffles on T-shirts and at the hem of trousers showed more of her lesser-seen playful side. Frayed denim, ruffles and a riotous colour palette are something of a signature for Marques'Almedia, a design duo whose influence has permeated much of the fashion industry since they launched in 2011. They also held a show on 23 February at Olympia.
This was one of their best, full of energy and packed with covetable pieces which were broken up and layered in a way that was wholly convincing and befitting of the designers' cool girl aesthetic.
Marta Marques and Paolo Almeida have long offered something effortlessly rebellious and heavily tinged with Nineties nostalgia, but this proved that they're able to move things on too, with stronger sportswear influences than in the past and a vibrant colour palette.
"Things are too serious, too much about how many jumpers you are going to sell," said Marques. "It has always been about attitude and mood for us, so it made sense to let it be free and allow the looks to fall organically together."
Register for free to continue reading
Registration is a free and easy way to support our truly independent journalism
By registering, you will also enjoy limited access to Premium articles, exclusive newsletters, commenting, and virtual events with our leading journalists
Already have an account? sign in
Register for free to continue reading
Registration is a free and easy way to support our truly independent journalism
By registering, you will also enjoy limited access to Premium articles, exclusive newsletters, commenting, and virtual events with our leading journalists
Already have an account? sign in
Join our new commenting forum
Join thought-provoking conversations, follow other Independent readers and see their replies