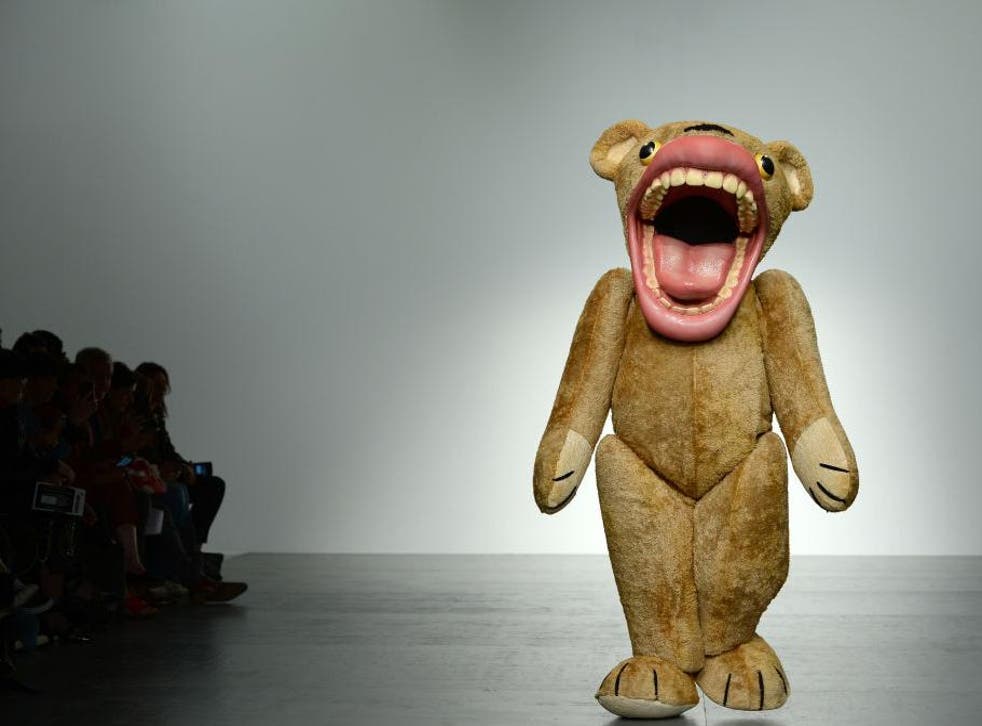 The best shows from London Fashion Week Men's SS18
This season the menswear shows were rife with subculture and served as a rejection of uniformity 
Sarah Young
Sunday 11 June 2017 17:19 Comments
London Fashion Week Men's, with a newly designed logo by Tracey Emin, has celebrated its fifth birthday as well as its propensity to create an unrivalled space for homegrown and international talent.
Day one
Kicking off on the day of the UK election result, it was by no means a coincidence that some of the industry's shrewdest young designers stuck to their signature anarchic style.
At Liam Hodges – a brand that's identified as a luxury label for the mad ones and the bad ones – the collection spoke to a generation that's being broken down by "the s*** they have to deal with".
A screaming bear with a teeth-baring roar coupled with "noise" motifs echoed throughout as an update on Hodges' signature graphic-slogan aesthetic. Likewise, numerous references from grime and pirate radio to ultimate car modding communicated his liking for DIY style.
A continuation of his workwear-meets-sportswear signatures, a new Fila collab stole the show as he used a variety of archive pieces from the brand's rich heritage: think instantly recognisable colour-blocking and classic panelled polo shirts.
At Topman, the brand ditched its usual catwalk show for an intimate presentation that showcased less than half of the looks we have come to expect, but it paid off.
Titled 'New Romantic', the collection sought inspiration from a moment in time that changed fashion forever as it paid tribute to 1980s club culture with sharp tailoring, strong masculine V-shapes and boldly oversized outerwear.
The clothes are a clear nod to the attitude of the era, but felt seriously contemporary. After all, the political upheaval of the 1980s feels rather familiar right now.
Day two
For his first standalone show, young designer Charles Jeffrey offered up a striking and surreal collection that opened with a performance by the Theo Adams Company, with dancers dressed in pink cardboard and paper mâché, leaves and petals. But the delirium didn't stop there.
This was, by his own admission, an "orgy" of styles that saw Tudor street urchins, tartan pinks and mantilla-clad duchesses unite into a collection that was all about creating a culture deviating from the norm.
But, what else would you expect from such a radical creative? Of course, there were a handful of wholly wearable pieces too, such as worn-out tailored jackets and T-shirts, embroidered denim and broad striped suiting.
Crashing back down to earth, design duo Cottweiler sought inspiration from summer days hanging out at caravan parks for their new collection.
Here, pieces were defined by the tension between the "synthetic interiors of a motorhome and the natural world beyond", which seemingly offered up a luxurious take on functional silhouettes.
There were sporty protective layers, cargo trousers, backpacks and ponchos in shades of sand and sage, while the duo's collaboration with Reebok continued with some ugly but oh-so-cool trail sneakers.
Day three
A designer that nails the balance between strong, urban influences and feminine details, Danish-born Astrid Andersen took the archetypical safari theme and completely turned it on its head.
We saw a dusty colour palette of muted khaki, natural cotton and sand that adorned everything from keffiyeh-esque headwear to technical tracksuits.
But it was the unexpected addition of metallic lace muscle vests, velvet track pants and luxurious floral silk sports jackets that really stood out. All of this was complemented by a selection of jewellery from Danish brand Monies – think chunky wooden cuffs and oversized crystal rings.
Over at Alex Mullins, the designer looked to capture the feeling of 1990s perfume adverts with a collection that gave timeless wardrobe staples a contemporary and almost surreal twist.
Referencing his previous collections, he photographed key pieces and digitally printed them onto silk, canvas and light cotton while using abstract shapes and acidic colours to set a summery tone.
Although the metamorphic floral print shirting, droopy silhouettes and distorted silk face masks felt jarring, this was expertly tempered with muted coloured linen in mushroom and ubiquitous piles of denim.
Register for free to continue reading
Registration is a free and easy way to support our truly independent journalism
By registering, you will also enjoy limited access to Premium articles, exclusive newsletters, commenting, and virtual events with our leading journalists
Already have an account? sign in
Join our new commenting forum
Join thought-provoking conversations, follow other Independent readers and see their replies