London Fashion Week SS20: Designers take big dress energy to the next frontier
Richard Malone challenged proportional norms while Erdem sent us spinning in a wheel of 19th-century ruffles, writes Olivia Petter
Tuesday 17 September 2019 09:00
comments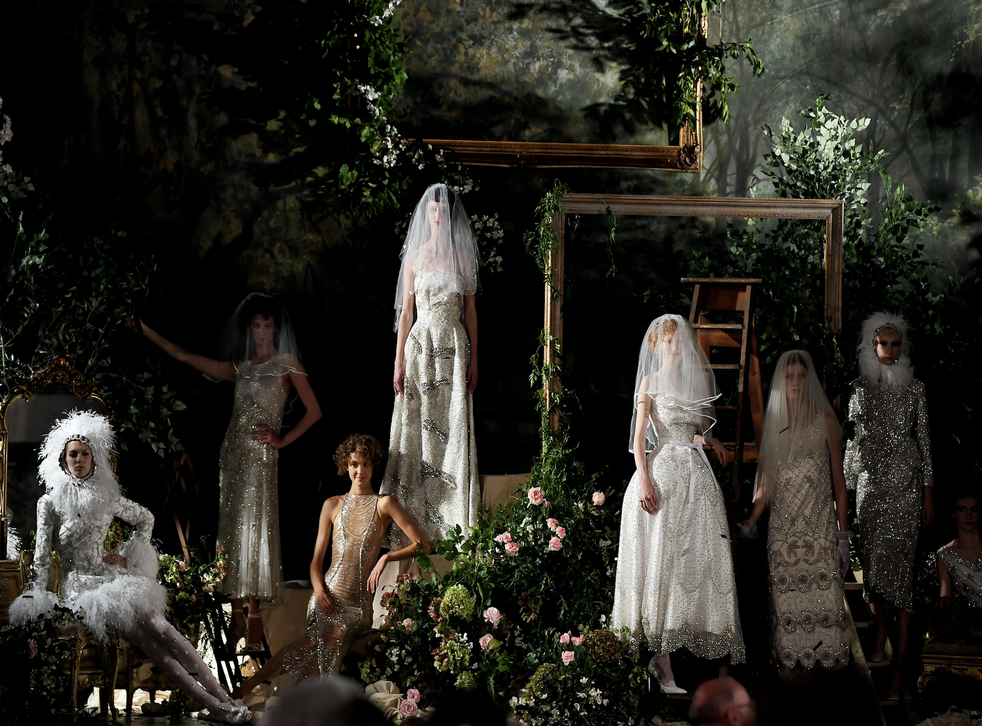 Come day four of London Fashion Week, the reigning off-catwalk trend is exhaustion. After a weekend of unrelenting schedules and all-night after-parties, the caffeine intake is dangerously high and Anna Wintour is no longer the only person wearing sunglasses indoors.
But in spite of waning spirits, the Monday of LFW is always packed with sartorial highs. The schedule features some of British fashion's biggest hitters, including Burberry, JW Anderson and Christopher Kane.
First up was Roksanda, whose smattering of scarlets, tangerines and fuchsias salvaged what was otherwise a desperately dreary wet morning. The Serbian designer also won non-fashion brownie points for giving front row seats to her eight-year-old daughter and the rest of her Year Four class – incidentally, their gingham uniforms were bang on trend. Soon it was time for the fashion pack to migrate en masse to Erdem, where the Victorian era was reimagined in technicolour. Richard Malone provided a much-needed dose of diversity in the afternoon by casting models of all ages in his show. It was a shame that so few followed suit, choosing instead to fetishise youth and waif-like frames: one of the industry's most vexing issues.
But back to the clothes, which were thankfully a lot less tired than those watching them. The season's buzzword, Big Dress Energy (BDE) came into its own at Richard Quinn with tutus large enough to knock somebody over and sparkles bright enough to have them seeing spots. For the uninitiated, BDE is a trend that owes itself to British designer Molly Goddard's signature frothy tulle, which was made famous by Killing Eve's Villanelle. Read on for our highlights of day four of LFW, and see for yourself why BDE shows no signs of shrinking.
Roksanda
London Fashion Week SS20: Roksanda

Show all 29
For a few seconds, it looked as if Roksanda's collection was going to match the weather. The sky above Serpentine Galleries was overcast, and the sounds of Joni Mitchell's "Both Sides Now" set an anguished tone that seemed fitting for the drizzly Monday morning.
The first looks – slouchy suiting, boiler suits and draped gowns – came in rain cloud-coloured hues, with nothing but the odd flash of beige to spice up the palette.
But, in the words of Death Cab for Cutie, "If you feel discouraged that there's a lack of colour here, please don't worry lover, it's really bursting at the seams". Indeed, within minutes, humdrum neutrals became spangled brights. A crimson cape here, some bubblegum taffeta there… suddenly new hues were emerging with supersonic speed.
Just as the colours blossomed, so too did the silhouettes. Bulbous skirts and gargantuan sleeves brought the show to its joyous conclusion, and guests including Sinead Burke and Lauren Santo Domingo were all the more grateful having spent the first few minutes gearing up for 50 shades of grey.
Erdem
London Fashion Week SS20: Erdem

Show all 42
Erdem was running late. So late, in fact, that by the time Billy Porter came gliding down the runway to take his seat, some mistook his red beret and jacquard coat for the Canadian designer's opening look. But Moralıoglu's vision for spring/summer 2020 was quite different.
Sounds of birds chirping transported guests away from the intimate garden setting and into another world, one that notes on each of the seats explained was inspired by the late Italian actor-turned-political agent, Tina Modotti. Her sartorial story began, according to Erdem, with rich Victorian gowns that came with high necklines, extravagant brocades and wallpaper florals.
Wide-brimmed boater hats and elbow-grazing gloves gave splattered patterns a retro socialite spin – think Edith Wharton in a child's art class.
The yolky yellows and pomegranate fuchsias might be a bit much for those who favour Erdem's more timeless pieces (would the Duchess of Cambridge wear turquoise ruffles?), but this collection is not for them. It's for Modotti, and she had a flair for the dramatic. Or, as the show notes put it: "She dressed to become who she felt she was meant to be".
Richard Malone
London Fashion Week SS20: Richard Malone

Show all 7
There seemed to be no method to the madness that was Richard Malone's spring/summer 2020 collection.
Geometric silver earrings and military greens implied a hardness that was soon softened by girlish knee-high socks and plaited hair.
Then there was the strange positioning of cutouts – some on shoulders, others on chests – and the illegible scarlet squiggles printed on tights.
Ruched mesh prevailed on the textural front, taking cues from Gwen Stefani's wardrobe in the 1990s, while sky blues, mint greens and vivid scarlets dominated the palette.
Malone's famous penchant for all things sculptural came to a head in the final looks: a series of nonsensical gowns with Herculean silhouettes. Thanks to some nifty wire work, Malone crafted dresses so wide, they almost grazed the noses of those on the FROW.
The thought of anyone wearing such an ensemble might be unfathomable – there are only so many wide doorways in London – but Malone's vision is clearly coloured by the spectacle as opposed to the practical.
Richard Quinn
London Fashion Week SS20: Richard Quinn

Show all 14
Richard Quinn's show did not get off to a good start. Things were running late, and after 35 minutes of huffing and puffing outside an East London sports hall (an unusual choice for a venue), it looked like some people had thrown in their fashion towels and left.
It's a decision they may regret for the rest of their lives, or at least for a few hours. Quinn knows how to put on a show.
When the iron clad gates were finally opened, the crowd was greeted by the Philharmonia Orchestra and The Bach Choir, both of whom probably needed some setup time. People softened and complaints soon turned to oohing and ahhing.
Billy Porter headed straight to the FROW dressed like the Wizard of Oz, while American Vogue's Hamish Bowles slowly took his seat beside him, looking no less flamboyant with ice blonde hair and a plaid suit. The setting was opulent and full of personality, just like the clothes.
Gowns came in explosions of oversized florals and were accompanied by matching tights. Some were layered with latex polo tops, while others bore dramatic marabou trims. Gigantic ribbons were stuck onto bodices and emphasised by even larger ruffled sleeves and tulle skirts, some of which looked so flammable I caught myself checking there were no naked flames nearby.
Seasoned runway aficionado Erin O'Connor made two surprise appearances, first in a billowing black and red rose-covered gown and then again in a modest fuchsia ensemble.
But it was the show's grand finale that had some shed a tear, and others chime in excitable squeals.
After what most other designers would stage for a finale – models walking in unison to display the final looks – Quinn shocked us all by sending a group of children onto the runway dressed as angels in flowery skirts and feathery white hooded jackets. They were soon joined by Quinn's cohort of grown-up models, some standing scattered on the runway, others still in a tableau that was unveiled with a pop of confetti.
The choir sang "God Save the Queen" as a nod to HRH herself, who famously sat in Quinn's front row last year. Then finally, Quinn emerged to rapturous applause, bearing the grin of a man who knows he is worth waiting for.
Join our new commenting forum
Join thought-provoking conversations, follow other Independent readers and see their replies