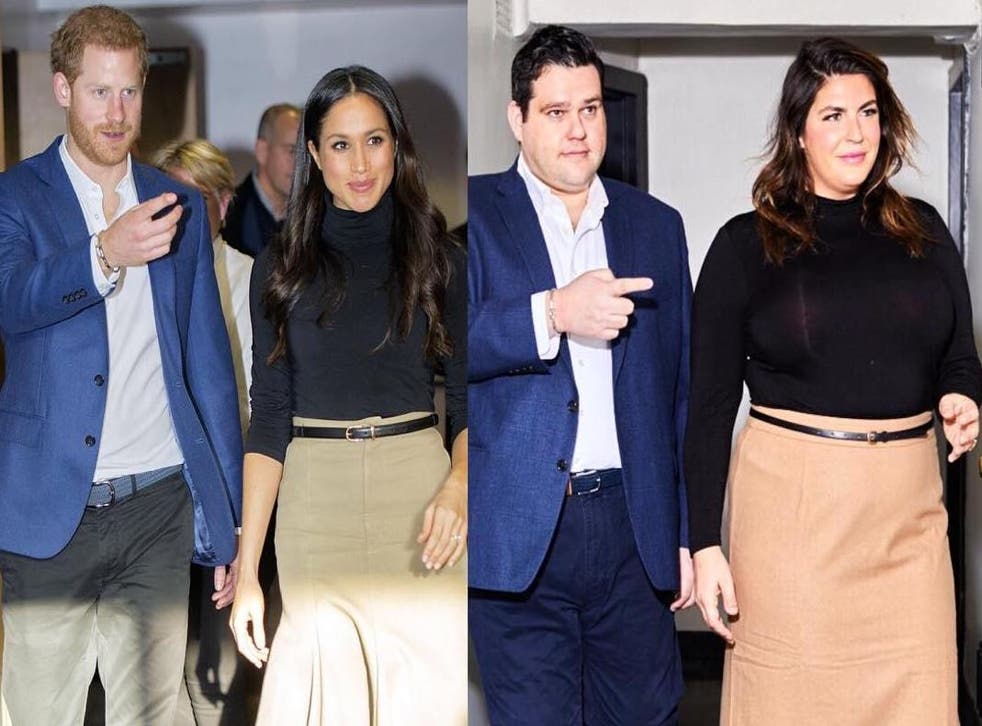 Plus-size bloggers recreate Meghan Markle and Prince Harry's outfits
'Meghan has a clean and easy style so it's nice to translate it for women of all sizes'
Meghan Markle is already being hailed as a style icon, lauded for her effortlessly chic off-duty looks and sharply-tailored on-duty aesthetic.
It was only a matter of time until the royal bride-to-be prompted others to recreate some of her most stylish looks, which is exactly what Katie Sturino has done by adding the actress and humanitarian to the lineup of celebrities featured in her #SupersizeTheLook campaign.
The blogger and founder of The 12ish Style started recreating celebrity outfits on her plus-size frame two years ago and has recently teamed up with close friend Ryan Dziadul, who runs the popular blog Extra Extra Style, to recreate looks donned by the royal couple.
"I started my series #SupersizeTheLook two years ago to show women that they can pull of celebrity styles at any size," Sturino tells The Independent.
"Meghan Markle is a natural choice to supersize right now because the world is watching her every outfit!
"She has a clean and easy style so it's nice to translate it for women of all sizes."
For Sturino, one of the most relatable aspects of Markle's sartorial identity is its low-key appeal.
"She has an ease about her style and every outfit feels classic but she looks relaxed," she said, "nothing is too stiff."
Plus, Sturino adds that almost every outfit is fairly simple and therefore easy to recreate i.e. the beige pencil skirt and black polo neck look accessorised with a simple black belt, which Sturino dons alongside Dziadul, whose navy blue suit resembles Prince Harry's jacket and shoes.
While Markle's garments could well be from a high-end designers with extortionate price tags, Sturino typically sources hers from affordable alternatives, with the aforementioned look in particular featuring a piece from Amazon Fashion.
It's an accessible aesthetic, Sturino continues, which can be applied to women of all shapes and sizes.
"Nothing she wears is overly complicated and the silhouettes are pretty universal," she adds.
"She also favours jackets which helps take a plain dress into more of a completed look."
As for the royal wedding itself, Sturino hopes Markle will don something long-sleeved, a choice which would put her on par with The Duchess of Cambridge, whose iconic Sarah Burton for Alexander McQueen wedding gown featured decadent lace sleeves.
Sturino's recreations have been well-received on Instagram, with followers praising the blogger for making Markle's fashion sense seem accessible.
"Nailed it!! Y'all look great!" wrote one person.
"Um I like your look better than MM's - it just looks better on you!!!!!" added another.
Other celebrities whose looks Sturino has recreated include Bella Hadid, Rosie Huntington-Whiteley and Emma Roberts.
Register for free to continue reading
Registration is a free and easy way to support our truly independent journalism
By registering, you will also enjoy limited access to Premium articles, exclusive newsletters, commenting, and virtual events with our leading journalists
Already have an account? sign in
Register for free to continue reading
Registration is a free and easy way to support our truly independent journalism
By registering, you will also enjoy limited access to Premium articles, exclusive newsletters, commenting, and virtual events with our leading journalists
Already have an account? sign in
Join our new commenting forum
Join thought-provoking conversations, follow other Independent readers and see their replies