Milan fashion: Frida Giannini's motherhood brings fresh passion to Gucci's spring

Show all 5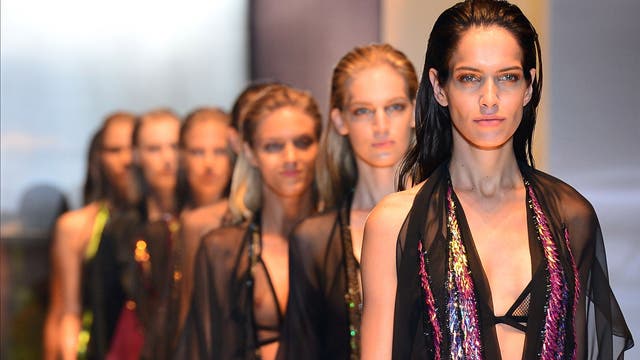 Milan fashion: Frida Giannini's motherhood brings fresh passion to Gucci's spring
Lots of designers compare designing a collection to having a baby. It's painful, first of all. And hard work. Many resort to drugs to cope. In Milan, where the presentation if the spring/summer 2014 collections began today, you can add the idea that it starts with sex, given the sensual nature of most Italian fashion. It's also a new beginning, new life and hope. That sappy suff.
Ditch the metaphorical: Gucci's creative director Frida Giannini actually did give birth in March shortly after her last womenswear show, to her daughter Greta. Which, presumably, gave her a new perspective on designing clothes for a woman. Certainly that winter Gucci collection, presented in the eighth month of Giannini's pregnancy, was unusual. It was harsh, fetish-inspired, corseted and cinched at the waist. No billowing maternity-friendly empire-lines in sight. But isn't that exactly what you'd crave, perhaps selfishly, at that time? Clothes to help you control a figure that, subjugated to the demands if a life growing inside, you perhaps feel is no longer your own? It's an interesting concept.
It's impossible for motherhood not to colour your perceptions of what Giannini designed for her spring Gucci collection - the looser, blouson shapes, dhoti trousers bound at the ankle, the billowing kaftans and butterfly sleeves in chiffon. It was the opposite of the cinched-in bitch dressing she proposed for winter.
Yet, played out as it was in eye-popping metallics and bold shades of cyclamen and cerise contrasted against lacquered black, graphic sinews of print scrolled across garments, it wasn't exactly easy. Indeed, it put you less in mind of a new mum in forgiving fluttering layers than of a Kabuki-ed David Bowie in his Aladdin Sane incarnation. Gucci were keynote sponsors of the V&A's sell-out Bowie show, so it's not too crazy a connection to make. And the seventies are, of course, a favourite Gucci stomping-ground, although with kimono silks, plunging navels and knotted cheongsam-style tunics, this was more Jerry Hall in Yves Saint Laurent's original Opium ads than slinky-hipped Halston jersey.
The tenuous justification for the eastern slant? Gucci's ultra-trad (and best-selling) bamboo-handled handbags, a sly historical in-house endorsement of a Chinoiserie grab-bag of references.
Nevertheless, regardless of the geography of New York versus Shanghai, both via a plush mirrored Milanese showroom, both these inspirations yield a similar mood overall: decadence, debauchery, generally the sort of stuff you can't do while you're pregnant. Maybe this was Giannini's big catwalk blow-out, her disco-hued oriental ode to the good-time girl. With the thigh-high splits, navel-grazing necklines and Araki-ish multistrapped underpinnings on show beneath transparent layers, there was a lot of body on show. The look was toned, taut and demanding, as well as sexy. Molto sexy. Can we say MILF? Probably. That's as much a part of Gucci's heritage as the horsebit. And they're both about getting back in the saddle.
Register for free to continue reading
Registration is a free and easy way to support our truly independent journalism
By registering, you will also enjoy limited access to Premium articles, exclusive newsletters, commenting, and virtual events with our leading journalists
Already have an account? sign in
Join our new commenting forum
Join thought-provoking conversations, follow other Independent readers and see their replies