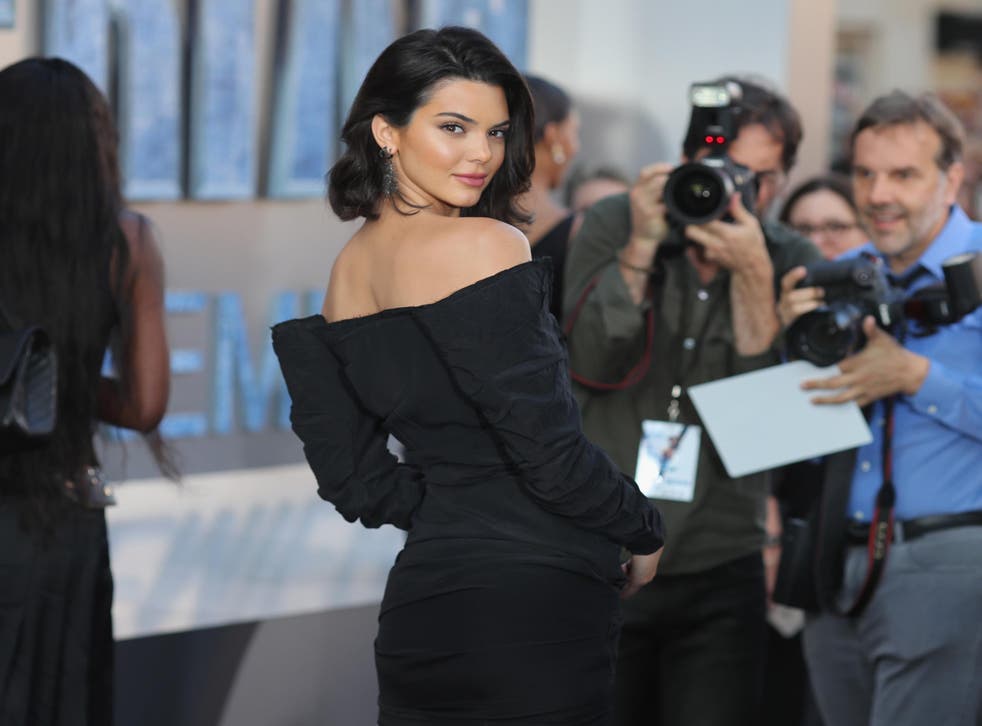 Milan fashion week 2018: Kendell Jenner sparks anger for wearing 'fur coat'
Reality TV star now highest paid model in the world
Kendall Jenner has sparked outrage for wearing what looked like a fur coat during Milan Fashion Week.
The reality TV star, who was recently crowned the world's highest-paid model, prompted a backlash after she appeared on the DSquared2 catwalk on Sunday with the gigantic jacket covering a satin print dress.
Critics suggested Jenner, who is the second youngest of the Kardashian clan, was a poor role model after appearing to wear real fur — although whether it was the real thing or just a very realistic alternative has not been confirmed by the model or the organisers.
Mimi Bekhechi, director of international programmes at People for the Ethical Treatment of Animals, criticised the jacket.
"At a time when luxury brands from Michael Kors to Gucci are dropping fur, and following the news that Norway – one of Europe's biggest fur producers – is joining the growing list of countries that are banning fur farming, people are rightly gobsmacked to see any label send a mountain of corpses down its catwalk," Mr Bekhechi told The Independent.
"On fur farms, foxes, raccoons, and rabbits... are typically kept in tiny, filthy wire cages and denied the freedom to do anything that comes naturally to them, before they're finally killed by being painfully electrocuted, drowned, or even skinned alive. PETA will continue to put pressure on designers and celebrities to say no to fur – with so many innovative and beautiful vegan fabrics now available, there's simply no excuse for choosing cruelty over kindness."
"The really sad thing is, apart from the needless cruel death of animals, is that such high profile models would make an impact if they chose to refuse to wear real fur. It's time they actually had some morals and made these a******* designers think about their actions," said Twitter user Sarah Kirby.
"Kendall Jenner, you are a disgrace, millions of young girls look up to you and you're encouraging them to have no respect for the beautiful animals on our planet. How can you think wearing fur is ok? I hope karma catches up with you soon," added another.
"Stop using fur, Kendall! So many fashion brands had chosen to use faux fur instead of real fur and you've chosen to model for the one that encourages animal killing! You're better than this!" said one more.
Kendall Jenner for Calvin Klein

Show all 5
Nevertheless, some sought to defend the 22-year-old and argued it was DSquared rather than Jenner who should be criticised.
"It's funny how everybody is attacking Kendall for the fur coat but nobody's actually attacking the people who made the fur coat aka @Dsquared2," said one.
This is by no means the first time Jenner has sparked controversy – the model prompted a massive backlash for her Pepsi advert last April.
Borrowing images from the Black Lives Matter movement, the "Live For Now Moments Anthem" was accused of commodifying and trivializing social movements in the attempt to sell soft drinks.
The premise of the advert centred around Jenner ditching a modelling shoot to join hoards of smiling young protesters. There, she hands an ice cold can of Pepsi to a riot officer who is monitoring the march, triggering raucous applause from the crowd and the policeman to flash a grin.
The moment where Jenner approaches a line of officers is a clear reference to the iconic image of a female protester named Ieshia Evans standing stalwart while being confronted by heavily armoured riot officers during a Black Lives Matter protest in Baton Rouge after Alton Sterling was fatally shot by police last year.
Pepsi was forced to cave to widespread criticism at the time and remove the video from YouTube. In a statement, they said: "Pepsi was trying to project a global a message of unity, peace, and understanding.
"Clearly, we missed the mark, and we apologise. We did not intend to make light of any serious issue. We are pulling the content and halting any further rollout. We also apologise for putting Kendall Jenner in this position."
This signalled a radical departure from their previous statement which defended the ad as depicting "various groups of people embracing a spontaneous moment … to live life unbounded, unfiltered and uninhibited."
Jenner was named the world's highest paid model by Forbes Magazine, earning $22m (£16.6m) in 2017, back in November. She managed to beat Chrissy Teigen, Gigi Hadid, and Adriana Lima to the spot and it was the first time in 15 years that Gisele Bundchen did not win the accolade.
Representatives for Kendall Jenner and DSquared did not immediately respond to a request for comment.
Register for free to continue reading
Registration is a free and easy way to support our truly independent journalism
By registering, you will also enjoy limited access to Premium articles, exclusive newsletters, commenting, and virtual events with our leading journalists
Already have an account? sign in