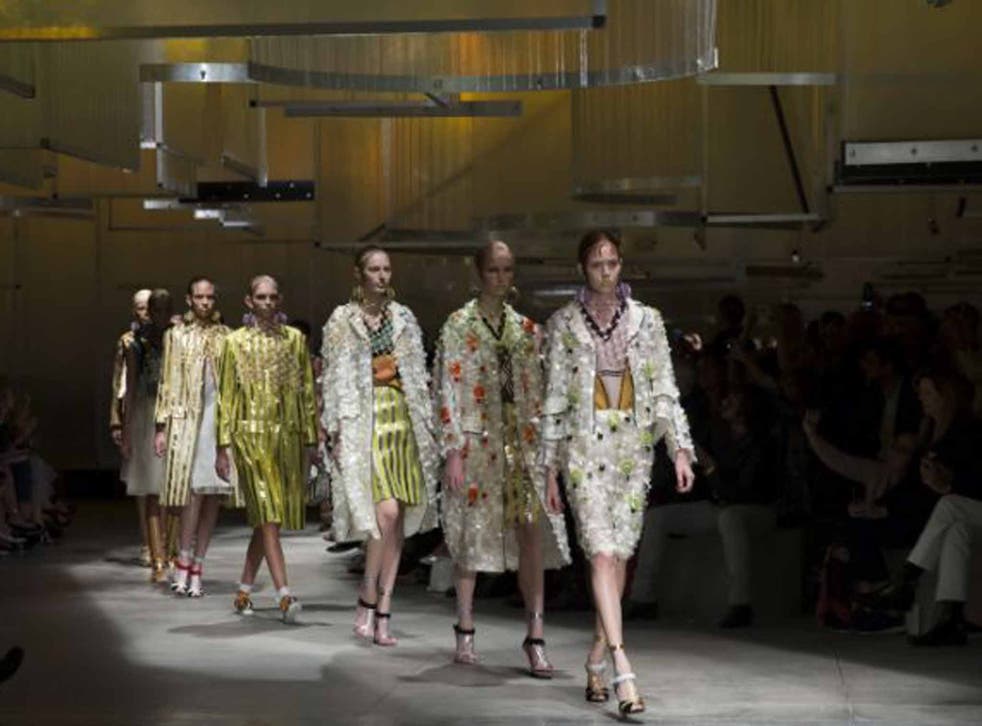 Milan SS 2016: ​Departures, debuts and old dogs showing new tricks
With much new on view, spring/summer 2016 was the most interesting Milan season in years, says Alexander Fury
The models at Dolce and Gabbana's spring/summer 2016 show snapped self-portraits with elaborately-cased iPhones as they preened in dresses cinched with beaded Colosseums or stamped with Michelangelo's David in sequins. They were so focused on themselves, I wondered if they could see where they should be going.
What a metaphor – for fashion in general, and Milan in particular. Fashion is all a matter of perspective. You want to see clothes from designers that challenge yours – and, perhaps more importantly, theirs. I can't help but feel that Milanese fashion has for many years looked inwards, like those Dolce and Gabbana models, too obsessed with themselves and what's going on over their shoulder (namely, the work of other designers) to really push themselves forwards. But over the past couple of seasons, there's been a sea-change. Milan excites. Designers have been shuffled to new positions, aesthetics have been uprooted and reimagined. The mood is one of change, rather than stagnation.
Nothing symbolises that more than Gucci, whose flagship on Via Montenapoleone has been stripped and re-engineered, fresh not only for the new season, but a new era. The collection was, once again, a rag-bag array of vintage-inspired clothes. That's doing creative director Alessandro Michele a disservice: his clothes were odd, but beautiful, exquisitely realised, lovingly crafted. Michele has a wide-ranging aesthetic that even touched on sexiness this time, although his transparent dresses and towering heels felt more like they were toying with rather than pandering to our perceptions of sexy. The whole thing was somewhat overwhelming, at once superbly realised and ambiguous. There is no longer a single message for Gucci, nor a single Gucci woman. Michele has broadened the label's perspective; their new horizon is vast.
That's clever. Because, despite many people's adverse reaction, Gucci's clothes can appeal to lots of people. They're beautifully made – and expensive as a result, sure. But that doesn't matter, if you want it enough. It's a risky strategy, but one Michele and the equally fresh Gucci CEO Marco Bizzarri have played superbly. The brand's sales for the first half of 2015 were up 4.6 per cent; analysts had estimated a decline of 3.2 per cent. Is that miraculous? No, it's just managed well.
Gucci's shift in perspective is being mimicked all across Milan. The highest-profile examples were at Emilio Pucci, and Roberto Cavalli – the designer formerly of the former, Peter Dundas, having moved to the latter. His replacement is Massimo Giorgetti, of a small Italian sportswear-focused label called MSGM. If Pucci's footing was unsure for spring (too many ideas from too many other designers, not enough to anchor this to Pucci), Dundas rampaged out at Cavalli with a romper-stomper collection of bleached and over-printed denim, tie-dye chiffon and ruffled Stephanie Seymour in "November Rain" trained taffeta skirts. Those were for day, incidentally. Actually, day and evening had no meaning in this glorious escapade that neatly cleaved the audience into two camps: strident detractors, and the love camp – who, incidentally, love camp, which this collection had plenty of. I was in that group, and I adored Dundas's energy and exuberance and, like the new bunch in at Gucci, his willingness to take risks.
Donatella Versace always likes to push herself somewhere new – that's why she showed in a cavernous industrial space, rather than the safety of the backyard of Via Gesu, Versace's HQ. Instead of the terrazzo floor and trees, Versace lit up klieg lights and sent out a collection splattered with neon leopard and punctuated with bold military touches, like the Versace woman was reimagined as a soldier in stiletto heels. Donatella insisted it wasn't about army chic, but did assert that her woman was "a fighter… she's not exactly fragile". What a respite to a season of flower fairies in charmeuse and chiffon, or lace and ruffles and slippy, drippy bias-cut dresses like jumped-up underwear. Donatella Versace always has her own utterly idiosyncratic perspective on fashion – jacked up on platforms, suctioned tight to the body – which sometimes chimes with and sometimes jars against the status quo. Maybe it was the fact that Versace offered slender trouser suits, and mini dresses, and even a few flats as well as those platforms, that gave the collection an everywoman appeal? It was broad.
No-one's perspective is broader than Miuccia Prada – in Milan sure, but possibly in fashion. Her collection rarely feels reminiscent of anything we've seen, but is generally a prophecy of that to come. This season, she played with notions of conservatism in dress, of classics – an obsession she has returned to time and time again – and, most interestingly, of femininity. Miuccia Prada isn't concerned with superficial tinkering, although this season she did obsess over surfaces, scribbling them with narrow lines, frothing them with paillettes and embroidered flowers, veiling them with "ghost" garments of organza. That surface obsession is, perhaps, part and parcel of examining our notions of femininity, the superficial "face value" with which so many still read women and their clothes. Those plastic clattering blooms are often metaphors for women: Dior called the corseted women in his budding New Look gowns his "femmes fleurs"; and we all know what a "lady garden" is. There wasn't a pair of trousers in this entire show, which isn't something Mrs Prada does by accident. Every heel was high. All that conservatism, that restrictive femininity, was rendered appallingly appealing. Prada raises big questions with their shows; they're never just about the surface, even when that's what they focus on.
Prada is fundamentally about a bigger picture. Miuccia Prada's remit is wider than fashion. As the right gains traction in politics and debate rages about the value of women's bodies – both in the media (that Beach Body Ready stuff) and the wider culture – her examination of the commodification of femininity, itself an essential component of fashion, was fascinating. That was my perspective on Prada, at least. Maybe you just see pretty suits? That's fine too.
Join our new commenting forum
Join thought-provoking conversations, follow other Independent readers and see their replies