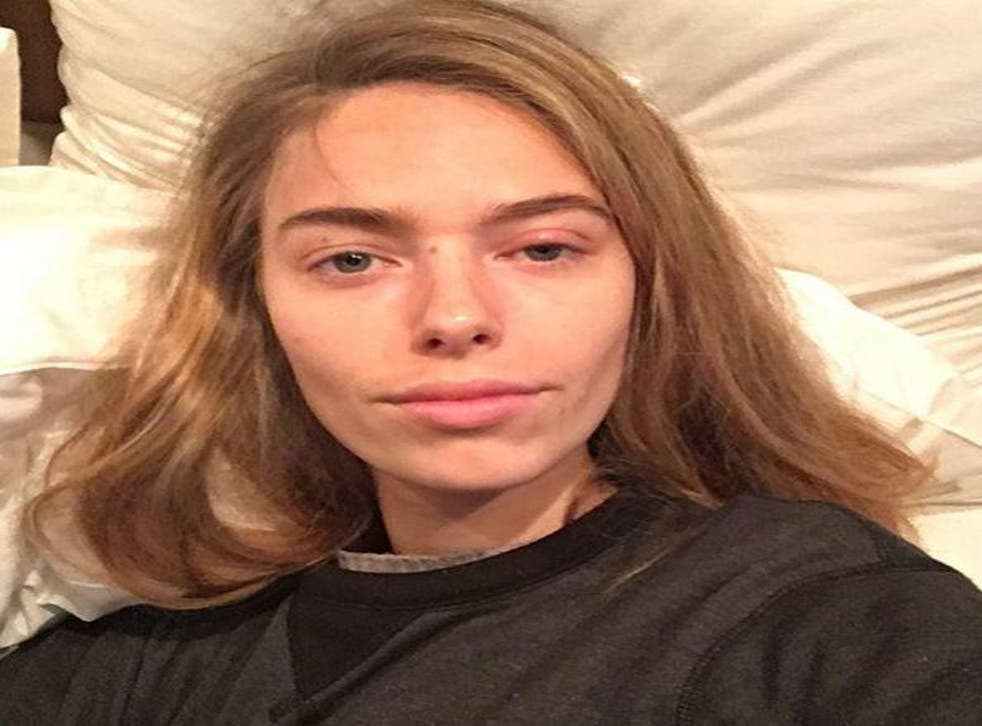 Model who caught infection from make-up brush launches campaign over industry hygiene standards
Anthea caught a highly contagious strain of staphylococcus aureus and lost a month's worth of bookings
Sarah Young
Tuesday 11 October 2016 17:38 Comments
Aussie model Anthea Page has called out the fashion and beauty industry after contracting an eye infection from a makeup brush backstage at a runway show.
She was appearing at Sydney Fashion Week when she caught the highly contagious strain of staphylococcus aureus, otherwise known as Golden Staph, which at its worst can cause meningitis, blood poisoning and even blindess.
As a result her eye became extremely swollen, and it needed a course of strong antibiotics. It also meant that Anthea was forced to cancel all her scheduled bookings for the month ahead.
Now, the Insta-girl is speaking out against the unhygienic practices that go on behind the scenes, telling Metro: "It doesn't happen at every fashion show … but I have seen unhygienic things happen at a fair few and there is always backstage chat about it."
"In my experience, most artists are very careful and aware that the spread of many skin conditions can occur…however, there is a noticeable trend of girls who are practicing makeup without proper infection control education."
Talking of her experience on this particular job, Anthea revealed that the symptoms didn't show until the final morning, a whole four days in.
"I thought I had just been wearing too much makeup, fake eyelashes and feeling a bit tender so I went to work anyway at 5.30am."
"I was shooting a campaign out in the middle of the ocean and next thing I know, I'm facing a monstrous looking right eye. Thankfully the photographer was a good sport and shot me on my left side but the next day, it just grew until I couldn't even open my eyelid halfway!"
In an open letter to makeup artists, Anthea posted a picture to her Instagram in an attempt to highlight the importance of sanitation.
"Models do have it good most of the time, however there are health/hygiene risks involved for models and anyone using testers or getting their makeup done which people can overlook.
"I have just been on a fashion show job for the past four days and unfortunately even though I had observed unhygienic practises and confronted the qualified artists (who I will not name) I still ended up taking home a nasty eye infection.
"My message is not intended to critique the women who I trusted with my eye and skin health but to raise awareness of the importance of hygiene practice among artists.
Register for free to continue reading
Registration is a free and easy way to support our truly independent journalism
By registering, you will also enjoy limited access to Premium articles, exclusive newsletters, commenting, and virtual events with our leading journalists
Already have an account? sign in
Join our new commenting forum
Join thought-provoking conversations, follow other Independent readers and see their replies