London Fashion Week
'The models are skinnier than ever': Has London Fashion Week stopped caring about body diversity?
As LFW draws to a close, Olivia Petter examines whether the industry should be doing more to protect models and diversify the bodies we see on the runway
Wednesday 22 February 2023 18:28 GMT
Comments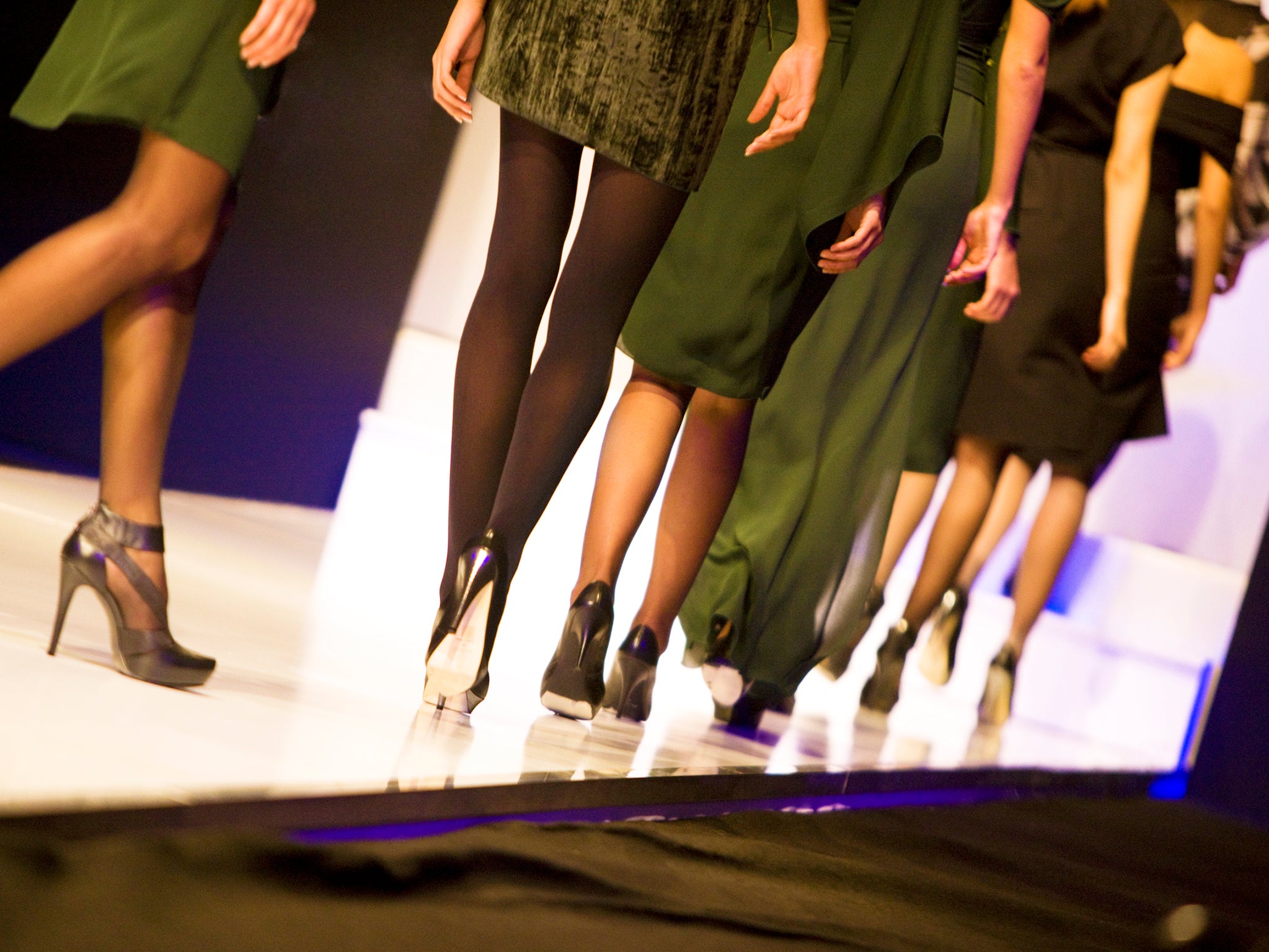 The fashion industry likes its models thin. Very, very thin. This problem is widely known and well-documented. There have been books about it, films and documentaries. There have been protests, petitions and campaigns calling attention to it. And yet, here I am in 2023, watching my sixth show at London Fashion Week, wondering when the model in front of me has last eaten.
A woman's body is a difficult subject to comment on, regardless of her size. Frankly, it shouldn't be something anyone comments on at all. But having been to LFW for the past eight years, and heard endless stories of models starving themselves before shows, or being told to drop a dress size in two days in order to get cast in a show, I've become increasingly concerned by the health and wellbeing of models on the runway and the lack of representation in terms of body shape. What's even more concerning, though, is that no one seems to care. At least not enough to do anything about it.
Ostensibly, this is a problem that has already been solved. We talk about body positivity all the time. Models who've been mistreated in the past have spoken out to great acclaim. Brands have increased their size ranges. And more plus-size models are being cast in shows than ever before, occasionally even taking a starring role. Take Paloma Elsesser, the American model who has walked for Coperni, Nensi Dojaka, Marni, Michael Kors, Chloe, 16Arlington and more.
Having reflected on the past few days of shows, I was tasked with writing something to summarise the proceedings. But there was just one thing on my mind. "Is it me, or are the models extra skinny this season?" I texted a friend who works in fashion. "Yes," she replied immediately, "they're skinnier than ever." In search of further vindication, I messaged another friend who had just been to his first fashion show to see what he made of the bodies before him. "What did you make of the models?" I asked. "It was very shocking to see them up close," he replied. "Some of them looked really unwell."
There have been similar rumblings throughout the industry this season. On 12 February, Vanessa Friedman, the fashion director of The New York Times, tweeted: "Even I am distracted by the extreme skinniness of many of the models in Jason Wu's show." After the tweet prompted hundreds of responses, she later clarified: "I have been around a lot of eating disorders in my life, as well as lots of naturally thin people, and the difference between the two is not hard to recognise. I can tell you at least two of the models fell into this category. The point was not to shame the models, but to call attention to the issue. I really believe it is time fashion reflects the whole clothes-wearing population, in race, gender, size and age."
Friedman's tweet highlighted part of the problem. As an experienced industry tastemaker, she is accustomed to seeing very thin women on the catwalk; for her to call it out stands for something. It is definitely something I've normalised over the years, too. Over time, you become so immune to the fact that models are thin that you don't even recognise it anymore. This is despite the fact that many people I know who work as models have shared their horror stories with me. Common anecdotes include models being told to smoke cigarettes instead of eating in the run-up to shows and being asked not to drink water so they don't bloat. One person told me how, at a major British brand's show in 2020, a model actually fainted backstage.
Despite all this, it remains a difficult subject to speak about because of the potential criticism – Friedman was accused of skinny-shaming, for example. "That's why no one speaks about it in the industry," says Camille Charriere, fashion writer and broadcaster. "Being a skinny person myself, I hate it when people accuse me of not eating because it's not true. But it's very easy to spot the difference between a skinny model and an unhealthily skinny model."
Ask anyone in fashion and they'll tell you they noticed a lot more of the latter this season. It's almost impossible not to notice. The worry is that the lack of diversity on the runway, and the fact that some of the models might well be unwell, has become a quietly accepted issue.
"It's really disheartening to witness a return to a very singular celebration of body types on the catwalk after the last few years of greater inclusivity across the spectrum," says fashion writer and former Vogue editor, Naomi Pike. "Looking at the casting this season so far, in London and New York, it really seems like we're regressing."
It's almost impossible not to notice. The worry is that the lack of diversity on the runway, and the fact that some of the models might well be unwell, has become a quietly accepted issue, one that's more complicated to solve than you'd think.
"There's been a lot of chat this season about the lack of curve models but who is actually making this change?" adds Pike. "When I first started going to fashion week, I didn't see a single body like mine on the runway so I didn't expect it or relish in seeing it. Now, it feels exclusionary and inexcusable to not include models that sit outside the sample size bracket. For me, it's like I'm waiting to see my look, what I can or if I can buy anything from this designer. And, when I don't, it's extremely disheartening and, often enough, triggering."
One person who has been open about her own negative experiences in the modelling industry is Charli Howard, who, at the age of 17, resorted to eating orange juice-soaked cotton wool and compulsively measuring her body in order to achieve a body size that her agency required. She was ultimately dropped on account of her weight; at the time she was 5ft 8in and a UK size 6-8. When she penned an open letter to her former agency in 2015, it sparked a huge progression in terms of body positivity, which is just one reason why it seems so odd we're back in this place again.
"I always worried that the plus-size movement was a trend or a tokenisation of curvier, larger women," Howard says. "The fact remains that women deserve to see their body shapes represented. Having larger or curvier bodies does not cheapen a brand – instead, it allows the average consumer to dream and want to buy from the designer as well. Our bodies aren't commodities and with the rise of amazing and incredible curvier models, there just isn't an excuse anymore to be lazy in the casting process."
Another problem is that even when designers do cast plus-size models, there only ever tend to be one or two. It means the majority of clothes are still being modelled on women with the same body shape. This hasn't gone unnoticed by the models themselves, either, with one fashion editor claiming to me that one popular model had told her she'd grown tired of being "the one curve girl" in every show.
With so many people involved in casting a show, it can be hard to know where to pinpoint the responsibility for having a diverse line-up. Some agencies, like Supa, champion representation above all else, having recently launched an "X" board with the hope of tackling the lack of queer and trans models in fashion. "But no matter how much we, the casting directors or the stylists, push for diversity, at the end of the day this really boils down to the actual design of the garments themselves and how the designer wants their brand to be represented," explains Supa's founder, Charlie Clark-Perry. "The buck ultimately stops with them."
"Diversity is a conversation you need to have far in advance so that designers have time to make the clothes in those sizes," adds Piergiorgio Del Moro, one of the industry's top casting directors, having chosen models for Versace, Fendi, Saint Laurent, and more. "I always say that casting has to reflect what you see in society and outside on the street," he adds. "There is a strong sensibility from everyone to have more body diversity."
This season in London we've seen plus-size models at 16Arlington, Simone Rocha and Harris Reed. But very few brands cast more than a few. Sinead O'Dwyer was a welcome exception to this, with all of the models being a range of sizes, including one pregnant model and one who uses a wheelchair.
It's progress, sure, but it's not enough. "There's still work to be done," says Jonathan Johnson, stylist and casting director. "I've seen fuller figures being openly embraced not just by clients but by agencies. Brands like Karoline Vitto, Chet Lo, 16 Arlington, SS Daley, Di Petsa are designers who have made body diversity integral to their brand DNA."
Nonetheless, some say that the body positivity movement in the industry is regressing. Take model Felicity Hayward, who runs a movement called "Including the Curve", which tracks how many plus-size models were cast in shows across different fashion weeks. Last season, New York Fashion Week had the most body diversity yet, with 49 out of its 4,000 or so models being plus-size. This season, though, that percentage fell to 31 out of roughly 3,200. "New York has always strived for diversity and inclusion so for them to go backwards is terrifying to me," she says. For London Fashion Week, Hayward's data shows that out of roughly the 2,640 models who walked in shows this season, just 71 could be considered plus-size.
For years, the excuse used by designers for not showing their clothes on bigger bodies is that they don't make clothes that size. Many luxury brands only go up to a size 12, which is, generally speaking, the start point for plus-size. This season though, designers proved this wasn't always the case. "A lot of them showed oversized clothes," says Hayward. "There were so many things that would fit me. But none of them were technically in my size because they were modelled on smaller women. So the industry is saying, 'we told you we don't make clothes in your size and now we do but it's not for you'."
As for what's fuelling this regression – or at least preventing progress – it could be down to a combination of things, like the current penchant for Noughties fashion, where size zero reigned supreme. "You have to wonder if the recent vogue for Y2K fashion is influencing this," Pike says, "as that era so celebrated and lauded the skinny. Much of the trends centre around a very slim frame."
Hayward blames the Kardashians. "After having promoted curvy bodies, they're turning around and they've got this new skinny [look] and I was really worried this would affect the runways," she says. "It's almost like we've come full circle," adds Charriere. "I don't want to blame Kim Kardashian but the fact that she proudly was talking about her diet for the Met Gala has obviously had an impact."
Use of the diet drug Ozempic – designed to restrict hunger in people with diabetes, but now used by celebrities far and wide – is also reportedly rife. "I've heard of a lot of people in the fashion industry using it too, including some of the most famous models," says Charriere. But there are plenty of other potential factors in how we got here, she says – like the wellness movement, which has sparked a surge in the number of people talking about what they eat online. "It's pro-ana stuff disguised as wellness," she says. This combined with the penchant for Y2K fashion and the fact that diet culture seems to be coming back into the mainstream is all cause for unease – and not just where the industry is concerned.
"It's just taken back all the years of hard work so many of us in the body positivity community have done and worked hard towards," Hayward says. "It feels like skinny is seen as the only desirable body, [when] everybody's body should be desirable."
Join our commenting forum
Join thought-provoking conversations, follow other Independent readers and see their replies