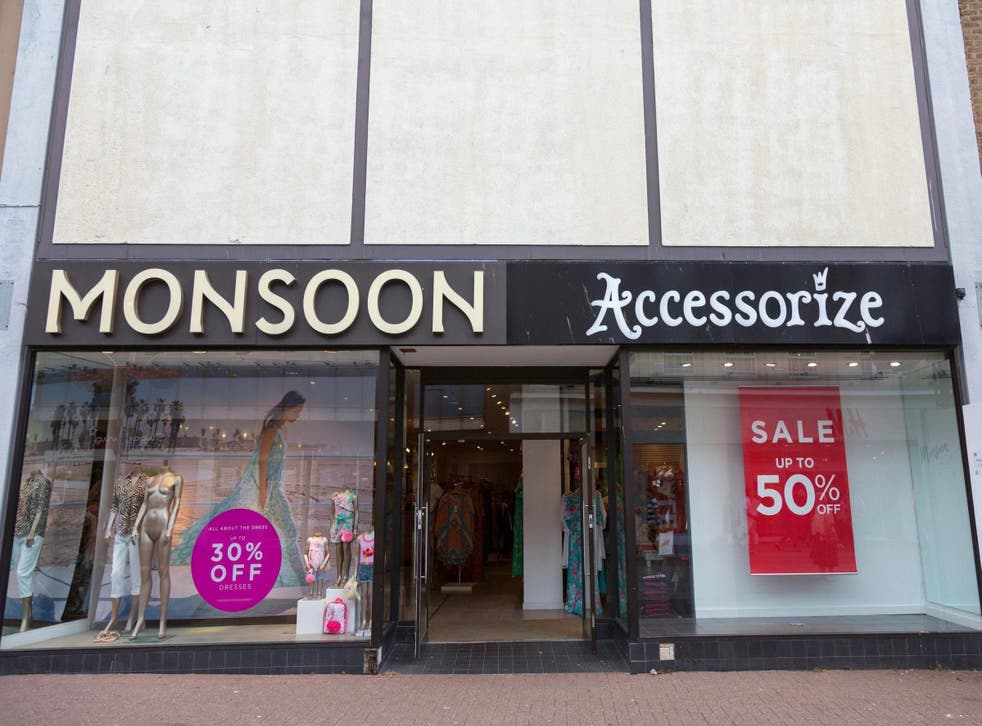 Accessorize and Monsoon fall into administration
Some 545 jobs now at risk
Helen Coffey
Wednesday 10 June 2020 10:00 Comments
Monsoon Accessorize, the company that owns the two clothing and accessories brands of the same names, has fallen into administration.
The company announced it would be closing 35 shops, putting 545 jobs at risk.
While Monsoon Accessorize is understood to have been turning a profit before the coronavirus pandemic hit, the nationwide lockdown has left owner Peter Simon unable to keep paying rent on the high street chains' combined 230 UK stores.
However, Simon has revealed plans to buy back the company after filing for administration, in deal that will see him stump up a cash injection of up to £15m.
Bought by Simon's new holding company Adena Brands, the Monsoon and Accessorize chains will ultimately reopen with fewer shops.
Adena Brands is set to engage in talks with landlords of stores across the UK to negotiate rates and save as many outlets as possible.
However, the new company has said "ultimately the new group hopes to be able to save as many as 100 stores", meaning a further 100 shops are still likely to close.
"Ever since I opened the first Monsoon store in Beauchamp Place in 1973, this business has been my passion and my life, and I did not want to see it fall victim to this unprecedented crisis," said Simon.
"Both Monsoon and Accessorize were trading well before the coronavirus pandemic but the business simply could not withstand the financial impact of having to close all its UK, franchise and joint venture stores for almost three months.
"This deal secures the future of both Monsoon and Accessorize and means we can continue to serve our customers online without a pause. In addition, we will now try to save as many of our stores as possible, depending on the outcome of various discussions with landlords."
He added: "Ultimately, we hope to be able to save as many as 2,300 jobs in this process, and more than 4,500 in our supply chain, although unfortunately not all of them. We believe that fashion has a future on the high street, and we are prepared to commit time and money making it work."
The acquisition encompasses the Monsoon and Accessorize brands and intellectual property, the head office and design teams, and the group's distribution centre in Wellingborough, Northamptonshire. In all the deal secures up to 2,300 jobs while both Monsoon's and Accessorize's online operations will continue to serve customers without a pause.
Register for free to continue reading
Registration is a free and easy way to support our truly independent journalism
By registering, you will also enjoy limited access to Premium articles, exclusive newsletters, commenting, and virtual events with our leading journalists
Already have an account? sign in
Join our new commenting forum
Join thought-provoking conversations, follow other Independent readers and see their replies