Moschino celebrates 40 years of fashion with spectacular catwalk show
The spring/summer collection marks a major milestone for the Italian fashion house.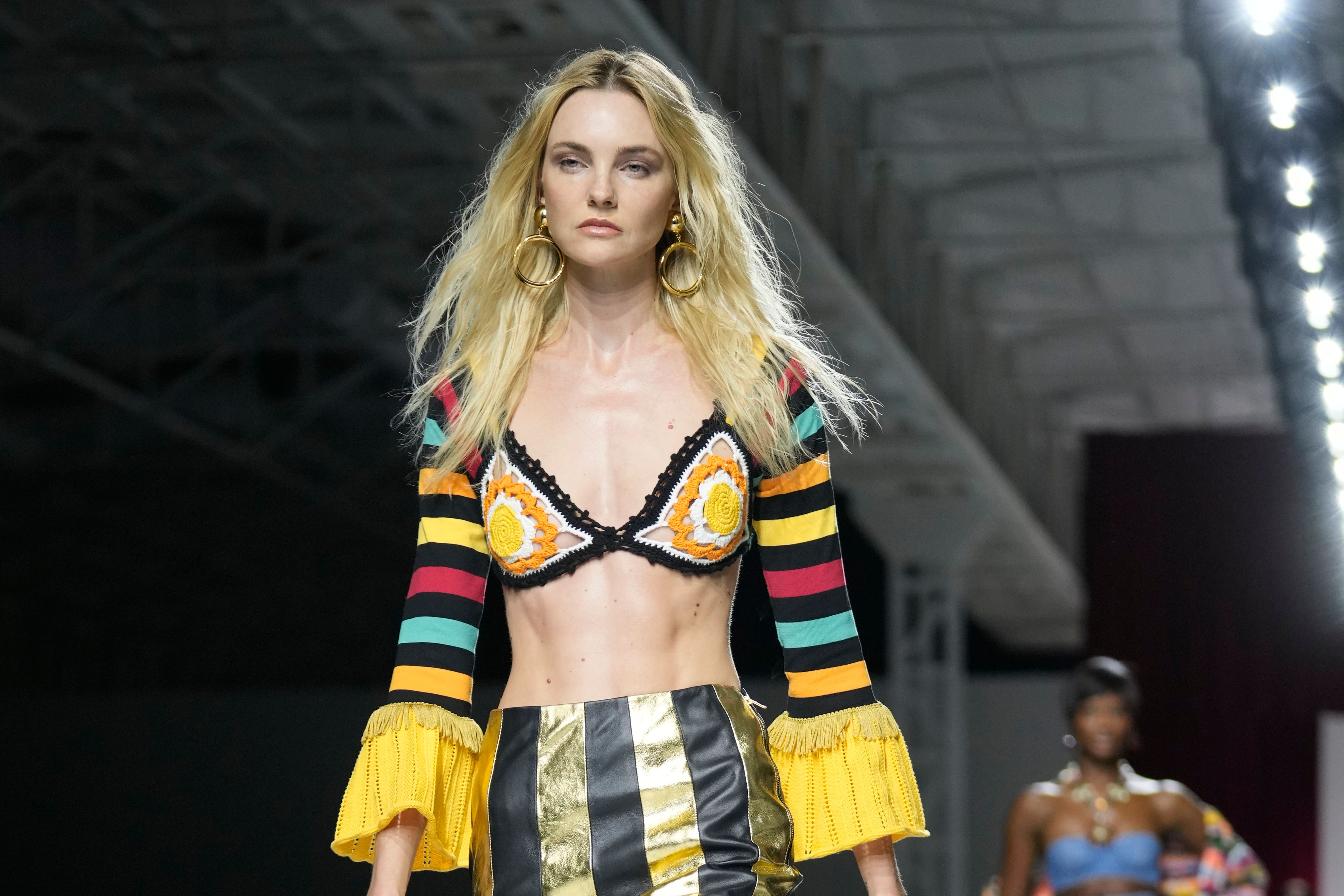 Celebrating '40 years of love', Moschino handed over the reins to four friends of the house for its spring/summer show at Milan Fashion Week.
Fashion stylists Carlyne Cerf de Dudzeele, Katie Grand, Gabriella Karefa-Johnson and Lucia Liu were invited to create 10 looks inspired by the works of founder Franco Moschino, who died in 1994.
To mark the brand's 40th anniversary, the collection was unveiled at a spectacular runway show split into four acts.
Under the stewardship of creative director Jeremy Scott, Moschino has become known for bright, brash and whimsical designs.
Carlyne Cerf de Dudzeele, 73, offered a more restrained take on the usual house codes, with the French stylist opening the show with a model clad in a white double-breasted two piece suit and black rollneck top.
Injecting the sleek look with some Moschino glamour, she styled the suit with statement crystal jewellery and a head wrap dotted with chunky diamantes.
What followed was the most wearable of the four ranges, featuring wide-leg blue jeans and chinos, navy blazers and knitwear, and a chic beige biker jacket.
These were elevated staples, however, and they came with kooky accessories, such as heart-shaped handbags and a tiny micro bag worn as a necklace.
Gabriella Karefa-Johnson pulled no punches with her first look, a gold chain skirt and cropped black leather biker jacket worn over a stripey black and white bikini and topped with a cowboy hat.
Her 10 looks were a sensationally summery ode to the 1970s and 80s worn by a diverse cast of models who frolicked joyfully down the runway.
Skirts ranged from mini (a colourful crochet number) to maxi (several high-waisted styles with ruffled ra-ra hems), teamed with corset tops and boxy blazers.
A yellow and green tie-dyed denim skirt and top will no doubt appeal to Gen Z Moschino fans.
Chinese stylist Lucia Liu was inspired by the Moschino founder's painting and her range was all about ruffles.
Opening with a pink tiered maxi skirt and a T-shirt printed with the slogan 'Protect me from the fashion system', the 10 looks featured lots of floaty chiffon, floral embroidery and cute little bow embellishments.
Alongside puff-sleeved jackets, lace tights and diaphanous cargo trousers, Liu rounded off her range with a truly showstopping look.
Worn by Canadian model Jessica Stam, the voluminous pink skirt was covered in giant bows and rosettes, teamed with a matching feather-trimmed jacket and vest top with an Italian slogan.
The final act, from British stylist Katie Grand, was titled Gone With The Wind and promised 'frequent nod(s) to irony'.
It certainly delivered, with the first model striding out in a T-shirt emblazoned with the slogan 'Loud luxury', which he stripped off to reveal a tiny crop top and trunks printed with suggestive brushstrokes.
A joyous rejection of the understated 'quiet luxury' trend that's taken the fashion world by storm this year, Grand's black and white range was more about making a statement than it was about selling clothes.
Models in catsuits and tutus cavorted on the catwalk, engaging in something that looked like combative dance and generally having a whale of a time.
They managed to get round the rectangular runway twice before sprinting off into the wings.
A violinist appeared and began a solo performance of Gloria Gaynor's I Am What I Am as she made her way down the catwalk.
As the song morphed into Gaynor's original version, the models reappeared in white slogan T-shirts and blue jeans, taking a final turn on the runway before the guest designers took their bow.
The limited edition designs were made in partnership with the Elton John Aids Foundation.
Honouring Franco Moschino's work on HIV/Aids awareness during his lifetime, all proceeds from sales of the T-shirts will go to the charity.