The Independent's journalism is supported by our readers. When you purchase through links on our site, we may earn commission.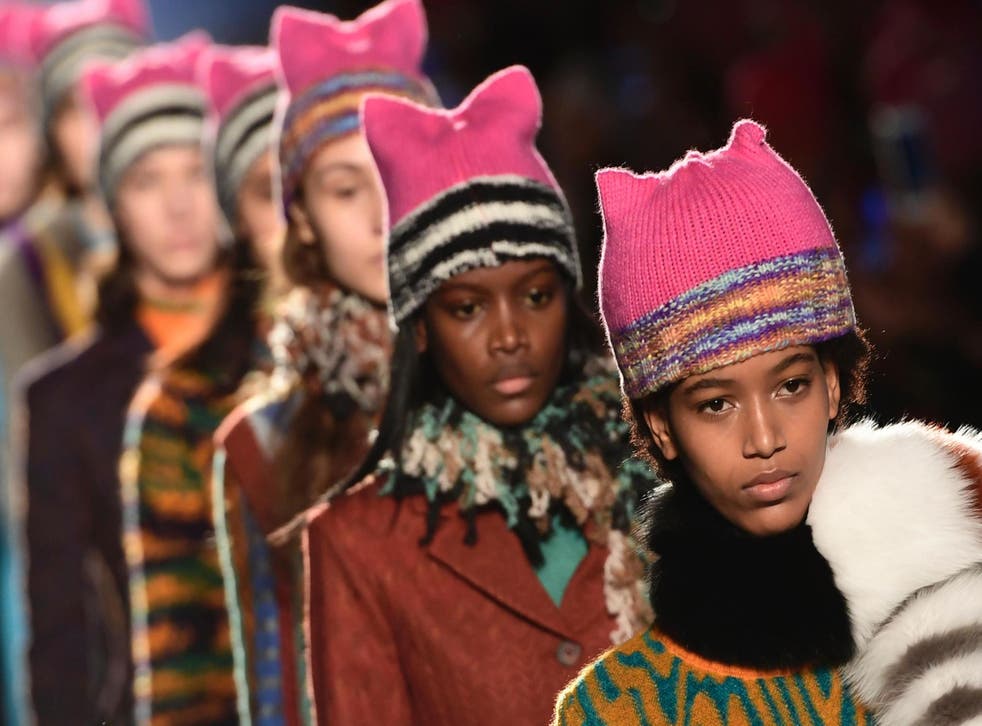 Most used fashion words in 2017
How woke is your wardrobe?
Olivia Petter
Wednesday 13 December 2017 17:33 Comments
As the year draws to a close, it's only natural that we reflect on the buzzwords that stole the sartorial show.
This year's most-used words reflect fashion's transition into its most progressive and politically-minded sphere to date, with words like "power" and "woke" taking the top two spots consecutively.
Compiled by global fashion search platform Lyst, the list was generated by analysing more than 30,000 articles from 100 different online fashion and lifestyle publications.
While there were some generic inclusions, such as "floral" and "statement", the prevailing theme of this year's list was that vociferous social awareness has never been more in vogue.
The idea of fashion being "woke" could be attributed to Maria Grazia Chiuri's debut collection for Dior, which included the now iconic "We Should All Be Feminists" T-shirt that so many high street brands have recreated.
However, Dior was not the only fashion house to embrace forward-thinking fashion in 2017, Prabal Gurung and Jonathan Simkhai were just some of the other designers who also responded to the rising prominence of feminism across social culture.
This might be thanks to the Women's Marches that took place around the world in response to President Trump's alleged misogynistic behaviour towards women – Missoni even created their own version of the pink "pussyhat" that female marchers donned at the time.
Also included in the list were buzzwords-of-the-moment such as "extra" and "millennial".
Though they aren't necessarily the first words that spring to mind when describing clothes, the former may relate to something on the extravagant side (think sequin trousers and/or glitter eyeliner) while the latter can undoubtedly be applied to the colour that reigned supreme in 2017: millennial pink.
Interestingly, more niche words such as "cult", "vegan" and "ugly" also made the list, which, in addition to paying homage to the rise in sustainable clothing, may also represent a move away from conformist fashion in the wider sense.
Another surprising entry was "masculine", which could be attributed towards the rise of gender-neutral clothing, which has permeated both the catwalks and the high street as of late.
In retrospect, it was a powerful year for fashion indeed.
Register for free to continue reading
Registration is a free and easy way to support our truly independent journalism
By registering, you will also enjoy limited access to Premium articles, exclusive newsletters, commenting, and virtual events with our leading journalists
Already have an account? sign in
Join our new commenting forum
Join thought-provoking conversations, follow other Independent readers and see their replies