The Independent's journalism is supported by our readers. When you purchase through links on our site, we may earn commission.
Mother-of-the-groom slammed for upstaging bride with sparkly floor-length dress
"It's a bit 'cruise ship singer' but I've seen worse"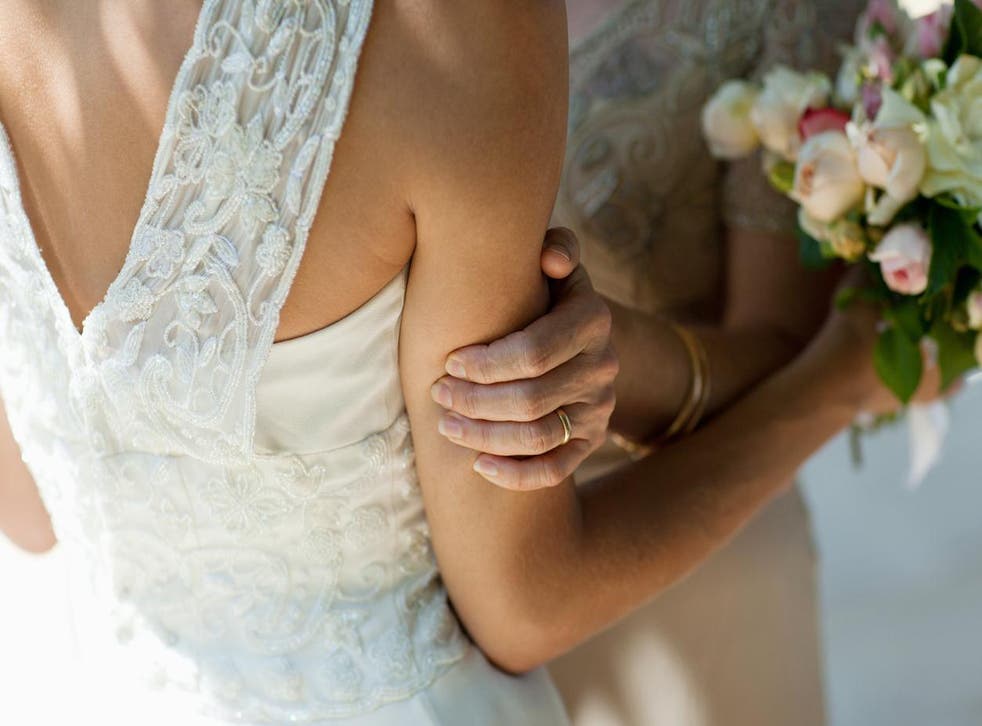 When it comes to attending a wedding there's one cardinal rule – never, ever upstage the bride.
But, that's exactly what one mother has been accused of doing after she wore a shimmering, floor-length silver gown to her own son's wedding.
The woman, from Newcastle, bought a sparkly Gina Bacconi dress to wear to her son's nuptials in Long Island, New York , writing on the John Lewis website that she was inundated with compliments on how it looked.
However, after spotting her review, an eagle-eyed shopper shared the comment on Mumsnet sparking a heated debate over whether or not the show-stopping gown was suitable for a wedding.
"Just been looking at this dress, and I know this is mean but read the review and someone bought it for her son's wedding," the woman wrote. "Wtf."
Amassing hundreds of comments, Mumsnet users divided over whether the dress was a good choice or a desperate bid for attention.
"It could clash with a bridal outfit depending on the type of dress the bride wore, unless I knew for certain that the bride was ok with it, I wouldn't risk it personally," one person wrote.
Another added, "It's a lovely dress but yes, possibly a bit pale and long to wear to your son's wedding."
Conversely, others didn't see the issue and rose to defend the mother-of-the-grooms choice saying it was "not like a wedding dress at all."
"It's gorgeous. Not all mothers of grooms are drab old women," someone wrote.
Another said, "Weddings are a celebration, especially if it's your own child who's getting married! I don't see what's wrong in wearing a bit of sparkle."
So, where's the line?
Wedding etiquette can be complicated, especially in the fashion stakes so, what can you get away with wearing without overshadowing the bride's big day?
"The last thing you will want to do is be mistaken for the bride, and not the wedding guest," said bridal blogger Marina Licht.
"My top tips when shopping for an outfit to wear to a wedding is imagine yourself as a bride. If you see a dress in the shops, ask yourself how you would feel if someone wore this outfit to your wedding?"
As a rule, avoid wearing all-white, full-length dresses or anything skimpy or see-through that "attracts attention to you and away from the bride."
Register for free to continue reading
Registration is a free and easy way to support our truly independent journalism
By registering, you will also enjoy limited access to Premium articles, exclusive newsletters, commenting, and virtual events with our leading journalists
Already have an account? sign in
Register for free to continue reading
Registration is a free and easy way to support our truly independent journalism
By registering, you will also enjoy limited access to Premium articles, exclusive newsletters, commenting, and virtual events with our leading journalists
Already have an account? sign in
Join our new commenting forum
Join thought-provoking conversations, follow other Independent readers and see their replies