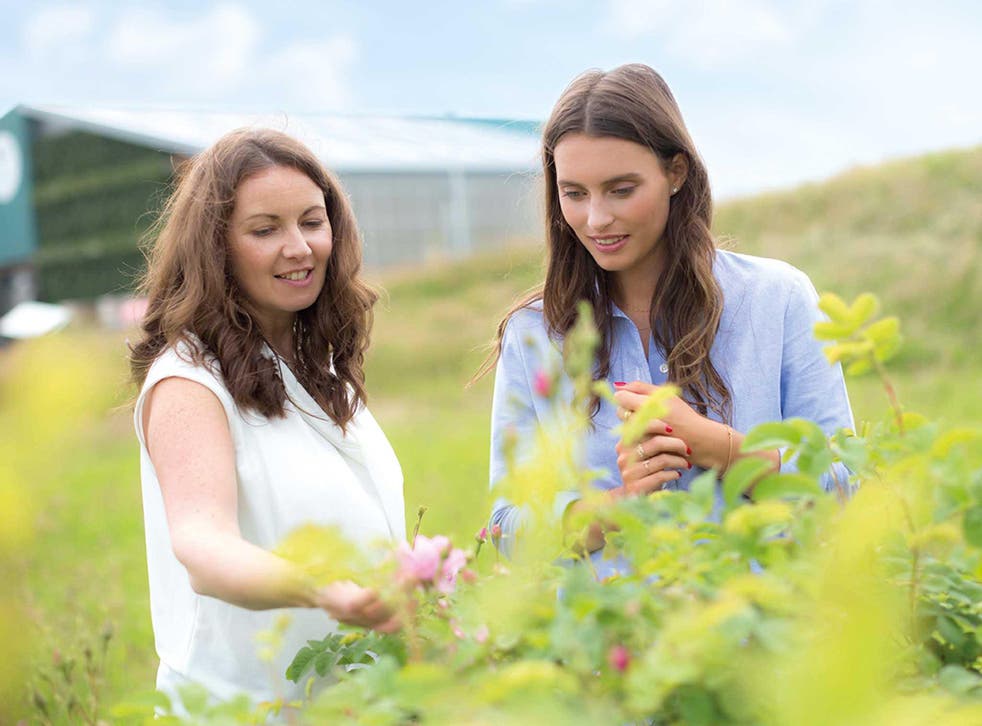 Natural makeup and skincare: The rise of organic beauty products
Wellness guru Ella Mills has cooked up a natural skincare line after discovering the pleasures of plant-derived beauty, says Naomi Attwood
Naomi Attwood
Monday 08 August 2016 10:33 Comments
Blogger and publishing sensation, Deliciously Ella, knows a thing or two about popularising healthy living. Her two cookbooks, written off the back of her hugely successfully blog of 'plant-based' health food recipes are the fastest-selling ever. Her latest project is a skincare collaboration with Neal's Yard Remedies. The long-running natural cosmetics range and vegetarian guru found their brand values were perfectly aligned having worked together a few years ago.
Ella Mills says; 'As I started eating more natural foods I became more interested in what I was putting on, as well as in, my body, too. I researched the ingredients in what I was using and looking at alternatives, then started using lots of Neal's Yard products, which I loved! . . . My readers had been asking about natural skincare at the same time, and it just felt like the perfect fit'. Mills' two products, a fresh, cucumber and rose-scented face wash and light moisturiser are out this week.
The author isn't alone in her pursuit though, with consumers becoming more and more conscious of what they put both in and on their bodies. Going natural is a growing trend, with almost 50 per cent of consumers buying natural beauty products and a further 8 per cent wanting to, according to Yes To beauty brand. The trend is strong and more and more consumers are turning to it; overall, beauty products from Mintel Natural and Organic Toiletries are reporting a 24 per cent compound annual sales growth rate over the past four years – significantly outpacing the 2.7 per cent growth for the total beauty category.
Much like health food, natural beauty products aren't new but have become hugely fashionable, shedding their hippie image. As the trend turns mainstream, debate rages over what constitutes 'natural'; being inspired by natural plant extracts not being enough to claim organic status. What is important to people is how natural is defined, with 47 per cent of consumers of Mintel considering 'free from chemicals' as the main indicator for a true natural product and UK consumers positively responding to natural claims such as "formulated without parabens".
Neal's Yard Remedies' motto is 'if in doubt, leave it out' having banned silicones, mineral oil, parabens, (a type of preservative) and GM ingredients among others, Fair Trade and cruelty-free credentials are also important. Not all brands marketing themselves as natural are entirely pure or free from synthetic ingredients, and many are owned by big conglomerates. While it's not necessary to spend £150 on a cream from a tiny independent beauty brand to find the real thing, it may necessitate a bit of reading the ingredients lists prior to purchase. Try Dr Haushka, Weleda, Lavera and Yes To for reasonable prices.
Aside from quandaries over purity and ethics, for the lazy, busy and tired among us, divine-smelling botanical products have a clear advantage. Slathering your face with fresh, eucalyptus-y cleanser or sinking into an oily rose-scented bathtub compare so favourably to using non-botanical products, cleansing, toning and moisturising become such a joy that skin will soon benefit.
Natural makeup and skincare

Show all 13
Register for free to continue reading
Registration is a free and easy way to support our truly independent journalism
By registering, you will also enjoy limited access to Premium articles, exclusive newsletters, commenting, and virtual events with our leading journalists
Already have an account? sign in
Join our new commenting forum
Join thought-provoking conversations, follow other Independent readers and see their replies