Muslim fashion designer makes history with hijab collection at New York Fashion Week
 Anniesa Hasibuan's collection featured silk hijabs in ivory, peach and grey silk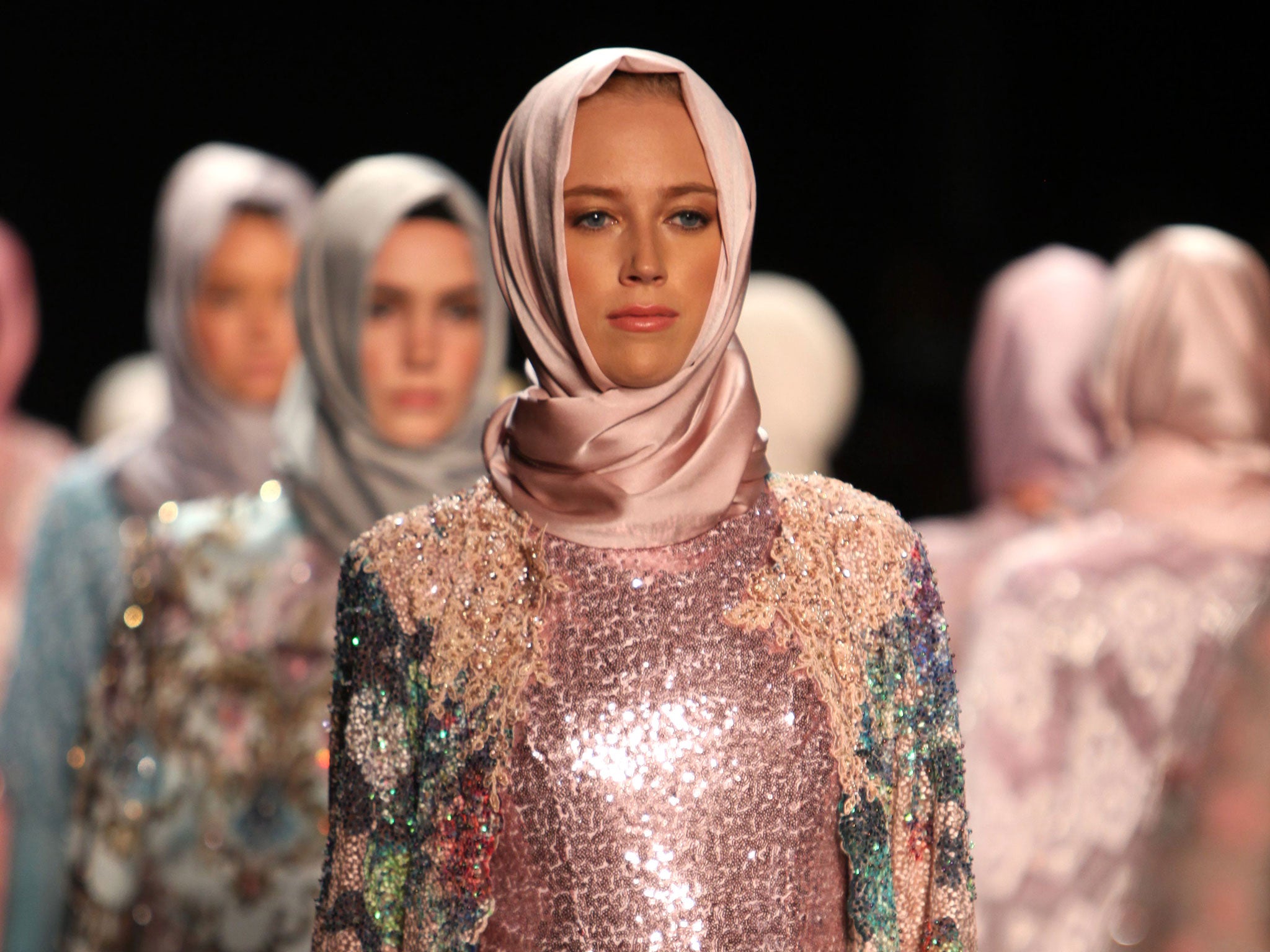 A Muslim fashion designer has made history as the first ever designer to feature hijabs in every outfit on a New York Fashion Week catwalk.
Indonesian designer Anniesa Hasibuan, 30, delighted crowds with her Spring Summer '17 collection D'Jakarta. Models wore flowing trousers and skirts in silk, lace and chiffon in an array of pastel colours. One stand-out garment included an intricate gold lace dress, featuring metallic embroidery at the bust and a fringed lace train.
Each model wore a hijab in gold, pale pink or dove grey silk. It is believed to be the first time a New York Fashion Week catwalk show has featured hijabs on every model. Ms Hasibuan also made history as the first Indonesian designer to be featured at the fashion week and says her designs were inspired by her home city of Jakarta, where she also has a boutique.
Muslim fashion designer features hijabs at New York Fashion Week
Show all 8
The show consisted of 48 different looks, of which 10 were evening gowns and 38 were ready-to-wear pieces.
Following the show, Ms Hasibuan took to the runway, where she received a standing ovation from the audience.
Online lifestyle magazine Muslim Girl welcomed the collection, with reviewer Maha Syeda writing: "The Indonesian designer brought together the perfect elements of her cultural home country and the metropolitan western fashion world to create a beautiful harmony of fashion and modesty, because, yes — they don't have to clash."
Fans of the designer took to social media to praise for the collection, with one fan calling the show "absolutely breathtaking". Another wrote "this was everything!"
The designer told CNN: "I am so proud and thankful for everyone on the team who helped me so this event could happen, and I am so thankful to international and local media from Indonesia for exposing my show. I did not realise the result can be this amaxing, and I am thrilled and humbled by the welcome reaction given."
Ms Hasibuan has previously held shows at major fashion capitals including London and Paris but this was her first catwalk in the US.
New York Fashion Week ran from 8 to 15 September this year. Across the catwalk shows, around 125,000 people are estimated to attend the shows while another 2 million watch online via live streams.
Join our commenting forum
Join thought-provoking conversations, follow other Independent readers and see their replies