New York Fashion Week: The major style trends you need to know about
From show-stopping suits to festoons of feathers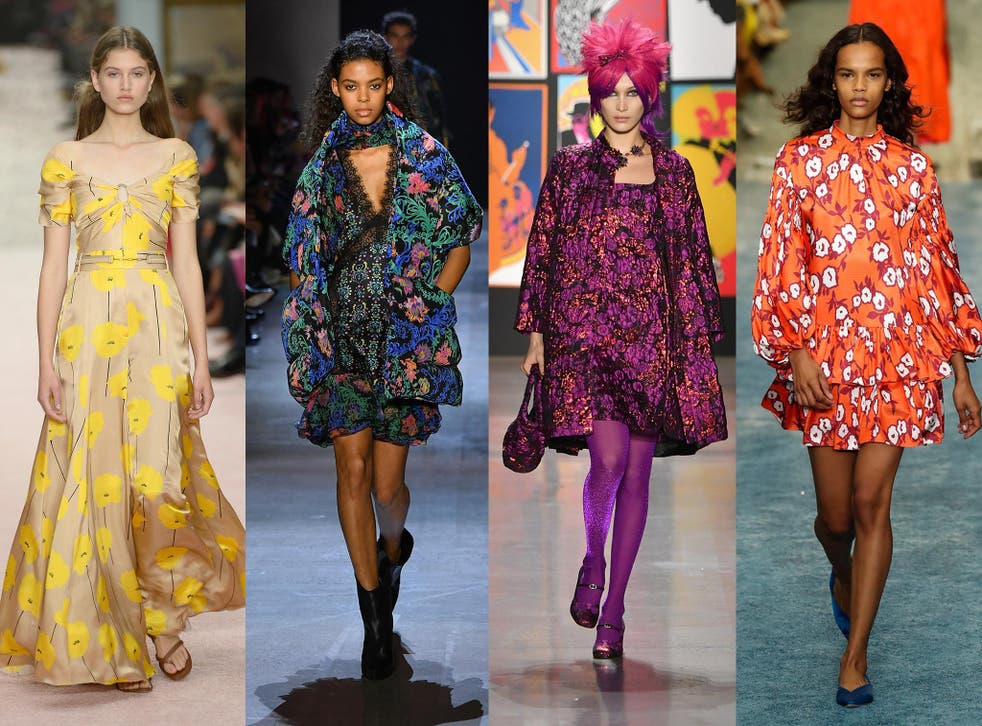 New York Fashion Week has drawn to a close, but before we shift our attention across the pond for the upcoming proceedings in London, it's worth reflecting on the sartorial standouts from the past seven days.
The clothes on display at NYFW set the trend agenda for the next season – and if this past week is anything to go by, fashion fans should start stockpiling feathered gowns and glitterball suits, ASAP.
Thankfully, these garments will, for most of us, merely inspire our wardrobe choices than inform them thanks to five-figure price tags and designs that are a tad too flamboyant for the morning commute.
This means the dramatic creations we have seen on the NYFW runways, from Tom Ford to Michael Kors, will most likely be recreated by high street shops in more consumer-friendly forms. Think longer hemlines and slightly less taffeta.
Get a head start on your autumn wardrobe by consulting our NYFW trend roundup, and move into the next season with a soothsaying skip in your step.
Metallics
There have been several memorable moments from NYFW, but one that stands out is Bella Hadid gliding down the catwalk at Ralph Lauren in a goddess-worthy gold, pleated gown.
New York Fashion Week 2019: Best street style

Show all 54
The 22-year-old model looked as radiant as the material itself. We also saw those same glossy hues light up the runway at Badgley Mischka, with swathes of industrial-like sequins leaving a trail of unbridled shine.
Meanwhile, at Michael Kors, silver and bronze tones had a nostalgic feel about them, appearing on flapper-like dresses and 1970s-inspired patchwork coats.
Super suits
Tailoring is set for a flashy revamp this autumn. It started at the Tom Ford show, which saw model Gigi Hadid storm the runway in a sumptuous burgundy suit complete with a velvet jacket and eye-popping satin trousers.
Michael Kors threw his hat in the souped-up suit ring too, with a sparkly offering that boasted flared trousers and a fitted jacket.
Elsewhere, Marc Jacobs put a playful twist on the plaid patterns that have surged in popularity in recent years. The material was satin-like rather than the conventional tweed, and the outfit was accessorised with an oversized pussybow necktie, as seen above.
Shades of yellow
It's the colour that never truly leaves the trend circuit. So much so, that bright yellow became known as "Gen Z Yellow" in 2018 thanks to its popularity among young fashion fans, something that many attributed to Emma Stone's famous sunshine-coloured gown in La La Land.
But next season, your yellows are set to get more tonally diverse than ever. Mustard hues appeared at Oscar de la Renta and Tory Burch, while brighter yolk-like hues made a splash at Carolina Herrera and Cynthia Rowley.
Feathers
They're entirely impractical and will make you look overdressed at almost any weeknight event, but a festoon of feathers is coming to a wardrobe near you this autumn.
They appeared in fluorescent shades on the skirts of dresses at Christian Cowan and adorned full-bodied coats at Prabal Gurung in multi-coloured fabulosity. We imagine they will manifest in more subdued forms when this trend trickles down to the high street. Think accessories, hemlines and subtle embelishments.
Vintage florals
Normally synonymous with spring, next autumn looks set to be a horticultural hothouse, at least where your clothes are concerned.
But contrary to what we saw at the spring/summer 2019 shows, the impending floral trend boasts a vintage appeal. Wallpaper styles made their way down the runway at Prabal Gurung while retro pop-art blooms adorned mini dresses at Carolina Herrera and more intricate patterns prevailed at Anna Sui.
Keep up to date with The Independent's London Fashion Week coverage here.
Register for free to continue reading
Registration is a free and easy way to support our truly independent journalism
By registering, you will also enjoy limited access to Premium articles, exclusive newsletters, commenting, and virtual events with our leading journalists
Already have an account? sign in
Register for free to continue reading
Registration is a free and easy way to support our truly independent journalism
By registering, you will also enjoy limited access to Premium articles, exclusive newsletters, commenting, and virtual events with our leading journalists
Already have an account? sign in
Join our new commenting forum
Join thought-provoking conversations, follow other Independent readers and see their replies