21 workers die in fire at H&M factory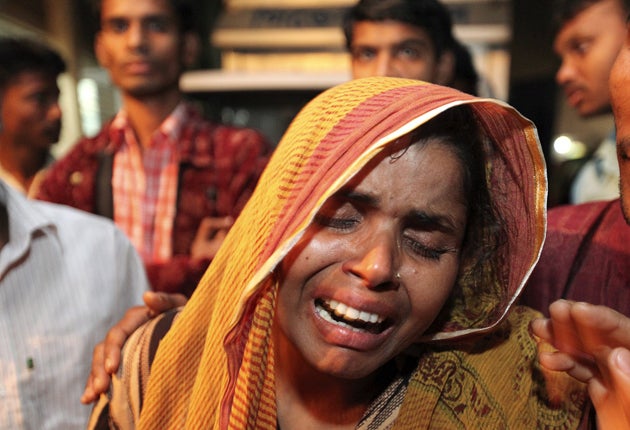 At least 21 workers died and 50 were hurt when a fire swept through a Bangladeshi factory making clothes for budget retailer H&M and other firms as they worked at night to fulfil orders.
The blaze at the Garib & Garib Newaj company – which makes cardigans and jumpers for the Swedish fashion chain – follows repeated concerns by a British charity about fire safety at factories making garments for Western shops.
The fire started at about 9pm at the factory at Gazipur, 50km north of the capital Dhaka on Thursday last week, trapping dozens of workers who were knitting jumpers. Eleven fire engines fought for more than two hours to bring the blaze under control. Thirteen of the dead were women, according to doctors.
Clothing factories in Bangladesh are prone to fires as a result of poor safety standards. War on Want found poor safety at six factories supplying budget clothes lines for Primark, Asda and Tesco in a report in 2006, which alleged that the factories – which it declined to identify for fear of reprisals against workers – were missing fire extinguishers, emergency exits and fire alarms and did not practise fire drills.
According to reports from Bangladesh which could not be confirmed, the Garib & Garib factory had useless fire safety equipment. Another blaze happened there last August.
H&M said it had audited the factory, which specialised in making knitted garments, as recently as October and found no "serious" fire safety problems. "The findings we had at Garib & Garib on the last audit were two covered fire extinguishers but that was corrected immediately," the company said yesterday.
It described itself as a "small buyer" from the factory, which, it said, produced clothes for two other companies, Italian Terenora and Spanish Zemman.
Its representatives visited the factory at the weekend. "We rely on the investigation made by the authorities, such as the fire brigade and the trade organisation Bangladesh Garment Manufacturers and Exporters Association," H&M said. "This weekend we visited the factory and we are now having a close dialogue with the factory management, as well as with [the Bangladesh trade body] BGMEA and local unions. Our primary focus is on those affected and their families. H&M staff have also been in contact with one of Garib & Garib's biggest buyers to discuss how we together can support the affected."
H&M opened its first store in the UK in 1976 and now has 167 shops here.
On the corporate responsibility section of its website, H&M says that its inspections have driven up safety standards in Bangladesh since it started inspections in 1998. "In the early days we found that the factories were often unclean and in poor condition. Demands for better lighting, ventilation and cleaning routines made a real difference to the working environment."
Yesterday the retailer said: "In general we have been satisfied with Garib & Garib's way of working with our code of conduct. As far as we know this terrible accident was not caused by poor working conditions or safety measures. When it comes to general working conditions in Bangladesh, we believe that being present in the country is the way we can make a change long-term."
Join our commenting forum
Join thought-provoking conversations, follow other Independent readers and see their replies