Agyness Deyn: Britain's next top... actress?

Show all 9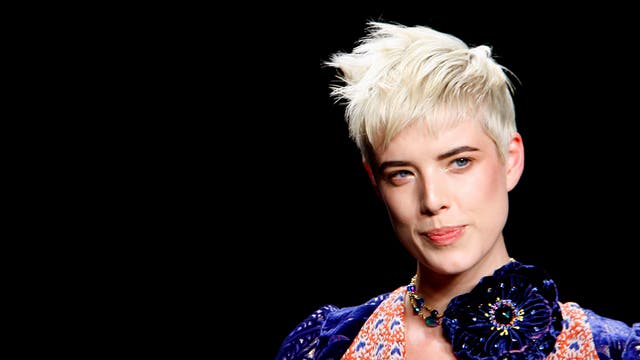 Agyness Deyn: Britain's next top... actress?
She is forging a stage career away from the catwalk – and she's not alone. Harriet Walker looks at the other supermodels who've diversified
Rather than pacing the catwalks in Paris this week, model Agyness Deyn will be treading the boards of London's Trafalgar Studios tonight in a play called The Leisure Society. It isn't her first foray outside the world of fashion (Deyn has previously had a small role in the blockbuster Clash of the Titans, and recorded a pop song), nor is she the first model to try and build a career beyond the flashbulbs and the fitting room.
In fact, as the shelf-lives of models become as short and as unpredictable as that of a pack of ready-to-eat avocados, denizens of the professions are looking to expand their relevance, whether into the realm of entertainment, as an entrepreneur or simply as a global megabrand.
Heidi Klum and Tyra Banks have chosen television, and are arguably more famous for hosting Project Runway and America's Next Top Model respectively than they ever were as mannequins. Helena Christensen is now a photographer. Milla Jovovich has played Joan of Arc on the big screen, while Amber Valetta was a vengeful wraith; Karen Elson became Mrs Jack White, recorded an album and famously went through showbusiness's most amicable divorce.
Deyn, 29, recently admitted to having fibbed about how old she was, when she was signed in 2006 at the age of 24. "When I really decided to do modelling, I was 18," she told the press this week. "That was quite old, so a little later we knocked off a few years."
She had said, in a magazine interview around the time of her astronomical ascent, that she had been born in 1989. And who can blame her, when designers at New York Fashion Week earlier this month were asked not to use girls under 15? (They did, regardless.)
But the great dilemma facing young models who make it big is the threat of being washed up before they're 25. The rise of social media has gone some way to giving models a bit of clout beyond their booking agents and the whims of the fashion editors – successful models such as Coco Rocha and Sasha Pivovarova have harnessed the power of Twitter and Google+ to such an extent that brands now approach them because they have a following in their own right. They are, quite literally, not just pretty faces.
However, there's always a danger of becoming too ubiquitous and accessible, and if that happens, then high-end houses won't want you for their shows. And, obviously, remaining exclusive is difficult when you need the money.
But if the past decade has been characterised by the comeback phenomenon, from boy bands to soap stars and TV shows, then the world of modelling has been at the forefront of the career re-birth. Vogue first touted the "supermodel revival" in 2006, but it's in the past few years that the original supers have really come back to claim the catwalks. Naomi Campbell (who, let's not forget, has previously tried her hand at writing and singing) closed Roberto Cavalli's show in Milan on Monday, while Linda Evangelista is the current cover star of LOVE magazine. Kristen McMenamy too, closed Alexander McQueen's McQ show in London, and is in high demand as a model who knows her stuff and has a certain confidence that younger names are yet to earn.
Shalom Harlow and Yasmin le Bon modelled for Stella McCartney last week in London, and Gisele Bundchen made an appearance on Alexander Wang's catwalk during the New York shows. Even Twiggy pops up on the odd front row and Marks and Spencer ad.
But the best and most impressive comeback of recent years has to be Sixties super Veruschka, whose Teutonic good looks punctuated the rise of fashion as we know it: she appeared in full feather-headressed glory at Giles Deacon's show in 2010, at the age of 70. Which just goes to show that lying about your age is thoroughly passé.
Register for free to continue reading
Registration is a free and easy way to support our truly independent journalism
By registering, you will also enjoy limited access to Premium articles, exclusive newsletters, commenting, and virtual events with our leading journalists
Already have an account? sign in
Register for free to continue reading
Registration is a free and easy way to support our truly independent journalism
By registering, you will also enjoy limited access to Premium articles, exclusive newsletters, commenting, and virtual events with our leading journalists
Already have an account? sign in
Join our new commenting forum
Join thought-provoking conversations, follow other Independent readers and see their replies