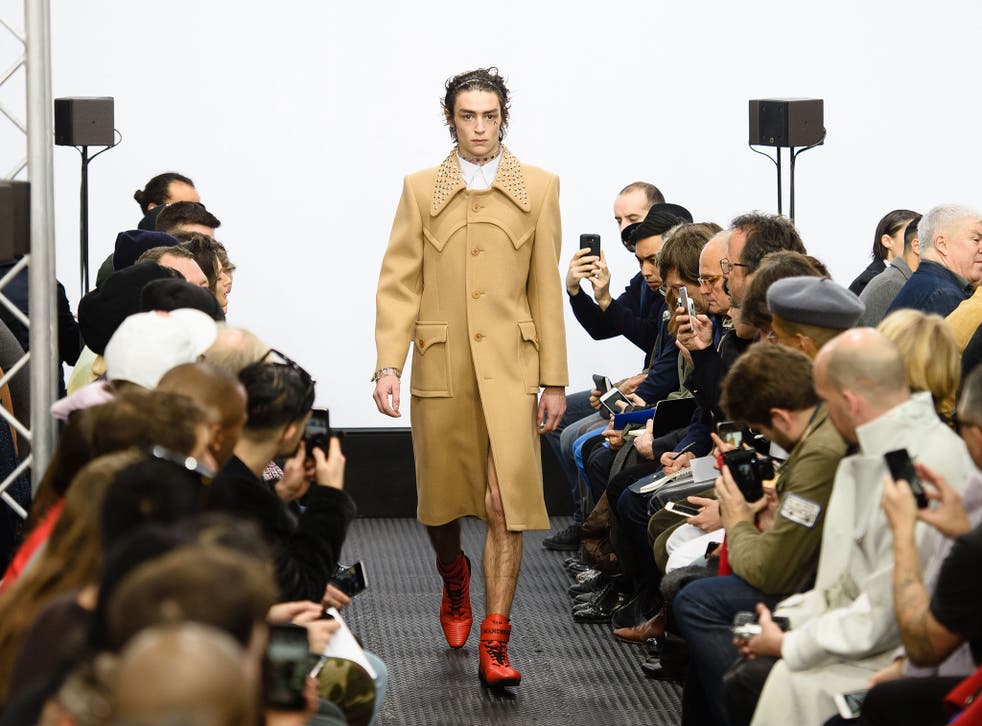 Alexander McQueen and JW Anderson clash in a Darwinian battle of menswear
Butterflies and snails provided the inspiration for the designers' autumn/winter collections for men
As fashionable metaphors go, the butterfly is a pretty perfect specimen: a thing of natural wonder that handily encapsulates the transformative power of a good makeover.
At Alexander McQueen, Sarah Burton took the butterfly as the central motif for her menswear collection for autumn/winter 2016. Butterflies – along with a host of other members of the animal kingdom – are long-standing McQueen signatures.
Those butterflies were unfurled as repeat patterns on monochromatic tailoring – looking for all the world like blown-up copies of the catalogue of an avid lepidopterist. There's something inherently sad about the preservation of butterflies in glass cases, their delicate wings pinned to a velvet cushion, and there was a maudlin beauty to the collection that seemed to recognise that.
While there was a sense of starkness to some tailored pieces, there was plenty of signature sumptuousness on show, too, most notably in the outerwear that saluted the elements of army dress uniform: sweeping greatcoats trimmed at the hem with a double band of steely grey silk – frayed at its edges – and plush velvet.
Epaulettes, silver buttons and frogging were taken to extremes on ceremonial jackets – jet beading and densely embroidered paisley were less traditional embellishments. Tailoring is always a strength of McQueen, and there was a definite sense of the dandy about this noirish collection – rare flashes of scarlet-and-camel punctuated black, pewter and ivory.
Burton paid homage to the work of Charles Darwin both as an observer of the animal kingdom and of the human condition, and to his expeditions. Considering how international the fashion market now is, and the intense fight for survival among luxury brands, it was an apt theme, as was Darwin's theory of survival of the fittest and the science of natural selection. Science may have been the starting point, but it was awash with restrained beauty and romance. There was plenty to please the dandyish McQueen customer without seeming safe, not least large cheek-piercing safety pins which were punky, even painfully so.
Burton wasn't the only designer with an eye to the insect world, although as is his wont, JW Anderson chose a rather less obvious specimen: the snail. Anderson has a reputation for going against the grain – most notably for his experiments with gender fluidity and his often aggressive rejection of social norms and niceties.
The snail then could perhaps be a way of saying to the world that despite the bravado he is in fact fragile. Then again, perhaps not: Anderson is fond of cryptic layers that don't always stand closer inspection.
For autumn/winter the designer was not short of ideas – some new, some recycled – although the speed at which he briefly explored and rejected them meant there was an overriding sense of chaos. There was a vague nod to the military here, too, with khaki (the colour of the season so far) trench coats – albeit branded with that cartoonish snail in a distinctly non-regulation aquamarine. Camel coats and sloppy, oversized cardigans with delicately dropped and twisted stitches were proof that Anderson is actually remarkably skilled at creating wearable pieces.
Less so, were the manga-esque cat-printed sheer lenticular fabrics, while sheeny nylon vests and patch-pocketed trousers would be familiar to those who spent their in stores such as Cyber Dog.
Anderson is no doubt a talented designer, and one who seems understandably immune to crises of confidence – his aesthetic has crept into the collections of plenty of other designers. But he is also guilty of the same "borrowing", which is a shame because he's so much better when he follows his own, unusual, path.
Register for free to continue reading
Registration is a free and easy way to support our truly independent journalism
By registering, you will also enjoy limited access to Premium articles, exclusive newsletters, commenting, and virtual events with our leading journalists
Already have an account? sign in
Register for free to continue reading
Registration is a free and easy way to support our truly independent journalism
By registering, you will also enjoy limited access to Premium articles, exclusive newsletters, commenting, and virtual events with our leading journalists
Already have an account? sign in
Join our new commenting forum
Join thought-provoking conversations, follow other Independent readers and see their replies