Alexander McQueen: Savage Beauty review - Insight into the tragic complexity of a creative mind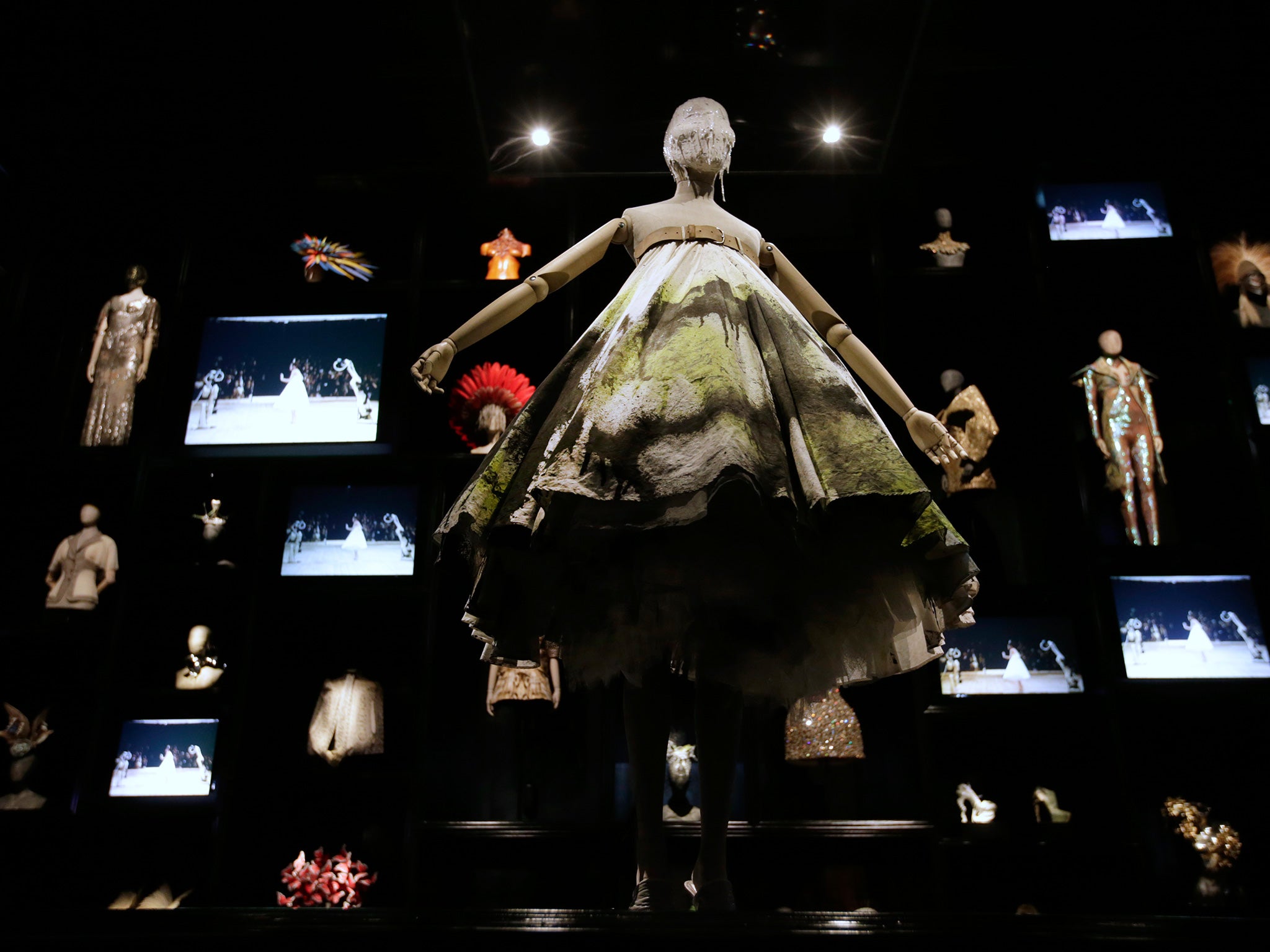 "I'm a romantic schizophrenic," is written on the wall as you enter Savage Beauty, the thrilling new exhibition of the work of British fashion designer Alexander McQueen at the Victoria and Albert Museum, London.
Born in Lewisham in 1969, the son of a taxi driver, McQueen is shown to be an artist in the Romantic tradition: wracked by inner conflicts which found expression in clothes that aimed not for simple elegance, but violence, grace and pain. This is the most exciting exhibition that I've seen for quite a while.
McQueen left school at 15 and became an apprentice tailor on Savile Row; he was the head designer at Givenchy by the age of 27. The opposing forces in his own nature were the fuel of his art. He said: "I oscillate between happiness and sadness, life and death, good and evil." There is a sense here of how dangerous creativity can be.
In pictures: First look at Alexander McQueen - Savage Beauty
Show all 16
McQueen's influences included Poe, Hitchcock, and Pauline Réage's erotic novel Story of O. Indeed, the curation makes you feel as though you've entered Réage's sadomasochistic fantasy world: gold gilded mirrors reflect mannequins in haute couture from the 2009 autumn/winter collection, Horn of Plenty. Highlights include a dress made of dyed black duck feathers; another made of a black leather harness, the mannequin's face covered with a gimp mask, her mouth zipped shut. This blend of performance and concealment, of power and constriction, poses fascinating questions about femininity.
McQueen's work was autobiographical; he was abused as a child and witnessed his sister being beaten by her husband. It is wrong to suggest that these clothes are misogynistic; rather, they offer the female form an ambiguous kind of protection. They are tragic in a complex way.
Next, you go through a low, dark tunnel adorned with bones and skulls, and emerge into a circle of mannequins with resin horns coming out of their faces, part of the 2000 autumn/winter collection, Eshu, inspired by Yoruba motifs. McQueen said: "Fashion can be really racist, looking at the clothes of other cultures as costumes."
What is striking is McQueen's poetic and philosophical use of language. The titles of his collections are strong: Highland Rape, the 1995 autumn/winter collection which made him a star, references his Scottish heritage as well as his antagonistic relationship with tradition. Like many avant-garde artists before him, he learnt the rules in order to smash them.
Kate Moss appears in one of the most moving works in the exhibition: a film installation made with a 19th-century technique called Pepper's Ghost. Her image floats above the catwalk for the 2006 autumn/winter collection Widows of Culloden. She is a spectre.
McQueen hanged himself in 2010 at the age of 40. But it is his work, not his suicide, which confirms his Romantic greatness. The final room is full of light; the music is pounding and vital, and McQueen's words are written on the wall: "There is no way back for me now…"
Alexander McQueen: Savage Beauty, Victoria and Albert Museum, London
Join our commenting forum
Join thought-provoking conversations, follow other Independent readers and see their replies