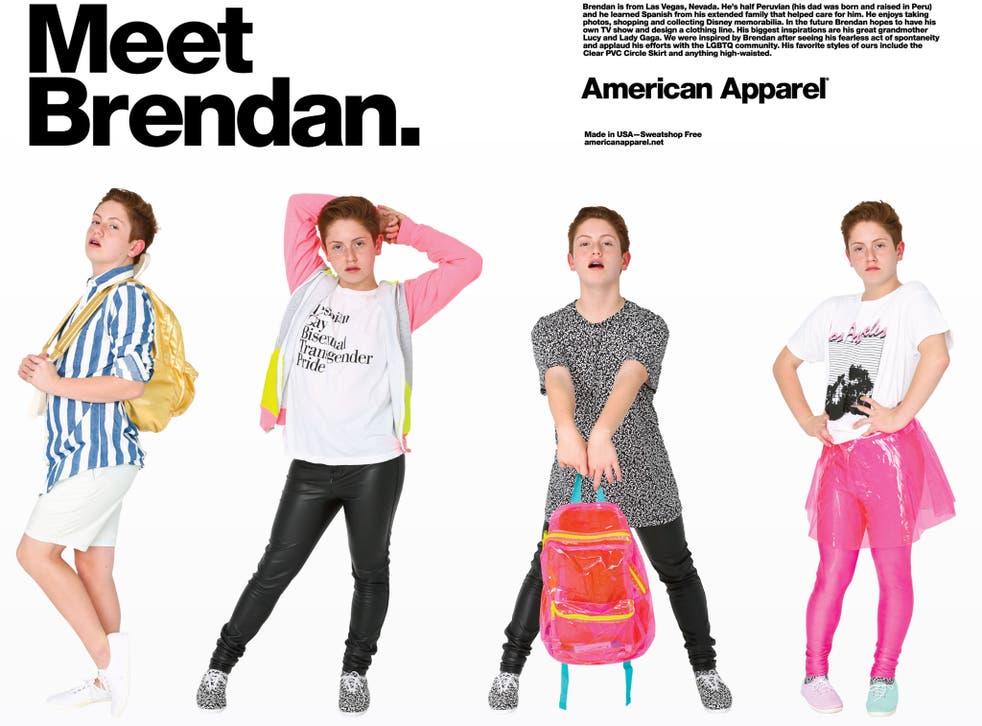 American Apparel makes 15-year-old YouTube star Brendan Jordan the face of its new campaign
The LA-based brand returns with a new campaign star, a 'teen diva' who's younger than you think
Linda Sharkey
Wednesday 10 December 2014 17:53 Comments
Love them or hate them, you can't have failed to notice American Apparel's ad campaigns; sometimes controversial but always fairly unique. Now the brand has recruited a new star to front its new campaign.
It's been a tough year for the LA-based brand with declining sales, and the firing and rehiring of controversial CEO Dov Charney, but a 15-year-old YouTube star has been recruited to revive the brand's flagging sales.
To kick start the brand's recovery and win back customers, the American high-street label has launched a new campaign with YouTube star Brendan Jordan, a teenage boy who's known as "teen diva".
In the new campaign Jordan is pictured modelling faux leather pants, PVC skirts, see-through plastic backpacks and the brand's trademark neon leggings. But where his buoyant personality is really showcased is in his Black Friday clip (below), in which Jordan dances on a bed and unveils his favourite pieces from the latest collection (sparkly jumpers and futuristic skirts, of course).
The Las Vegas-based young man was discovered after he video-bombed a journalist reporting from a local shopping centre (he appeared performing his "diva dancing" in the background) and immediately became a sensation, with the video getting more than four million views. In the clip, Jordan was wearing American Apparel, which didn't escape the brand's attention, and he has since continued to promote the label through social media.
In pictures: American Apparel

Show all 22
Talking about the evening he broke into fame he told Today.com: "I just saw a camera, and did my thing. I was imagining myself as if I was Lady Gaga, and that no one could destroy me."
He has now set up his own YouTube channel (which is quickly getting thousands of subscribers),and he has more than 250,000 Instagram followers and almost 40,000 Twitter followers. He has also become an ambassador for LGBT, helping to raise awareness for Spirit Day , which campaigns to stop the bullying of LGBT youth.
The American Apparel's ad text reads: "Brendan is from Las Vegas, Nevada. He's half Peruvian (his dad was born and raised in Peru) and he learned Spanish from his extended family that helped care for him. He enjoys taking photos, shopping and collecting Disney memorabilia. In the future, Brendan hopes to have his own TV show and design a clothing line. His biggest inspirations are his great grandmother Lucy and Lady Gaga. We were inspired by Brendan after seeing his fearless act of spontaneity and applaud his efforts with the LGBTQ community. His favorite styles of ours include the Clear PVC Circle Skirt and anything high-waisted."
The struggling retailer has tried it all in the past couple of years: a Hisidic Jewish, a 62-year-old lingerie model and a "Back to School" campaign featuring girls showing their knickers (now banned). So, it was about time the brand came up with something new to keep the AA factor rolling and the freckled, braces-wearing, Lady Gaga-obsessed teenager seemed a smart choice.
Register for free to continue reading
Registration is a free and easy way to support our truly independent journalism
By registering, you will also enjoy limited access to Premium articles, exclusive newsletters, commenting, and virtual events with our leading journalists
Already have an account? sign in
Join our new commenting forum
Join thought-provoking conversations, follow other Independent readers and see their replies