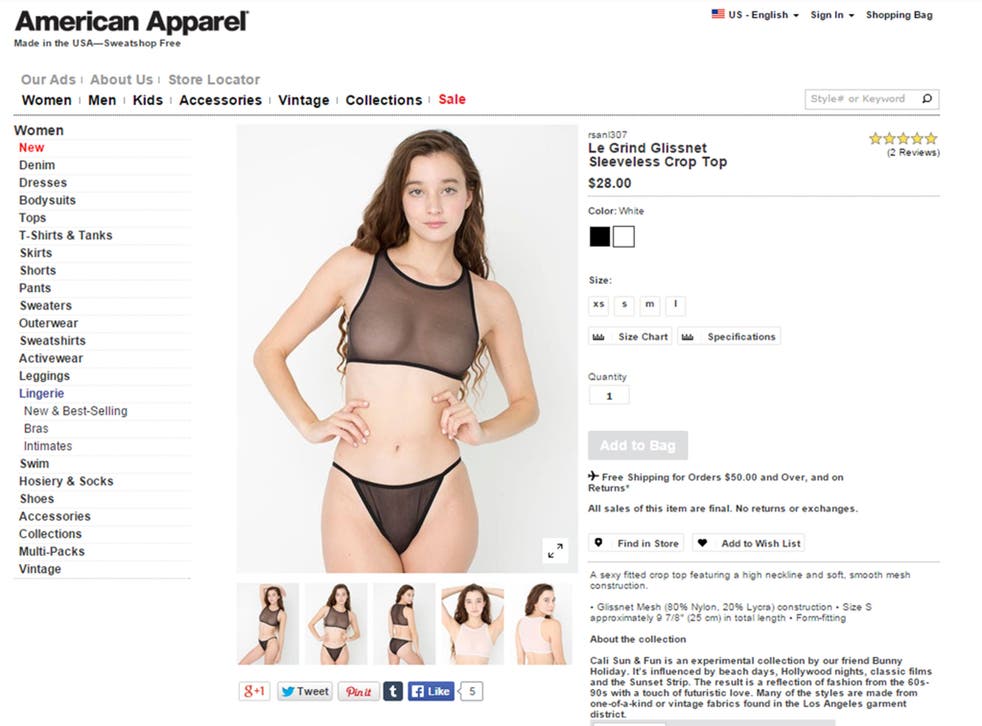 American Apparel tones down ads by airbrushing models' nipples and pubic hair
The giant retailer goes to bizarre new lengths to tone down its racy ads and makes the headlines for the second time in a week
Linda Sharkey
Friday 20 March 2015 12:59 Comments
American Apparel has had a bad week, first it was hit with a ban on one of its ads and now its sparking further controversy for the second time in just few days by reportedly airbrushing out the nipples and pubic hair of its lingerie models.
On Wednesday, Advertising Standards Authority (ASA) banned the clothing chain's ad featuring a young-looking model in a thong body with a suggestive pose as it was seen as "sexualising children".
Two days later, the American retailer, under the management of new CEO Paula Schneider, appears to have begun erasing the private parts of its lingerie models on the website.
When Schneider was appointed in January to replace founder and former CEO, Dov Charney, she revealed plans to tone down the brand's sexualised imagery. She told Bloomberg: "It doesn't have to be overtly sexual. There's a way to tell our story where it's not offensive."
She got off to a bad start with the banning of the advert this week, but the editing the photos of lingerie models on its website seems to be the first attempt by the brand to distance itself from the racy advertising it's well known for. However by photoshopping out some of the models' exposed nipples and pubic hair makes them look like plastic mannequins.
Michelle Lytle, co-founder of the nipple printed bikini line TaTa Top, thinks that the company is actually taking power away from women who should not feel ashamed of their bodies.
"It's kind of laughable for them to think that removing nipples from their images of their sheer lingerie is the best way to do this considering their questionable ad choices in recent years. This is a step in the wrong direction and is contributing to the sexualisation of a woman's body at a time where there is a large and growing movement for equality," she told Animal.
In pictures: American Apparel

Show all 22
The company made waves in the past for being the first online shop to bare the private parts under the sheered clothing and last year the clothing chain made a bold move to embrace the bush by featuring mannequins with gigantic merkins on its window displays, but now it seems to have backtracked and made the decision that natural bodies are too risqué.
The changes can be seen on the website, where each lingerie item marked as "new" contrasts with older clothes. "Women are airbrushed to look like plastic dolls rather than real women," reports Animal.
The models appear wearing translucent lingerie, but with their parts clearly erased. For example, in one of the images a model wears a translucent black bodysuit which reveals her bellybutton, but her nipples are not visible, neither is her pubic hair.
It looks like, despite the chain's efforts to avoid such sexualised imagery, American Apparel will continue to spark controversy over its advertisings. "This is an edgy brand and it's always going to be an edgy brand, and it's about social commentary, it's about gay rights, and it's about immigration reform. It's about the things millennials care about," Schneider told The New York Times in January.
Register for free to continue reading
Registration is a free and easy way to support our truly independent journalism
By registering, you will also enjoy limited access to Premium articles, exclusive newsletters, commenting, and virtual events with our leading journalists
Already have an account? sign in
Join our new commenting forum
Join thought-provoking conversations, follow other Independent readers and see their replies