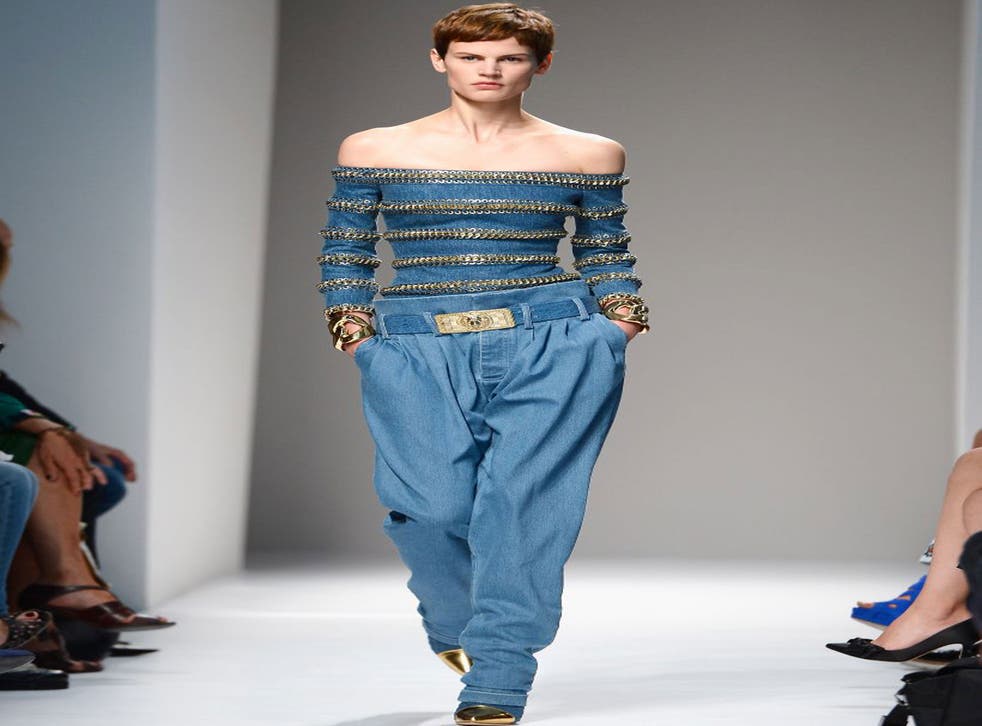 As Paris Fashion Week gets into its stride – it's all about the music...
Balenciaga's spring/summer 2014 show plays out to thumping, bass-heavy and very, very loud beats... but only after four outfits
Alexander Fury
Thursday 26 September 2013 19:54 Comments
Soundtracks say a lot about fashion shows. The music at the spring/summer 2014 Balenciaga show – thumping, bass-heavy and very, very loud – only kicked in after about four outfits. Those opening looks, A-line skirts and shorts in dense, nubby fabrics, were paraded in complete silence, the way the house's founder Cristobal Balenciaga used to show his couture.
His successor is the young New York designer Alexander Wang. The jarring start to the music is a neat metaphor for the issues that faced his sophomore offering, namely how to give Balenciaga a currency without drowning out the voice of the past. In his first collection, Wang used couture fabric techniques to create surfaces that approximated marble, shown on a marble catwalk, in marble salons.
This season, rooms were festooned with foliage: naturally, the naturalistic theme extended to the clothes. Foliate patterns were embossed or bonded, short evening dresses embroidered with clusters of black beads that resembled blooms, or maybe bugs crawling across petals. Wang has made textile experimentation a mark of his brief Balenciaga tenure: it continued with intriguing papery fabrics, resembling pressed flowers, in short tops above trousers with hips spreading like the corolla of a flower.
Spreading hips. Sounds like a recipe for disaster, or at least an unpleasant rear view. Or maybe it sounds like a garment only to be worn by the very skinny, or very young. Preferably both. Youth is something Balenciaga bosses were counting on when they picked Wang for this plum role: he's 29, and taps into a new client base as well as a fresh set of references for the house.
That brings challenges as well as benefits: the relentless youth of these clothes, tops cropped to bare the midriff, hemlines abbreviated somewhere around the perineum, felt alienating.
What did sing out? The accessories. Crocodile handbags, rectilinear like a glorified lunchbox, looked fantastic. Alexander Wang makes a killing with his own accessories line, presumably a major reason why Kering "bagged" him (no pun) for Balenciaga.
Balmain's blaring backdrop was pure Eighties cheese. The collection was, too – a rip-roaring rip-off of Karl Lagerfeld's early-Nineties Chanel. The jumbo chains, mixes of denim and leather and generally gutsy, whole-hearted vulgarity of the whole thing conjured up those Peter Lindbergh images of supermodels astride Harleys in ball gowns and Perfectos. They're from 1991, when Balmain's head designer Olivier Rousteing was five.
Rousteing still has the folly of youth, and some chutzpah to send out garments blitzed with quite so much glitz. It paid off: there was something wholly convincing about this collection from start to finish, an exuberance and energy. There wasn't much new aside from a slight loosening of the silhouette, slouchy trousers, roomy bomber jackets in denim or quilted leather, buttoned with enormous gilt doubloons and what the French chicly dub salopettes – dungarees to you and me. Rousteing offered them in crystal chain-mail. They're good camera fodder, but retailers will be salivating over the ritzy, tambourine-taut little dresses. It's like Frankie said on the soundtrack: Relax? Don't do it.
Feminists crash Ricci runway show
Topless feminist activists gatecrashed Nina Ricci's show at Paris Fashion Week.
It's not clear what precisely the demonstrators from Femen, the Ukrainian protest group known for generating attention with nudity, were protesting at, or why Ricci.
But they were shouting "fashion fascism" as they took to the spring 2014 runway before being removed by security guards.
Femen activists have previously protested against Versace for using "anorexic" models, as well as crashing Germany's Heidi Klum-hosted Next Top Model finale.
Register for free to continue reading
Registration is a free and easy way to support our truly independent journalism
By registering, you will also enjoy limited access to Premium articles, exclusive newsletters, commenting, and virtual events with our leading journalists
Already have an account? sign in
Join our new commenting forum
Join thought-provoking conversations, follow other Independent readers and see their replies