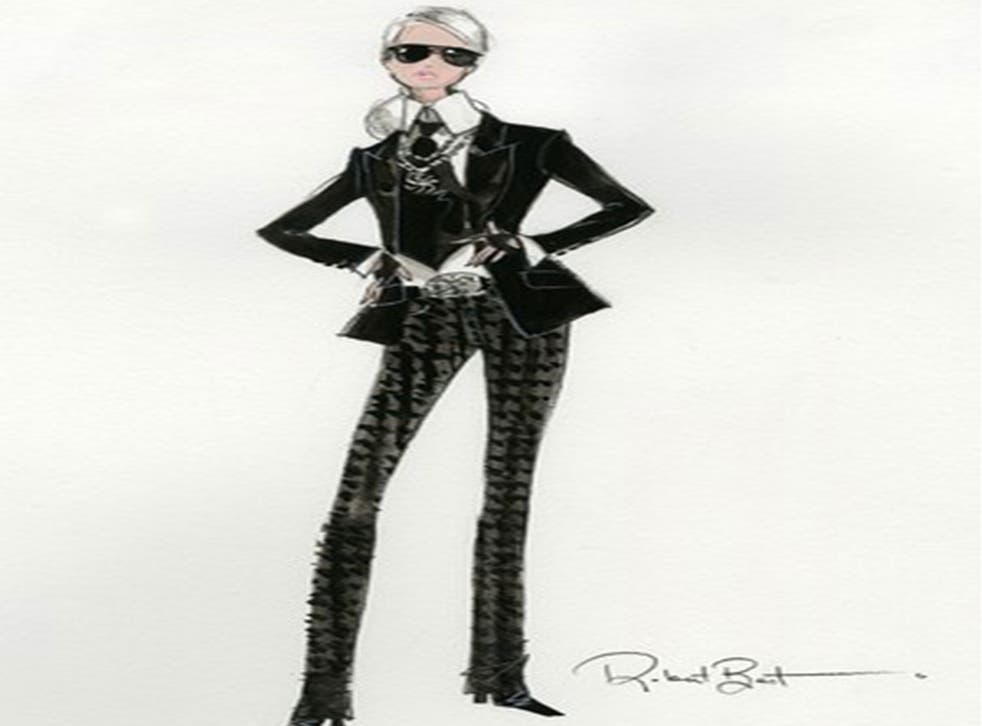 Barbie Lagerfeld: Fashion designer Karl is to be made into a doll
The Barbie Doll will have the German designer's trademark look
Linda Sharkey
Thursday 17 July 2014 16:35 Comments
Mattel is to made the German fashion designer behind Chanel, Fendi and his own label Karl, into a doll, not as a Ken, but as Barbie Lagerfeld.
Karl Lagerfeld has dressed Barbie in Chanel previously for American toy giant, Mattel's 50 anniversary back in 2009, but his trademark look will now be immortalised in plastic.
The limited-edition Barbie is set to be produced later this year as part of Mattel's Barbie Collector series. A sketch revealed the doll with Kaiser Karl's signature grey pony tail, black fingerless gloves, a white collar shirt, black tie, tailored jacket, the skinniest trousers on the market and, of course, big sunglasses.
"It's not everyday that Barbie dresses like the world's most famous fashion designer," said Kim Culmone, global vice president of Barbie product design.
This is not the first time that the designer has been immortalised as a doll; earlier this year Fendi presented a rather pricey portable Lagerfeld in the form of a crafted pom-pom handbag charm. The 'Bag Boy Karlito' had 600 customers on its waiting list despite its hefty cost of $1,685 (approx. £985).
Last year a Japanese cartoon version of the designer was created as part of a capsule collection for tokidoki, which was available for a slightly more reasonable £130 and it attracted famous fans with British model Cara Delevingne spotted toting the doll.
The price of upcoming Barbie Lagerfeld hasn't been revealed yet, but the most fashionable Barbie at the moment is one in honour of Herve Leger by Max Azria selling for $150 (approx.. £88).
More details about the doll are set to be released later this year.
Register for free to continue reading
Registration is a free and easy way to support our truly independent journalism
By registering, you will also enjoy limited access to Premium articles, exclusive newsletters, commenting, and virtual events with our leading journalists
Already have an account? sign in
Join our new commenting forum
Join thought-provoking conversations, follow other Independent readers and see their replies