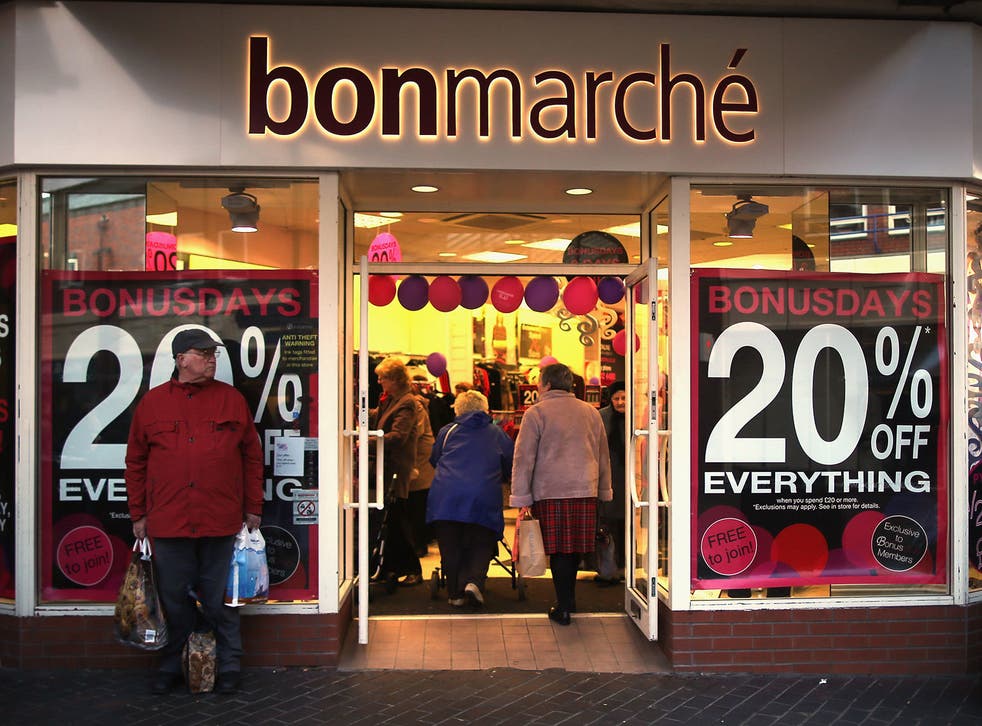 Bonmarché launches clothing line for women... who buy their husband's clothes
Research suggests that the situation gets so bad for middle aged men that their wives take matters into their own hands
Men know that every girl is crazy about a sharp dressed man. The problem is when many of us get to a certain age that a smartly turned-out chap - left to his own devices - tends to resemble Jeremy Clarkson rather than the altogether more fanciable George Clooney.
Research suggests that the situation gets so bad that by the time they reach middle age eight out of 10 women takes matters into their own hands and starts to choose their partner's wardrobe for them.
This week womenswear retailer Bonmarché launched a new range of attire designed to end the sartorial impasse appealing to wives and girlfriends who have grown tired of their opposite number's decrepit pants and out-of-date jumpers.
"Normally all the men sit in the chairs in the middle waiting for their wives, but now we can say to them 'go and have a look see if there is anything for you,'" explained Sandra Venners, assistant manager of the Darlington branch of the High Street chain – one of 50 to trial the new range nationwide.
Mrs Venners is patiently selecting a new outfit for me carefully matching the lambswool jumpers to a suitable shirt. Even to my untutored Clarkson-esque eye it is obvious that everything on display goes well together.
My own wife complains that whilst I am reasonably proficient at selecting individual garments, I am entirely incapable of building an outfit. The result: a wardrobe full of expensive but ill-combining clothes.
It is a common refrain agrees Mrs Venners, as she passes me a particularly alluring sky blue sweater, although she contends some men are better than others.
The company's chief executive Beth Butterwick believes all is not lost. "Men don't like shopping. But when we asked them about clothes we found that men love to talk about their favourite clothing – where they like the pockets, where they don't like zips," she said.
Market analysts believe the majority of men stop caring about their appearance at the age of 37 when their fashion tastes begin to ossify and they are happy to sit it out as their wives peruse the racks on their behalf.
The online retailer isme.com found that women's biggest bugbears are high-waisted jeans and denim waistcoats as well as the inevitable socks and sandals.
One in four believes their partner will always buy the cheapest item whilst waiting for clothes to wear out before replacing them. Thankfully I am guilty of none of these crimes, although as the Bonmarché staff point out, my jacket does not match my new trousers.
Judith Craggs, 72, and Eunice Blades, 77, are browsing closely through the men's collection. "My husband tells me to get all his clothes and more or less always has," says Mrs Craggs. "If he was left to his own devices I am sure he would come home with what I choose. He has got used to it now. But he is happy to leave it up to me," she adds.
After half an hour in the capable hands of the Bonmarché staff I emerge from the shop clutching two sweaters and a shirt. I just hope Mrs Brown approves.
Register for free to continue reading
Registration is a free and easy way to support our truly independent journalism
By registering, you will also enjoy limited access to Premium articles, exclusive newsletters, commenting, and virtual events with our leading journalists
Already have an account? sign in
Register for free to continue reading
Registration is a free and easy way to support our truly independent journalism
By registering, you will also enjoy limited access to Premium articles, exclusive newsletters, commenting, and virtual events with our leading journalists
Already have an account? sign in
Join our new commenting forum
Join thought-provoking conversations, follow other Independent readers and see their replies