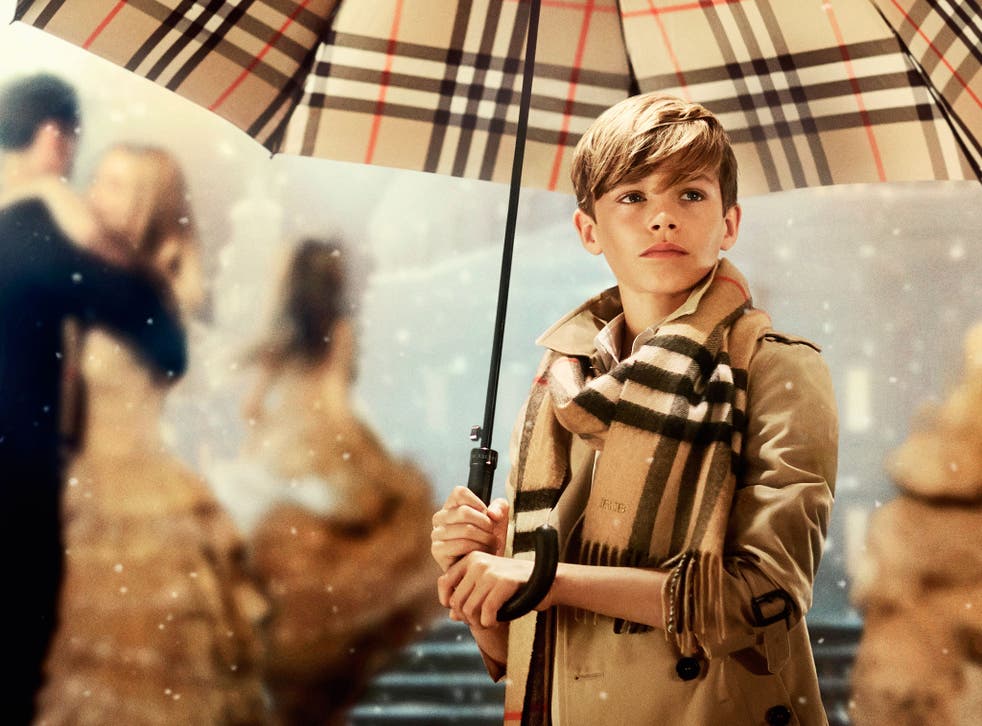 Romeo Beckham stars in Burberry's first Christmas campaign in second modelling job
The British luxury brand debuts a romantic festive film starring the 12-year-old son of David and Victoria
It's that time of the year again, when brands and department stores compete for the best Christmas TV advert of 2014 and Burberry is the first fashion power to take the plunge with its first ever global festive campaign.
Launched with a four-minute film entitled From London with Love, the campaign features 12-year-old Romeo Beckham, who lands his second major job for the British luxury brand. The dimple-cheeked son of David and Victoria Beckham stars in the campaign, which celebrates gifting during the festive season, as a cupid boy who delivers a gift to a young couple, played by British models Hannah Dodds and Anders Hayward, who then take him on a magical journey of romance across London.
They are surrounded by music and dance as 50 impeccably dressed dancers give a performance inspired by the "golden age of cinematic musicals" to a song by British songwriter Ed Harcourt titled "The Way That I Live", which is due to be officially released in December as a single.
Romeo, who has clearly inherited some moves from his Spice Girls mum is featured dancing clad in a mini-me version of the brand's iconic Heritage trench coat, cashmere scarf and a black suit – matching the older gentleman dancers - and even a golden raincoat from the autumn/winter collection.
This latest campaign follows Romeo's modelling debut at the age of 10, when he led Burberry's spring/summer 2013 print campaign. His modelling career got off to a flying start with his image emblazoned all over glossy magazines and giant banners worldwide.
Burberry Christmas campaign 2014

Show all 14
The film was launched last night in a star-studded event at the brand's 4,000 square-foot global flagship store on Regent Street in London. From London with Love was was directed by multi-talented Chief Creative and CEO Christopher Bailey, who's known for handpicking home-grown actors, musicians and personalities to star in his campaigns and shows.
Commenting on Romeo's second job for the house, Bailey said: "It continues to be an utter joy working with Romeo.
"He has charm, style and great energy! I'm delighted that he's the lead role in our festive campaign."
Join our new commenting forum
Join thought-provoking conversations, follow other Independent readers and see their replies