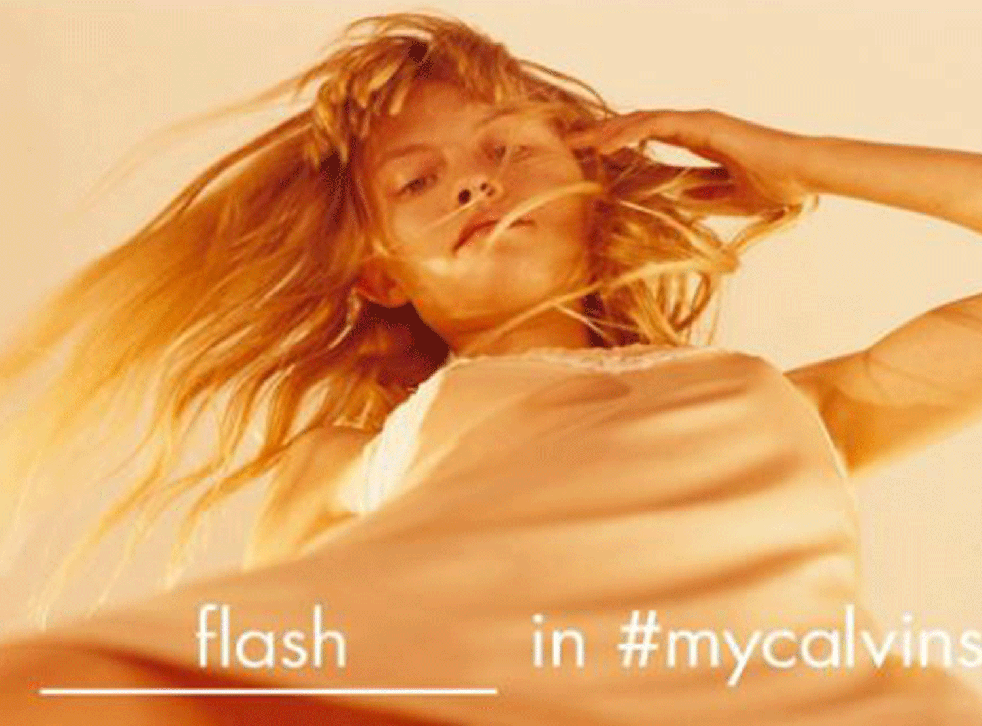 Calvin Klein accused of 'pornographic' advert over shot up young woman's skirt
'This ad makes me feel like a pervert. I am not a pervert.'
Jess Staufenberg Comments
Calvin Klein has been accused of running a "sexist" and "pornographic" marketing campaign after including in it a photograph shot up the skirt of a young woman.
Social media users have taken to Instagram to condemn the clothing company for marketing its underwear with an image of a young-looking model standing with her legs apart and shot from beneath to show her knickers.
While some have said the picture deliberately tries to make her look "about 12", other users have said is a clever and creative idea.
One user, called Saleenjonny, said: "CK in the past for me stood for making you feel sexy in the clothes you are in.
"This ad makes me feel like a pervert. I am not a pervert. Show class not ass. Leave that to Playboy."
Alongside "I react in my calvins", "I kick it in my calvins" and "I sign off in my calvins", this picture goes by the slogan "I flash in my calvins."
Many of the pictures feature slim women baring skin.
Heidi Zak, chief executive of bra and underwear company ThirdLove, based in San Francisco, said the advert was "outdated".
"This isn't the 90s, we're nearly in 2017, it's so dated to keep doing these very provocative over-sexualised ads that are always featuring young women," she told The Independent.
"Haven't we seen this already?"
She added that millienial consumers were concerned with women feeling sexy in themselves rather than being sexy for the male gaze.
But Harley Weir, the photographer who took the shot, has reportedly said she is "very happy" with the reaction to her picture, because it has sparked attention and conversation.
The actors fighting against sexism in Hollywood

Show all 12
Others said the brand, which is owned by apparel marketing company PVH, which also owns Tommy Hilfiger, was promoting a sexist attitude.
"The issue here is CK's use of this image as public advertising," said another Instagram user.
"They are a global, highly influential brand and their publishing of this image sends the widespread message that taking photos up skirts is OK."
One user responded that online "social justice warriors" were overreacting and the model had been paid.
"This is an underwear shot, on a model that has been paid for this, for an underwear advertisement. I'll buy more quality underwear from you in the future," they said.
The Independent has approached PVH and Calvin Klein for comment.
Register for free to continue reading
Registration is a free and easy way to support our truly independent journalism
By registering, you will also enjoy limited access to Premium articles, exclusive newsletters, commenting, and virtual events with our leading journalists
Already have an account? sign in
Join our new commenting forum
Join thought-provoking conversations, follow other Independent readers and see their replies