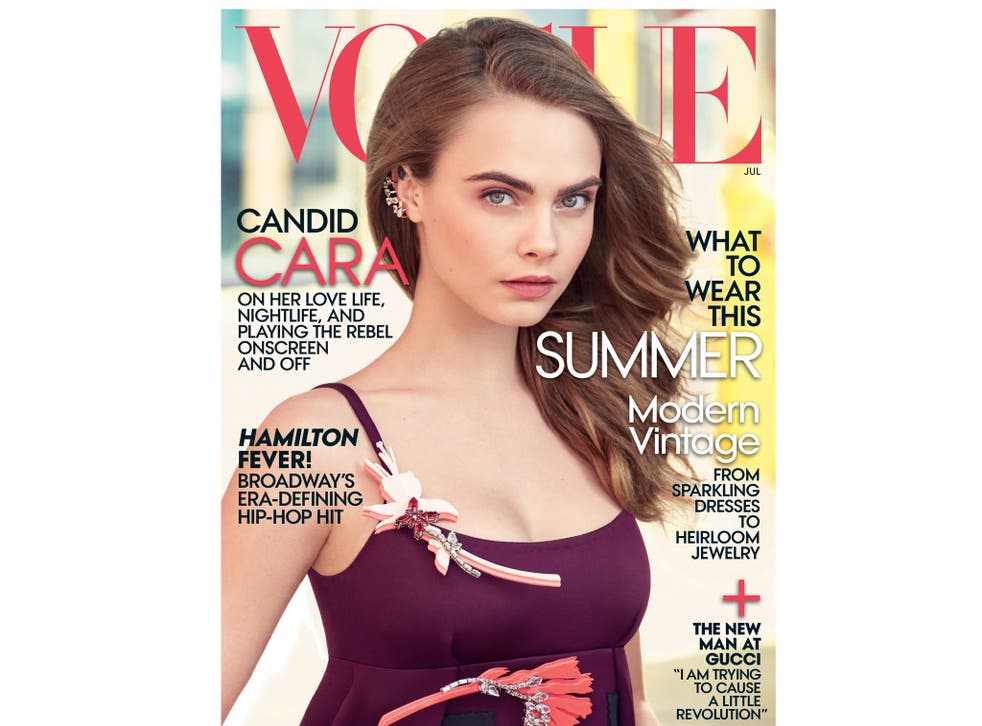 Cara Delevingne talks life after fashion and her struggles with depression and sexuality in new Vogue cover
The model/actress has opened up in new interview with American Vogue.
Emma Akbareian
Tuesday 23 June 2015 11:28 Comments
Cara Delevingne is no stranger to magazine covers, but this one marks her very first solo cover of American Vogue.
To run alongside the shoot, photographed by Patrick Demarchelier for the July issue, Delevingne gave a candid interview to the publication.
Ahead of the release of her first major film - Paper Towns, the 22-year-old sat down with the magazine to discuss making the move from fashion to acting.
"I admit I was terrified to leave. I mean, the bubble gives you a kind of dysfunctional family. When you're in it, you get it. And the second you're out of it, you're like, What the hell just happened?" she said.
"The thrill of acting is making a character real. Modelling is the opposite of real. It's being fake in front of the camera."
Delevingne, who grew up a privileged member of the London upper class (her father is a property developer and her mother a former it-girl), did not have an easy childhood with her mother struggling with an addiction to heroin.
She opened up about the effect it's had on her life and how it's still an ongoing battle for the family.
"You grow up too quickly because you're parenting your parents. My mother's an amazingly strong person with a huge heart, and I adore her. But it's not something you get better from, I don't think.
"I know there are people who have stopped and are fine now, but not in my circumstance. She's still struggling."
Delevingne also for the first time confessed to having struggled with depression herself.
"All of a sudden I was hit with a massive wave of depression and anxiety and self-hatred, where the feelings were so painful that I would slam my head against a tree to try to knock myself out," she told Vogue.
She also discusses falling into such a depression that briefly she considered suicide.
"I was packing my bags, and suddenly I just wanted to end it. I had a way, and it was right there in front of me. And I was like, I need to decide whether I love myself as much as I love the idea of death."
Models who became actresses

Show all 16
Delevingne, who has recently gone public with new girlfriend, musician Annie Clark, also spoke about her new love and her struggles with sexuality."It took me a long time to accept the idea, until I first fell in love with a girl at 20 and recognised that I had to accept it," she explained.
"I think that being in love with my girlfriend is a big part of why I'm feeling so happy with who I am these days. And for those words to come out of my mouth is actually a miracle."
Accompanying the shoot is a video montage of the model's career in fashion with messages from some of her famous friends including Taylor Swift, Kendall Jenner, Pharrell, Stella McCartney, Jourdan Dunn.
The July issue of Vogue hits newsstands on 23 June vogue.com
Register for free to continue reading
Registration is a free and easy way to support our truly independent journalism
By registering, you will also enjoy limited access to Premium articles, exclusive newsletters, commenting, and virtual events with our leading journalists
Already have an account? sign in
Join our new commenting forum
Join thought-provoking conversations, follow other Independent readers and see their replies