Cheetahs and Pussy Faster. It could only be Jean Paul Gaultier

Show all 10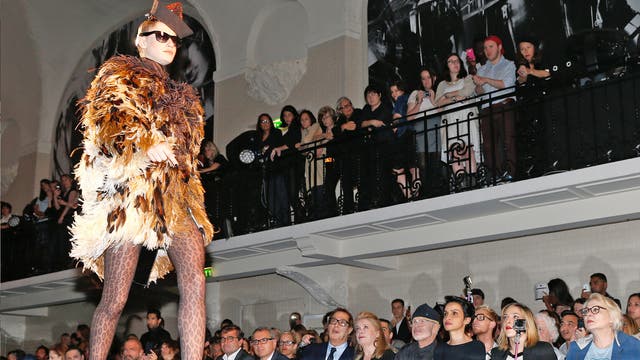 Cheetahs and Pussy Faster. It could only be Jean Paul Gaultier
It sometimes feels like things get lost in translation at the haute couture.
Jean Paul Gaultier is a case in point: his shows are Francophile to the point of incomprehension. It took judicious googling to ascertain that guépard – the title of one seating section – means cheetah. Another, labelled "jaguar" was easier to understand, as was the first exit's name: Pussy Faster. Maybe it sounds better with a French accent.
There are few industries as catty as high fashion, which is perhaps how Gaultier alighted on that inspiration. The outfits, pockmarked with panther and leopard prints, pumped curvilinear shoulders sometimes outlined by rows of quilting or swaddled fur above tight waists and pencil-skirts, were the apotheosis of bitch-dressing cliché.
This season Gaultier got caught up in those kinds of gags – like pockets jutting stiffly from hips, running to the hems of trousers, and billowing kaftans.
Were those symbolic, the deep pockets of Gaultier's clientele? Whatever. They were heavy handed, as was most of this unfocused, messy, confusing show. The mark of a true, discerning haute couture client is their ability to redesign an outfit to suit their personal taste. They have their work cut out chez Gaultier.
The distinctly Parisian accent of Gaultier's couture is increasingly rare. The final day of haute couture presentations in Paris saw shows from labels based in Italy (Valentino), Holland (Viktor & Rolf) and even Lebanon. The latter nationality belongs to Elie Saab, a couturier who knows exactly who is buying his clothes. She's a princess – and that isn't a metaphor.
This season he turned to gemstone shades of ruby, sapphire and emerald, encrusting lace and tulle with delicate beading. Thankfully, it was all done with a deftness of hand that defies the ready-to-wear. These clothes look just like their wearers: regal. And rich. Very rich.
The same is true of the couture clients of Maria Grazia Chiuri and Pierpaolo Piccioli at Valentino. The duo offered a collection perfectly tailored to their clients.
For grand soirée you had brocade and pearl-encrusted gowns, sure, but their sinuous cashmere dresses and capes, bare of decoration and delineated with seams, were the week's most persuasive argument for couture before 5pm.
Tailoring was also key to Viktor and Rolf, who showed their first couture show in 13 years to close this season's presentations.
Join our new commenting forum
Join thought-provoking conversations, follow other Independent readers and see their replies