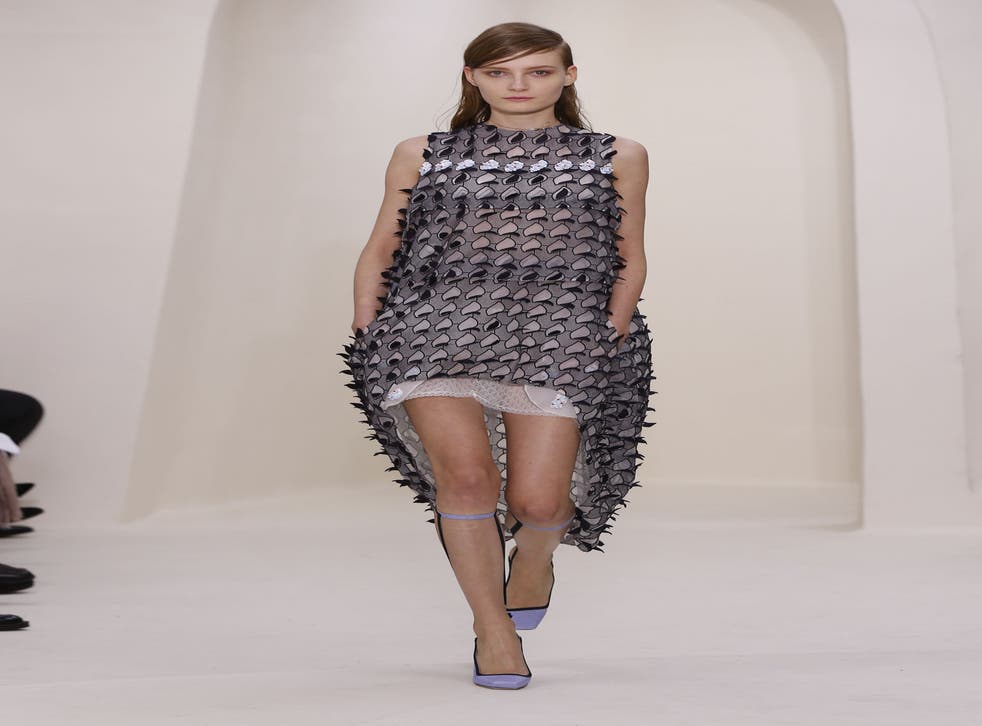 Christian Dior Haute Couture spring/summer 2014
While desperately trying to be modern, Raf Simons elucidated his mantra as never before
How can you make haute couture modern? It's a puzzle many designers have wrestled with. But few are as convincing as Raf Simons in tackling the issue head-on. Why? Because haute couture, with its painstaking, handworked craft, attracts relatively few fashion modernists these days. It's much easier - and arguably more relevant - to be forward-thinking and progressive with ready-to-wear, considering you can actually sell the damn stuff, unlike haute couture, whose five-figure price-tags attract fewer and fewer clients.
That's one of the things that makes Raf Simons' Dior couture collections special. He's desperately trying to be modern. Sometimes, he's stumbled. But in his spring/summer 2014 couture collection, he elucidated his mantra as never before.
Dior Haute Couture spring/summer 2014

Show all 6
This was go-faster couture. He shoved hand-beaded trainers on a couple of his models to underline the point, but they weren't needed. The sense of dynamism, of speed, of movement, was worked into ever seam and aeration. There were plenty of those, dresses sliced open with minute windows on the flesh like couture artex, or perhaps like the petals of an especially exotic bloom.
Raf Simons' clothes looked light. They moved effortlessly. There were the vaguest ties to Dior's past - the eighteenth century backs reminded one of Cecil Beaton's declaration that Dior was fashion's Watteau, and the workmanship - minute embroideries, all that intricate cutting, every fragment sewn by hand - can only be achieved by a house of the magnitude of Dior. But the overall impression was of something fresh, new, and indeed modern. It was an injection of new life. Simons' spring sprung.
Join our new commenting forum
Join thought-provoking conversations, follow other Independent readers and see their replies