Clothing rental: New subscription service allows customers to rent clothes from high street shops
Renting clothes rather than buying them outright 'could soon become a normal part of the British high street'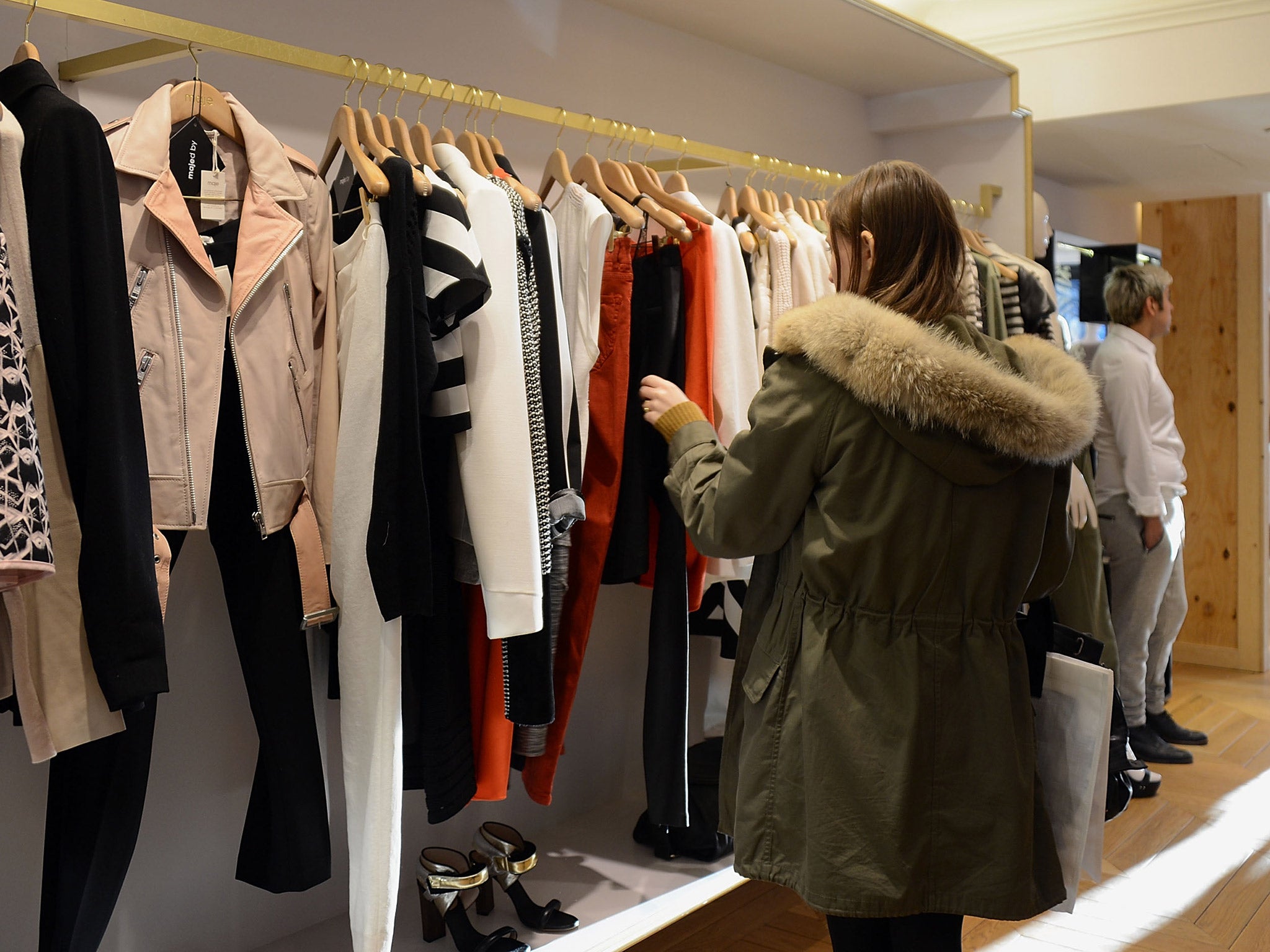 It could be described as the Netflix for clothes: a subscription service which allows fashion-conscious shoppers to simply stroll into their favourite high street store and rent that must-have jacket, accessory or party dress straight off the rail, all for a flat monthly fee.
As retailers look for new ways to keep customers coming into stores, renting clothes rather than buying them outright could soon become a normal part of the British high street, according to a report by one of the world's leading shopping centre owners.
The idea is particularly appealing to the so-called "millennial generation", with almost half of 25-34 year olds saying they would be interested in a rental clothing scheme, the research by Westfield found. Retail analysts said people of this age wanted to look stylish but may not have the money to splash out – making renting the perfect solution.
"Consumers who have got used to a very disposable fashion-based economy where they are used to buying clothes every couple of months are now looking to be able to change clothes every couple of days – or even every day," said Myf Ryan, chief marketing officer at Westfield in the UK and Europe. "We're starting to see retailers thinking: 'How can I take advantage of that?'"
She added that in the future, high street stores may dedicate part of their floor space to "rental" sections specifically for the use of subscription-paying shoppers. Younger consumers would be likely to embrace the idea, she said, as they were already used to the "sharing economy" through the success of companies such as Uber and Airbnb.
Fashion weeks around the world
Show all 6
Some hotels in Europe and the US already allow guests to rent clothes and accessories during their stay before paying when they check out. Although the idea has yet to be embraced by any major UK retailers, the appetite appears to be there: in London, 40 per cent of people surveyed said they would be willing to spend £200 a month on an unlimited clothes subscription, the report found.
Nivindya Sharma, a clothing and footwear analyst at Verdict Retail, said such schemes would particularly appeal to members of the millennial generation as they were known to be highly fashion conscious but also "savvy" when it came to buying clothes due to their limited budgets.
"Their spending power isn't as strong as it used to be, so they prioritise their spending," she added. "Something like this would help them buy into more premium brands without having to commit to buying. They're really conscious of what they're buying and they don't want to be seen in the same clothes at parties or weddings."
The shrinking size of homes in cities such as London could also make renting your wardrobe – and then giving it back – appealing for some, Ms Sharma said. But she cautioned that the success of such schemes would depend on how well executed they were, as renting clothes would rapidly lose its appeal if there was poor availability or if shoppers could see that they had been worn by many other people.
Retailers would also have to be careful not to "cannibalise" their existing collections, she added. "What happens if they offer everything in their product range as a subscription – will people just stop buying new clothes? What they might have to do is create a clear demarcation between the stuff that's in their regular stores and maybe more premium rental pieces."
Join our commenting forum
Join thought-provoking conversations, follow other Independent readers and see their replies