'Depressed and lonely' model is found hanged

Show all 2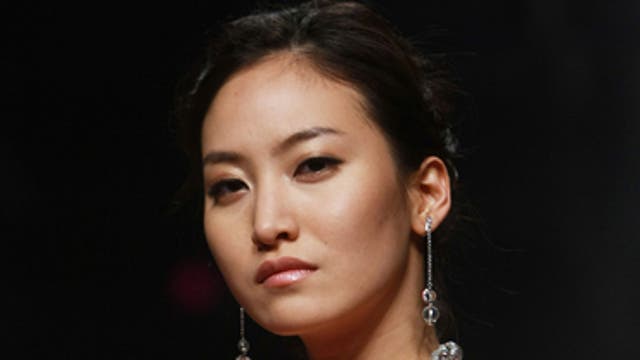 'Depressed and lonely' model is found hanged
year-old's blog had shone light on dark side of fashion world.
A rising star in the dizzying world of high-fashion modelling known as much for her quirky sensibility and fondness for Tolstoy as her lustrous hair and doll-like features has been found hanged in her Paris apartment.
As news of South Korean Daul Kim's death sent shockwaves through the industry, and raised questions in a country rocked by a string of celebrity suicides, a French police official confirmed that the 20-year-old's body had been discovered by a friend yesterday morning.
Kim's agent, Alessandra Bertoldini of the Next modelling agency, said the model's mother was travelling to Paris last night. An agency spokesman said in a statement: "She was a top model and a great friend to all of us. We will all miss her very much."
Kim graced the pages of Asian fashion magazines before appearances in Korean Vogue propelled her on to a global stage. She quickly became a fixture at shows in New York and London, where her perfect walk and willowy form won Kim high-profile champions. Karl Lagerfeld, creative director at Chanel, has cast the model in almost all his shows since 2007, while edgy glossies fell in love with her impeccable street style. Kim starred in a recent campaign for Christopher Kane's collection at Topshop.
But it was her life off the catwalk and billboards that most endeared Kim to fans and fellow models. Displaying a warm and at times irreverent wit rarely associated with a world where girls are defined by their looks, she blogged with sometimes painful honesty about life in the rarefied world of high fashion. Her blog, "I Like to Fork Myself", became a virtual book of condolences yesterday as hundreds of fans left comments expressing their shock and sadness.
For those looking for clues about Kim's death, her blog also painted a picture of an occasionally troubled soul. In a post dated 15 October, the model wrote: "freedom comes with such cost. but is it even freedom? one could get numb living like this... decadent nights to make up for losses. but this endless loneliness. there must be something wrong from the core."
Two weeks later, the model wrote she was "mad depressed and overworked," and in another entry said "the more i gain the more lonely it is ... i know i'm like a ghost." Her last post, made on Wednesday, was titled "say hi to forever" and carried a video of the song "I Go Deep" by British DJ Jim Rivers.
Kim's death is likely to re-ignite debate in the industry about the risks that come with plunging young models into the claustrophobic world in front of the harsh lens of high fashion. Similar examination followed the death, in June 2008, of a 20-year-old Kazakh-born model and former Russian Vogue cover girl. Ruslana Korshunova plunged to her death after apparently jumping from the ninth-floor balcony of her Manhattan apartment. American male model and actor Brian Bianchini, suffering from heavy depression, committed suicide aged 25 in March 2004. He had attempted to take his life three times before, according to his manager.
Sarah Doukas, the founder of the British modelling agency Storm, and the scout who discovered a 14-year-old Kate Moss, said it was crucial to assess aspiring models on more than their looks. "It's vital for us that Storm has a spirit of community so we can deal with our models in a motherly, maternal way," she said. "You have to be so careful with these kids – they're all so receptive and vulnerable. If somebody's drop-dead gorgeous and it looks as if something's wrong, we find ways of saying, look, you're great but there's a problem here."
In Kim's home country, it was her nationality rather than her profession that triggered soul-searching. South Korea has the 11th highest suicide rate in the world, according to a report from the World Health Organisation, and has been left reeling by a series of high-profile suicides, including seven in the six months leading to last April.
Former president Roh Moo-hyun jumped to his death in May after becoming embroiled in a corruption scandal and, in 2008, a leading actress Choi Jin-sil committed suicide shortly before a popular young soap actress also took her own life.
A report published by the South Korean government in 2006 concluded that the high suicide rate was a reflection of changing and conflicting gender roles, economic hardship and a rise in domestic violence. Others have pointed to the country's relatively undeveloped approach to treating mental illness, as well as the anxiety and social upheaval, especially among young people, caused by the country's fevered bid to emerge as an economic power.
While her blog suggests Kim struggled with occasional bouts of depression and melancholy, the model was notable behind the scenes for her zest for life and impish spirit. During New York fashion week she was given a video camera by New York Magazine and asked to document life behind the catwalk. In one backstage exchange, she is seen telling a story about how some, perhaps less erudite models, struggle to understand her accent. "I was talking to a model and told her I was reading Hadji Murat by Tolstoy," she says. "The girl was like [Kim adopts a Southern US drawl], 'Oh, you're reading Toy Story'. No," Kim says, "Tolstoy. She's like, 'No, no, that's not how you say it. It's Toooy Stooory'."
Kim's wit, confessional style and penchant for frequently moody poetry earned her a huge following among other young models and similarly troubled teenagers.
Her latest blog post had gained almost 500 comments last night. One contributor, using the name "Edgirl-23", wrote: "Daul, i am so saddened that you're gone. I never met you, i never saw you, but you were special. Your blog gave me a little insight into what such a beautiful and poetic person you were. You were too young, maybe the world was too much for you, but you will be sincerely missed." Another fan said: "You were an amazing writer, a beautiful person, and one of the coolest Koreans on the planet. RIP, Daul."
Register for free to continue reading
Registration is a free and easy way to support our truly independent journalism
By registering, you will also enjoy limited access to Premium articles, exclusive newsletters, commenting, and virtual events with our leading journalists
Already have an account? sign in
Register for free to continue reading
Registration is a free and easy way to support our truly independent journalism
By registering, you will also enjoy limited access to Premium articles, exclusive newsletters, commenting, and virtual events with our leading journalists
Already have an account? sign in
Join our new commenting forum
Join thought-provoking conversations, follow other Independent readers and see their replies