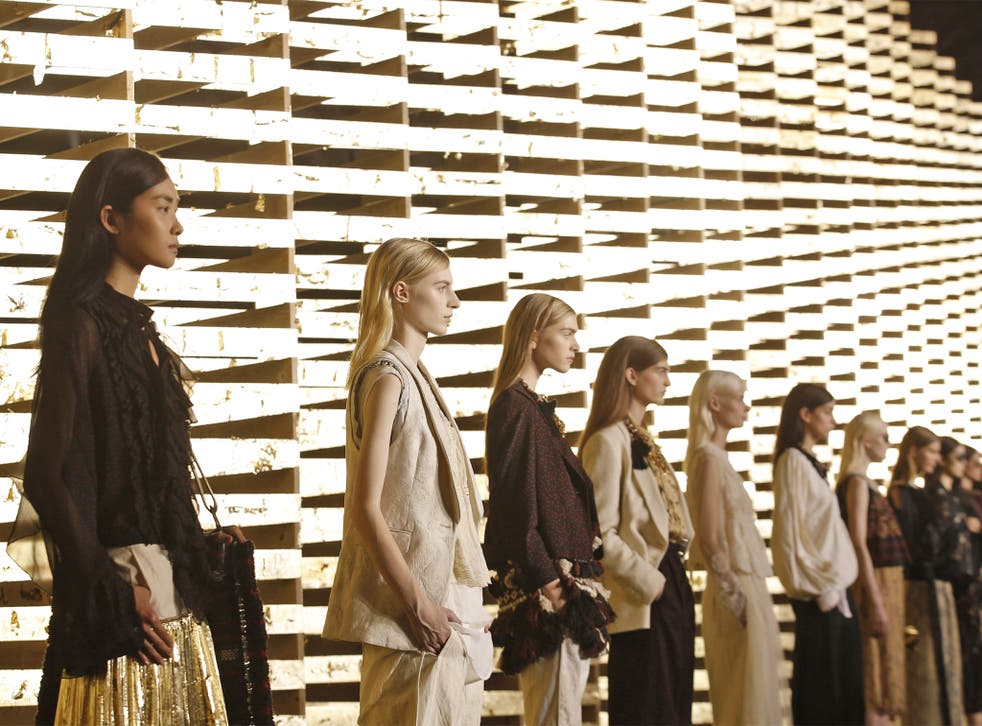 Diversity, dichotomy and divisive dressing – that's what Paris Fashion Week is all about
Prints clashed on the Dries Van Noten catwalk, while Rochas's pastels glittered
Alexander Fury
Wednesday 25 September 2013 21:41 Comments
Opposites attract in Paris. Or at least they clash on the fashion week schedule. Dries Van Noten, Gareth Push and Marco Zanini's Rochas make unlikely bedfellows.
They flung us far, physically (across rush-hour Paris) and ideologically, showing three completely opposing views of woman for spring/summer 2014.
That's what the French fashion capital is about: diversity, dichotomy, divisive dressing. And traffic. Lots of traffic.
Marco Zanini's Rochas has always been divisive, although the mood generally has moved from hate to love during his five-year tenure at the house. Rumours swirl that Zanini will shortly take up the vacant post of head designer at the house of Schiaparelli before the year is out, but if this collection was a dress-rehearsal, he played to the signatures he has established at Rochas.
Silhouettes were prim and proper, princess-line full-skirted dresses and duster coats pulled slightly off-kilter with a saccharine palate of plasteline pastels in iridescent fabrics. Many glittered with gemstones or lurex threads – Zanini called the collection "The Glass Menagerie" after the Tennessee Williams play, and there was the same sense of tremulous delicacy, lightness, fragility even and something askew.
The shoes – flat slippers or high-heeled mules appliquéd across the toes with ostrich fronds that scurried across the floor like tiny animals – were odd. Surreal even. A Schiap homage? She did a similar trick with goat-fur in the thirties. Zanini didn't attempt anything quite so dark. Indeed, this was a sugary Cinderella fantasia, a sweet farewell.
An electric guitarist riffed his way, live, through Dries Van Noten's show, in a warehouse on the outskirts of Paris. That all sounds terribly "edgy" – branché the French would say.
However, edgy isn't really Dries' deal. It's the kind of clothes you imagine a moneyed librarian or geography teacher wearing, mildly cross-cultural; a little homespun.
The word that springs to mind is eclectic, not electric. And Van Noten spun out the kind of collection he does very well, filled with ethnic embroideries in hardy wool and clashes of print and texture. There were touches of opulence in gold lace and foliate embroideries reminiscent of Flemish masters – Dries is one too, in fact.
But crinkled linens and laces in faded ivory looked dusty, while garments reduced to crazed, corrugated whorls of pleats in lamé ended up dumpy.
British designer Gareth Pugh is the dark joker in the Paris fashion week pack. So imagine the surprise when he opened his show with an aquafresh mint column of bias silk, the model's head topped with a lurid lilac busby of yet more feathers. Bar the dye job, this was nothing new from Pugh: the curvilinear shoulders, emphasised with external seaming in hard shiny leather or edged with strips of reflective tape, were lines we've seen from Pugh before, as were the shrugged-off kimono necks, the stiff cone-shaped coats and flared trousers.
Even those bias gowns have done service before. Here, you longed for something really fresh, rather than just a distracting jolt of colour.
Register for free to continue reading
Registration is a free and easy way to support our truly independent journalism
By registering, you will also enjoy limited access to Premium articles, exclusive newsletters, commenting, and virtual events with our leading journalists
Already have an account? sign in
Join our new commenting forum
Join thought-provoking conversations, follow other Independent readers and see their replies